Description
Maryland Cricket Premier League proudly presents

4th Annual MCPL Rang Aur Patang Utsav 2019

Please join us with your friends and family for this fun filled event which includes, Live DJ Entertaintment. Moon Bounce, Non Toxic Colors, Indian Kites and Manjha (without glass powder so safe for all) and lot more..!!!

If you have young children then do not worry because we will have tons of entertaintment for our little ones!!!

Kites, Colors and Indian food will be available for purchase at reasonable price.

Follow facebook event for updates: https://www.facebook.com/events/1045570612274732

Please contact us for more information, vendor inquiries and sponsorship opportunities.

Bijal Shah
Ashish Patel
mcplorganizers@gmail.com

Supporting Organizations
Aapne Gujarati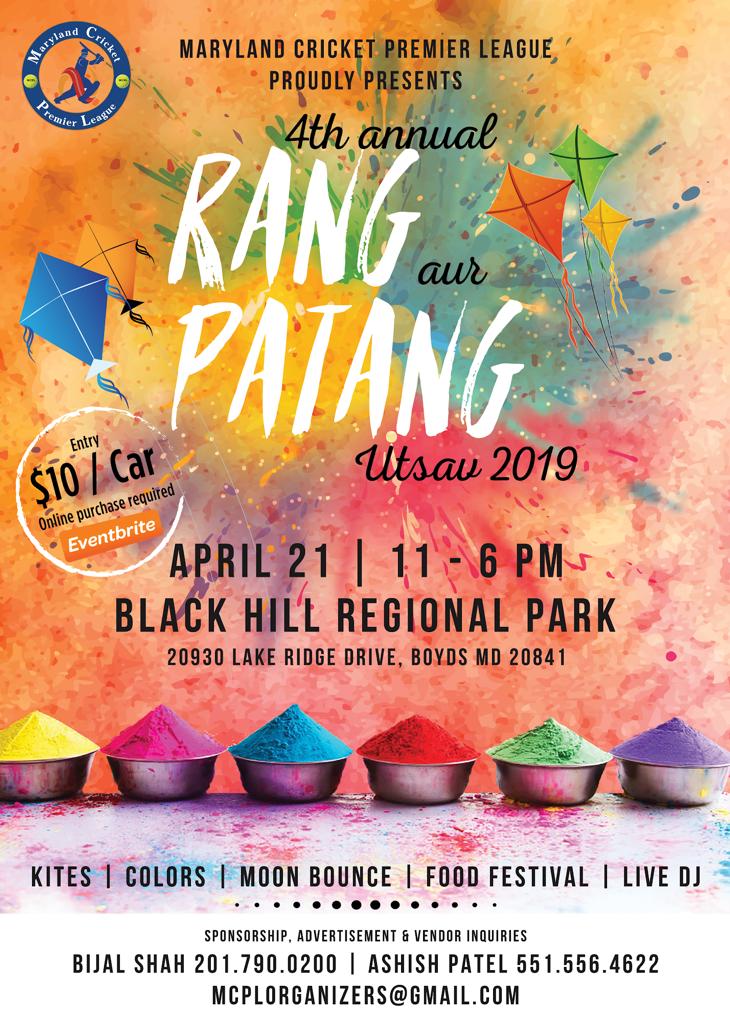 Event disclaimers and limitation of liability: Your participation in this event is at your sole and exclusive risk. The host of this event may refuse admittance, may charge an admission fee, or ask you to leave an event at any time for any reason. By attending the event you agree and understand that in connection with your participation in any event or activity, you may be exposed to a variety of hazards and risks, foreseen or unforeseen, which may or may not be inherent in those activities and events. These inherent risks include, but are not limited to, the dangers of serious personal injury, property damage, and death (injuries and damages) from exposure to the hazards of public or private outings and activities and Maryland Cricket Premier Leauge has not tried to contradict or minimize your understanding of these risks. You agree and understand that injuries and damages can occur by natural causes or by the acts of other persons or third parities, either as a result of negligence or because of other reasons. You are personally responsible for all costs and/or risks associated with any public or private event or activity. Notwithstanding anything to the contrary herein, to the fullest extent allowed by law, you agree to waive, discharge claims, release from all liability and indemnify and hold harmless Maryland Cricket Premier Leauge, its subsidiaries, affiliates, officers, agents, and other partners and employees, from any and all liability on account of, or in any way resulting from injuries and damages in any way connected with any events or activities. You agree and understand and intend that this assumption of risk and release be binding upon you and your heirs, executors, agents, administrators and assigns, and includes any minors accompanying user at the events.