The Married 4 Life Walk encourages couples to never let go of one another as they continue on their journey of being Married 4 Life.
About this event
Hi Married 4 Life Walk Family,
We are excited to announce that this year we will be having a virtual M4LW experience. Many couples have wanted to join us from different cities around the country, so you and your spouse will now be able to walk with us and other couples globally via livestream!
We will be implementing some changes since we will be streaming live this year, but we are still going to make sure that this event will be an experience that will leave an impact on your marriage for years to come. We are also excited to announce that some of your favorite celebrity couples from around the country will be joining us!!
Also, in acknowledgement of our support for the #blacklivesmatter movement, we will be wearing black M4LW t-shirts, black M4LW wrist bands, and have black M4LW swag bags. Although everyone will be joining us virtually from their own communities across the country, we are asking all participants to still ensure that you are all wearing masks and practicing social distancing whenever needed.
Until then, we ask that you please be safe, stay well, and we will look forward to seeing all of you soon! After you have registered, please be sure to continue to check your email and our website (www.married4lifewalk.com) for any updates and further information regarding this event.  If you have any questions, please feel free to email us at info@married4lifewalk.com
The mission of the Married 4 Life Walk (M4LW) is to reinforce the principle of "Walking in Unity." The purpose of this two mile walk is to encourage couples to connect, walk, and celebrate with other like-minded couples who are committed to stronger and healthier marriages. This experience will serve as a lifetime reminder for couples to take the time to slow down, hold hands, walk together, and remember that there is nothing they will face in life or their marriage that cannot be conquered or overcome together as one.  This year for the virtual experience we will only be doing a one mile walk. The walk event will be hosted by founders Coach Martez & Woodrina Layton and celebrity marriage ambassadors Ronnie & Shamari DeVoe and will be a fun-filled morning of love, spiritual bonding, and unyielding unity in which couples will leave the experience empowered to fight for their marriages and to, "Never Let Go Of The Hand You Are Holding."
This year's special guest will be David & Tamela Mann who together are award winning actors and gospel artists. Other guest include radio personality and media legend Donnie Simpson & his lovely wife Pamela Simpson; retired NFL player Rod Gardner & his wife, fitness trainer, Leticia Gardner; celebrity chef and authors Jernard & Keena Wells; professor at Clark Atlanta University, Dr. Christopher Bass & his wife Dr. Rosalind Bass, professor at Spelman College; Grammy nominated record producer Dr. Kevin "Khao" Cates & his lovely wife, Kimiko Cates; and comedian Jason Earls.
Couples in attendance at the Married 4 Life Walk can expect:
To Connect and create a deeper bond with their spouses - This hand-in-hand walk is a simple but powerful reminder that regardless of what storms we face, we will hold on to each other and never let go.

To Share with other couples - We've all experienced struggles in our lives and marriages. Couples will walk together, encouraging each other to hold on through challenges.

To Stand with others - There is power in community! Join with other couples from around the country who are also committed to stronger and healthier marriages.                                                                      
**The Married 4 Life Walk Virtual Experience is from 11am - 12:30pm EST. Join the Virtual Marriage Movement!**     
The Married 4 Life Walk is open to all couples regardless of age, ethnicity, or religious affiliation. Virtual Vendor opportunities are available for the Married 4 Life Walk for more information please email info@married4lifewalk.com.  Be sure to LIKE the Facebook page at www.facebook.com/married4lifewalk  and Instagram page @married4lifewalk for further details and the latest updates.         
FAQs
Do you have to be married to attend this event? 
No, this event is also open to couples who are engaged, seriously dating or committed to being married.
Do I need to register for this event to attend?
Yes, registration is required. 
 How will I be able to join the livestream?
All registrants will receive a link via your email address on file that will grant you access to the live event.
What happens if we purchase a ticket, but are unable to attend the live experience?
The M4LW will be recorded so that registrants will be able to watch it at a later time. We still ask that all registrants take pictures in your t-shirts and send them to us at info@married4lifewalk.com as we will be putting together a national collage.
How can I contact the organizer with any questions?
Please feel free to email our organizers for any additional questions that you may have at info@married4lifewalk.com 
 Is there a cost for the event?
Yes, the cost for the virtual event is $60 which includes 2 M4LW t-shirts, 2 M4LW wristbands and a M4LW swag bag. Please note that this cost also incorporates shipping charges as we will be mailing your items to you this year.
Does my spouse (partner) need to be with me to attend this event?
Yes. It is recommended that your spouse (partner) attend with you as the walk focuses on holding hands and making a commitment together. 
How long is the walk for the event? 
The National Unity Walk this year will be one mile.
What is the Couples Mixer & Love Celebration?
The Couples Mixer & Love Celebration is an evening event after the Married 4 Life Walk, which allows couples to celebrate their love for one another after reaffirming their commitment to "Never Let Go The Hand You Are Holding." Due to safety precautions, we will not be able to have this event this year, however we look forward to you joining us at next year's Couples Mixer & Love Celebration following our 5th Annual Married 4 Life Walk on April 24, 2021.                                                                                                                                                  
When and Where will the event(s) take place?  
The Married 4 Life Walk will take place virtually online via livestream on October 17, 2020 from 11:00am - 12:30pm EST.
What is the best way to stay informed with the latest information and updates about both events?
Be sure to like the www.facebook.com/married4lifewalk page and follow us on instagram @ married4lifewalk.  Also, be sure to check your email as all registered participants will receive email updates as changes and new updates are provided.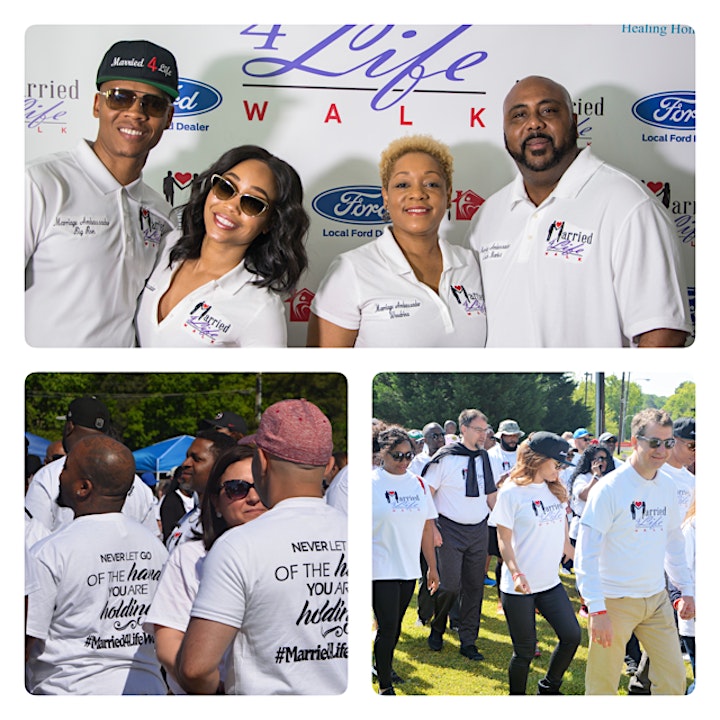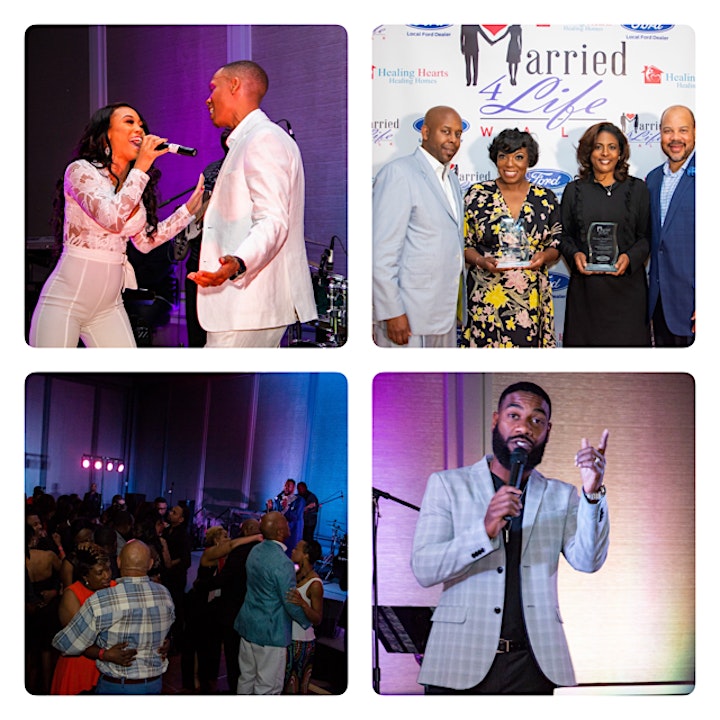 Date and time
Location
Refund policy
Organizer of 4th Annual Married 4 Life Walk Virtual Experience
Healing Hearts Healing Homes, Inc. established by Martez Layton, Certified Professional Coach (CPC) and Woodrina Layton, Licensed Professional Counselor (LPC) to address the needs of those emotionally and mentally hurting in our communities. This includes youth, teens, adults, seniors, and married couples. Research has proven that through early intervention of counseling and life coaching, drastic reduction can occur within many of the challenges we face in our homes and communities. Healing Hearts Healing Homes, Inc. advocates for the education of the importance and benefits of counseling and life coaching through community initiatives. The organization provides the following services: individual, group, premarital, and marriage counseling; individual and group life, relationship and marriage coaching, workshops, and seminars.                                                        
The organization's mission is to promote a positive healing process to those who are hurting from past or present emotional, mental, or psychological pain by introducing and educating on the short and long-term benefits of professional life coaching and changing the perception of counseling while reestablishing the purpose and the benefits of having healthy conversations with a professional outside of their family circle. The organization strives to collaborate with the community and other organizations to improve the quality of life for each person regardless of the challenges that they face. As well as provide information and education through workshops, seminars, and community events to raise awareness of the importance of counseling and coaching.