Description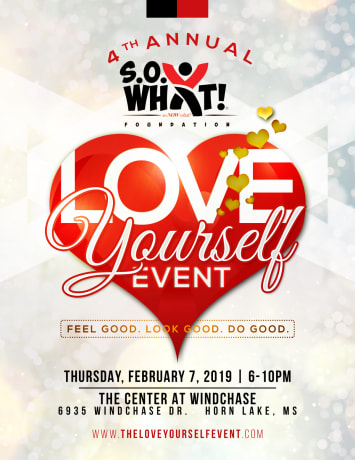 Whether you're single or in a relationship, Love Yourself and be your own Valentine first. Grab your girls and your guys, or make it a date night. Then enjoy a midweek retreat and a some well-deserved self-indulgence at the 3rd Annual Love Yourself Event benefiting the S.O. What! Foundation.
A night to help you Feel Good. Look Good. Do Good.


One ticket and you SO much!
100% of the proceeds benefit the S.O. What! Foundation which helps youth overcome obstacles and eliminate excuses hindering individual and family success.
Each year this event SELLS OUT so get your ticket early, mark your calendar, and join us at the Center at Windchase for a sweet treat for YOURSELF or someone else you love this Valentine's Day.
The S.O. What! Foundation is a 501(c )(3) organization. All contributions are tax-deductible.
www.thesowhatfoundation.org