4th Annual Los Angeles LIT College Tour

Saturday, April 8, 2017 from 8:30 AM to 3:00 PM (PDT)
Event Details
LIT College Tour "The Ultimate Leadership Conference for Millennial & Gen Z Students & Young Professionals" kicks off the new year in L.A.  on Saturday, April 8, 2017, at Hotel Indigo in the heart of Downtown LA with an action packed day of LIT = Leadership, Innovation, Transformation. 

Our full-day boot-camp offers rapid-fire learning, leadership development and transformational experiences via 5 learning tracks, 3 keynotes and 2 workshops, and 30+ industry experts, emerging leaders and student influencers from diverse industries including Entrepreneurship, STEM, Marketing, Media, Entertainment, Law, Finance and related fields.
2017 Los Angeles LIT College Tour Program: (Subject to change)
8:40 AM:   Registration – 3rd Fl. Ballroom level lounge

9:05 AM:  Opening remarks – LIT Team

9:15 AM:  Opening keynote – Ethan Austin, LA Director, Techstars on "Igniting Your Future"

9:35 AM:  Panel 1 – Millennial Leaders: Leadership. Innovation. Transformation.
Moderator: Spicy Mari, CEO, The Spicy Life; On-air Real 92.3 FM
Marvin Flores, President, ASI, CSULB
Allison Aliva-Olivares, Cinematic Arts, USC
Gillete Nevado, National Leader Council

10:25 AM: Panel 2 – Entrepreneurs & Tech: Launching & Funding Your Startup
Moderator: Whitney Irick, Digital News Producer, NBC LA
Joshua Encarnación, Head of People Dev, Outco
Liliana Aide Monge, CEO, Sabio
Will Sentance, CEO, Codesmith

11:15 AM: Workshop 1 – "Sparking Innovation" by Kimberly Jones, CEO, Kelton Legend LLC 

11:45 AM:  Panel 3 – Marketing: Creativity Made Simple
Moderator: Jason Gupta, Co-Chair, Young Professionals, RPSA
Chris Denson, Director Ignition Factory, OMD USA
Juan Esteban Delgado, Founder, Neuralcast
Darrell Alfonso, Global Demand Generation Manger, Connexity

12:00 PM - 3 PM: FREE HEADSHOTS & MEGA MIXER at 3rd floor foyer

12:25 PM:  Panel 4 – Entertainment: How to Make it in Showbiz
Moderator: Loren Medina, Adjunct Professor of Music, USC; Founder, LCM PR, Inc.
Jesus Chavez, SVP, MiTú Network
Lauren A. Jones, Producer, ESPN
Malcolm Manswell, Marketing Manager, Atlantic Records

1:15 PM:  Workshop 2 – Caitlin Cardoza on Mindset: How to Reprogram Your Beliefs

1:40 PM:  Panel 5 – Communications & Media: Trending Topics
Moderator: Naibe Reynoso, 2x-Emmy award winning Journalist
Mireya Villarreal, Westcoast Correspondent, CBS News
Robin Ayers, Speaker, Author & Host
Erika de la Cruz, Author & Entrepreneur & Radio/TV Host

2:50 PM:  Closing remarks - LIT Team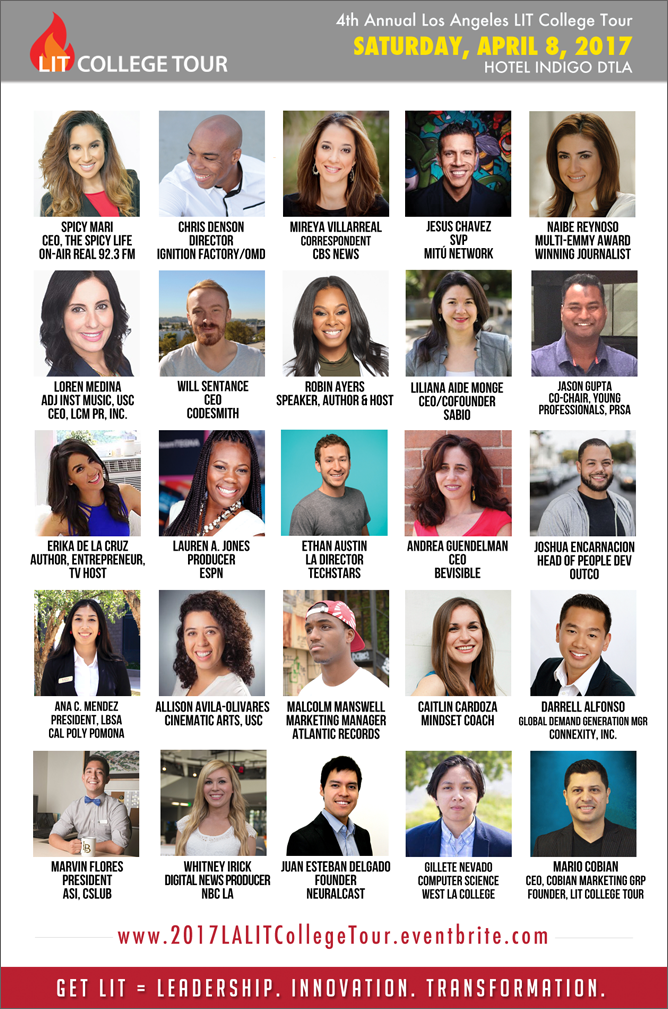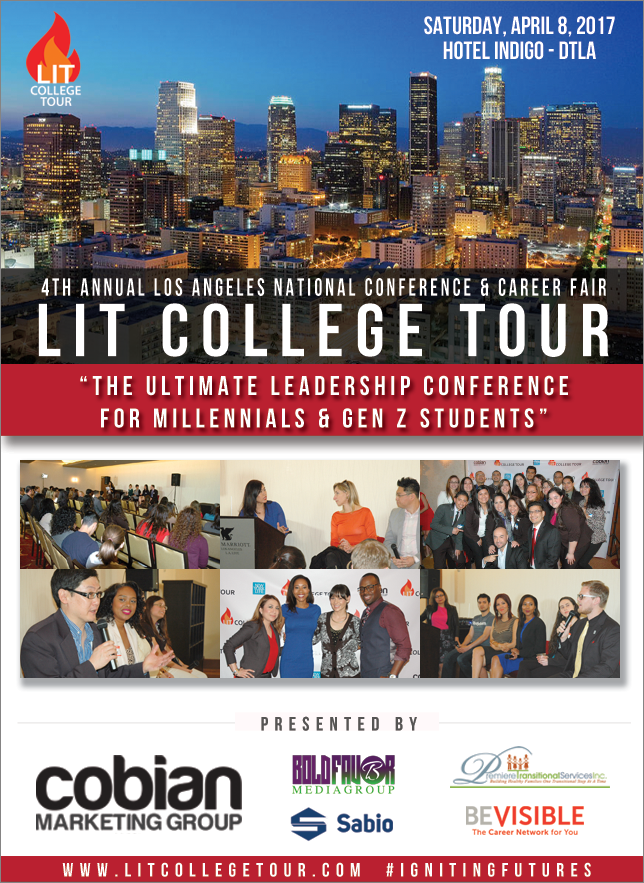 When & Where

Hotel Indigo
3rd Fl. Orpheum Ballroom A
899 Francisco Street
Los Angeles, CA 90017


Saturday, April 8, 2017 from 8:30 AM to 3:00 PM (PDT)
Add to my calendar
Organizer
What is LIT? Leadership, Innovation and Transformation.  LIT College Tour is an online career and leadership platform designed to connect students and young professionals to mentors, internships, jobs, career development and more.  The program bridges the gap between college and real world by bringing together an exciting mix of industry experts, educators, recruiters, mentors and entrepreneurs ready to share their insights and solutions for "Igniting Futures.

The power-packed half-day boot camps feature several learning tracks, keynotes, workshops, and 20+ speakers from diverse industries including STEAM, Finance, Marketing, Communications, Entertainment, Law, Entrepreneurship and related fields.

Past speakers include Executive's of Fortune 500's, entrepreneurs of industry-leading companies, Emmy-award winning journalists, tech innovators, future astronauts, rising stars, student influencers, recruiters and other thought leaders.

LIT College Tour is hosted 7 of the top 10 U.S. markets including LA, NYC, Chicago, San Diego, Houston, Miami and Silicon Valley.

LIT College Tour is incorporated in the State of California (April 2014) as a Public Benefit Corporation for charitable purposes and is a tax exempt non-profit 501c3 as of December 29, 2016; Federal Tax ID: 46-5081482.