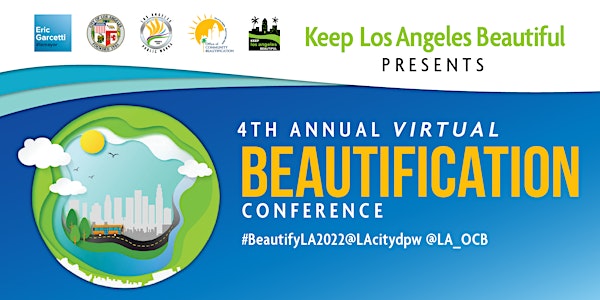 4th Annual Los Angeles Beautification Conference
Join the 4th Annual Los Angeles Beautification Conference to learn about the City's beautification projects and sustainability initiatives.
About this event
Leading local speakers and attendees
4th annual conference
Inspiring keynote speakers
Professional networking
Content on recycling, water conservation, and beautification projects
Virtual attendance is free and open to all, but registration is required
Rain barrel raffle giveaways, restrictions apply*
And much more!
Conference Goals:
Virtually convene a wide range of stakeholders interested in beautification efforts for the City of Los Angeles including - community organizations, researchers, county agencies and government agencies- and offer chances to share their stories and current efforts with one another.
Set the foundation for community beautification programs and services across the City.
Identify and connect various efforts in preparation for a collaborative planning process focused on connecting community efforts and support from corresponding City entities
Live Panel Topics:
Reduce, Reuse & Recycling for Everyone
Water Conservation Today
BeautifyLA Experiences
Event Features: Raffle giveaways!
Register by Friday, August 19th to be entered into the rain barrel giveaway. *Restrictions apply.
*Restrictions: Must be a City of Los Angeles resident to participate. This raffle giveaway is for City of Los Angeles residents only and proof of residence will be required (Driver's license, Photo ID or DWP bill).
CONFERENCE AGENDA:
Live welcome remarks - Board of Public Works President Aura Garcia
Speakers:
Mayor Eric Garcetti
LA Controller Ron Galperin
Jason Smith, Western Region Representative, Keep America Beautiful
Paul Racs, Director, Office of Community Beautification
Rachel Malarich, City Forest Officer
Dr. David Scott, Senior Director of Research, Keep America Beautiful
1st Raffle, Ana Huizar
Panel Session Speakers:
Reduce, Reuse, & Recycling for Everyone: Best practices in action
Moderator: Paul Racs
Gina Whisenant- USC sustainability
Nancy Beyda - Food Cycle, Founder
Water Conservation Today: Efforts throughout the City and at Home
Moderator: Gerry Valido
Steve List – Urban Gardening Teacher, Sylmar High School
Ana Tabuena-Ruddy – City of Los Angeles, StreetsLA
BeautifyLA Experiences: Learn from previous BeautifyLA grant recipients
Moderator: Karina Casillas
Sue Taylor – Footbridge Square Median
Lauren Nichols - Rosewood Garden Mural
Elizabeth Fluck– Devon School Garden
2nd Raffle, Ana Huizar
Meet the KLAB Advisory Board & Additional KLAB Resources
Closing remarks, Karina Casillas
Visit www.laocb.org for more information. For assistance with registration or additional conference participation information, please email at bpw.communitybeautification@lacity.org or call 213-978-0227.
RSVP now to join our mailing list!
By registering for this event, you agree that the Office of Community Beautification and Keep Los Angeles Beautiful may send you future communications through email.