About this Event
POSTPONED
Due to the unfolding COVID-19 crisis, we have decided to postpone the 4th Annual LOLLIPOP Superhero Walk. We are monitoring the situation and look forward to re-scheduling our event and introducing the 2020 Lollipop Superheroes to the world once appropriate.
Feel free to follow us on Instagram/Twitter/Facebook for updates at: @lollipoptheater
Or opt in to the LOLLIPOP newsletter, via our website: www.lollipoptheater.org ; or email us at info@lollipoptheater.org
The 4th Annual LOLLIPOP Superhero Walk is central to our ability to continue our programming for pediatric patients nationwide so we would gratefully accept your generous donations.
Thank you for your understanding as we try to navigate this rapidly changing environment and make sure we doing our part in keeping our community safe and healthy.
The Lollipop Team
For WHO guidelines on how you can protect yourself and your community: Click Here
ABOUT:
The 4th Annual LOLLIPOP Superhero Walk invites every person - young and old - to become a superhero for the day! Help us in our efforts to brighten the lives of children fighting life-threatening illness through the magic of current movies and entertainment.
At this fun, family event, 9 new superheroes - children from Los Angeles area hospitals - will reveal their superhero alter-egos while wearing their new one-of-a-kind, personalized superhero costumes, created by members of the Costume Designers Guild!
After the reveal, all superheroes and guests will begin a 40-minute walk on the sidewalks of West Hollywood wearing their red superhero capes. Along the route, we'll meet some of your favorite superheroes from TV and Film and stop for photos with some great Instagrammable murals! We walk to raise awareness and funding for LOLLIPOP's important programs, which aim to provide hospitalized children and their families with a fun escape from their daily reality, creating lasting memories in the process.
The event includes food, beverages, cupcake decorating, a photo booth, music and more!
EVENT SPONSORS: WARNER BROS. PACIFIC DESIGN CENTER
FEATURING: CAKE CAMP DJ REPRISE SLOANE'S URBAN PALATE BEST HOLLYWOOD PHOTOBOOTH BEST. PARTY. EVER.
Check out highlights from last year's event here: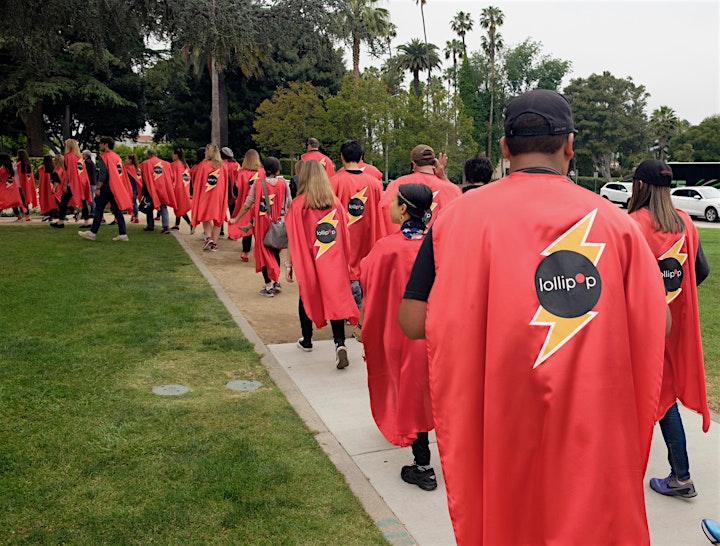 See the 2019 LOLLIPOP Superheroes during their photoshoot with celebrity photographer, Brian Bowen Smith!