Event Information
Location
Phunkenship
3135 Sackett Avenue
Cleveland, OH 44109
Exclusive opportunity for networking and conversation with the 100+ Latinos Cleveland Must Know cohorts 2020 and 2021!
About this event
We are back in Person!
Please join AmMore Consulting to meet and greet cohorts 2020 and 2021 of the 100+ Latinos Cleveland Must Know. This is a EXCLUSIVE opportunity for your organization to connect with THE LARGEST network of Latino professionals in the region, increase your visibility and brand awareness with a group of Latino leaders who are ready for their next step in leadership and service!
By attending and sponsoring your will:
1. Get exclusive access to the LARGEST NETWORK of Latino professionals from Greater Cleveland who are ready for their next step in leadership and service: The 100+ Latinos Cleveland Must Know Cohorts 2020 and 2021.
2. Publicly demonstrate its COMMITMENT to becoming Latino-Ready;
3. Offer your INTERNAL LATINO TALENT, LATINO ERG MEMBERS AN OPPORTUNITY for connection and fellowship with others who share similar experiences and backgrounds!
4. Offer your products and services to the FASTEST GROWING MARKET!
If you are a LATINO PROFESSIONAL NEW TO THE REGION, looking for ways to get involved, connect with other like-minded fellow professionals, and build your professional network, you CANNOT miss this event!
All tickets include 1 drink + Appetizers. Cash bar available.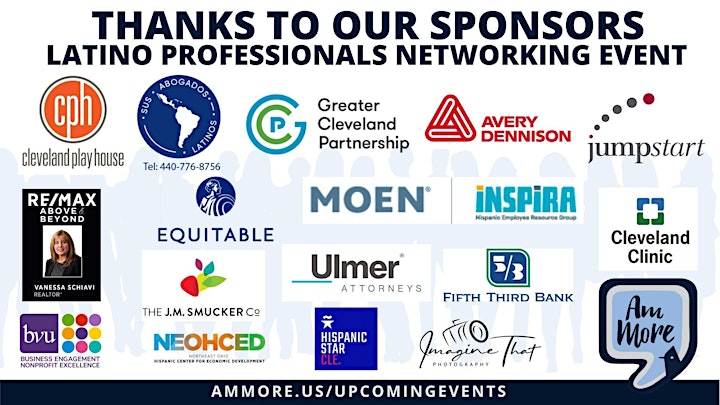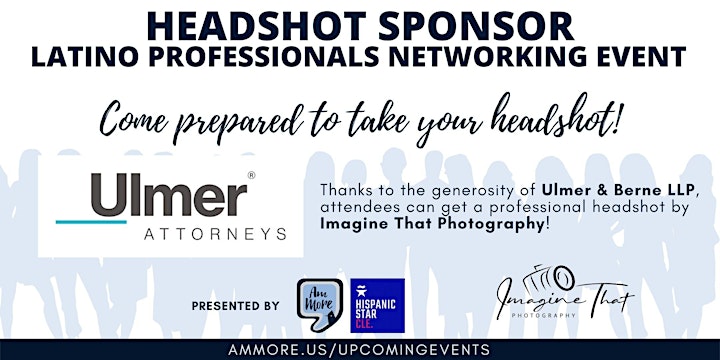 PARKING
Complimentary Valet parking will be provided but since we are at capacity, we encourage all of you to carpool or take public transportation if you can.
ATTIRE
We recommend business professional attire.
WHO ARE THE 100+ LATINOS?
• 205 Latinos living, working, studying and playing in Greater Cleveland
• 100% identify as Hispanic, Latino/a or Latinx
• 83% are bilingual
• 72% live in Cuyahoga county, 12% in Lorain County
• They trace back their cultural heritage to: Puerto Rico, Mexico, Colombia, Peru, Dominican Republic, El Salvador, Venezuela, Argentina, Brazil, Ecuador, Guatemala, Bolivia, Chile, Jamaica, Cuba, Costa Rica, Spain and Paraguay.
• 95% have Undergraduate Degrees
• 61% have Graduate Degrees
• 35% work in Corporate
• 14% are Entrepreneurs
• 9% work in Government
• 9% work in Higher Education
• 28% work in Non-Profit
• 61% are NOT part of a board; 40% of those want to join a board
• 100% agree that professional and leadership development is important
• They represent 81 organizations
• 47% have received formal recognition and awards either at work or from external organizations.
Date and time
Location
Phunkenship
3135 Sackett Avenue
Cleveland, OH 44109
Refund policy