Dreamsickle kids is hosting the 4th Annual Las Vegas Sickle Cell Walk
About this event
For the forth year in a row, Dreamsickle Kids Foundation, Inc will host the only Sickle Cell charity walk in Nevada. The walk is to raise funds to support the small grassroots organization in their continued mission to increase Sickle Cell Awareness in the state and provide support to those in Nevada that are impacted by this rare genetic disease. Dreamsickle Kids Foundation, advocates for better healthcare and healthcare access for patients with Sickle Cell Disease (SCD) in Nevada. Since 2018, Dreamsickle Kids has advocated for health equity for this small population of people. In this short time we have been able to assist in getting the first SCD bill passed in NV (AB254), a comprehensive SCD clinic, and have helped thousands impacted by SCD and rare diseases during the pandemic providing, food, clothing, temporary housing, and emergency financial assistance. Because of community support, we have been able to open the Aspiration Center with JET Foundation, it is the only SCD community center in the state and it boast a children's center, teen tech lounge, meeting center, wellness room, and a pantry with items ranging from food to toiletries courtesy of JET Foundation. This collaboration has expanded our programming from 4 to 22. This event, and events similar, help us continue to support the SCD community and keep the doors of the Aspiration Center open to be of support to the community, those with SCD and those underserved in the Valley.
RELEASE OF LIABILITY: In consideration of my participation in the 2021 DREAMSICKLE KIDS FOUNDATION 4TH ANNUAL LAS VEGAS SICKLE CELL WALK on behalf of myself and my heirs, my spouse, legal representatives, devises, legatees, executors and administrators, successors and assignees, I hereby waive, release and forever discharge any and all rights and claims for damages which I have or may have, or which may hereafter accrue to me against the Dreamsickle Kids Foundation, Inc all counties, special districts and properties through or upon which the Dreamsickle Kids Foundation, Inc will be held, or against its, or their, respective officers, employees, agents, representatives, successors, directors, members, promoters, sponsors, advertisers, owners and any other parties who may have liability to the Releasor(s) and/or assigns for any and all injuries or damages which may be sustained or suffered by me or by other persons in connection with my association with or participation in and/or arising out of my traveling to or from the event. I verify that I have full knowledge of the risks involved in this event; and I hereby assume all risks, known or unknown, foreseeable, or unforeseeable, patent, or latent, that exist or may exist in connection with this event. I also hereby give permission for the use of my name, likeness, image, picture, or other representation in any broadcast, telecast, print media account, or marketing of the DREAMSICKLE KIDS' FOUNDATION, INC 4th ANNUAL LAS VEGAS SICKLE CELL WALK.
Waiver of Liability and Indemnity Related to COVID-19
Warning
DREAMSICKLE KIDS' FOUNDATION, INC has taken enhanced health and safety measures—for you, other attendees, exhibitors, and staff. You must follow all posted instructions while visiting DREAMSICKLE KIDS' FOUNDATION, INC events and activities. An inherent risk of exposure to COVID-19 exists in any public place where people are present. COVID-19 is an extremely contagious disease that can lead to severe illness and death. I acknowledge that participation in DREAMSICKLE KIDS' FOUNDATION, INC events and activities brings some risk and I do hereby assume responsibility for my own well-being. I will follow all Centers for Disease Control and Prevention (CDC) guidance, and all posted instructions while visiting DREAMSICKLE KIDS' FOUNDATION, INC events and activities. I understand, agree and hereby consent that my failure or disregard to follow all protocols in effect and required by DREAMSICKLE KIDS' FOUNDATION, INC, CDC, the venue provider and governing authorities during my attendance at DREAMSICKLE KIDS' FOUNDATION, INC is hereby sufficient grounds to be excluded from attending the event by DREAMSICKLE KIDS' FOUNDATION, INC or an event authority, and I hereby consent in advance to leave and exit the event, without protest or refund, upon request by DREAMSICKLE KIDS' FOUNDATION, INC or an event authority due to my refusal to follow said protocols.
Assumption of Risk
I have read and understood the above warning concerning COVID-19. I hereby choose to a accept the risk of contracting COVID-19 for myself in order to attend DREAMSICKLE KIDS' FOUNDATION, INC 4TH Annual Las Vegas Sickle Cell Walk and enter into the walk premises. The conference is of such value to me that I accept the risk of being exposed to, contracting, and/or spreading COVID-19 to attend in person.
Waiver, Release, and Indemnification
As a condition of my participation in this meeting or event, I, do hereby expressly waive any rights against and release and hold harmless DREAMSICKLE KIDS' FOUNDATION, INC and any of its officers, employees, affiliates, contractors, agents, heirs, legal successors, and assigns (collectively "DREAMSICKLE KIDS' FOUNDATION, INC") from and against any and all claims, suits, demands, losses, damages, expenses, or liability of whatever kind or nature (collectively "liability"), under any theory of law or equity, that may arise during or as a result of my presence at the premises, including but not limited to any such liability related to or arising out of illness, injury, or death associated with infection of COVID-19 or complications, symptoms, or other effects resulting from contracting COVID-19. I shall defend, indemnify, and hold harmless DREAMSICKLE KIDS' FOUNDATION, INC and all other Releases against any and all losses, damages, liabilities, deficiencies, claims, actions, judgments, settlements, interest, awards, penalties, fines, costs, or expenses of whatever kind, including attorney fees, fees and the costs of enforcing any right to indemnification under this Agreement, and the cost of pursuing any insurance providers, arising out or resulting from any claim of a third party related to the Activities.
I UNDERSTAND, AND IT IS MY EXPRESS INTENT, THAT THIS RELEASE AND WAIVER OF LIABILITY RELEASES DREAMSICKLE KIDS' FOUNDATION, INC FROM SUCH LIABILITY EVEN IF SUCH LIABILITY RESULTS FROM OR IS CAUSED BY THE SOLE OR CONTRIBUTORY OR ACTIVE OR PASSIVE NEGLIGENCE, STRICT LIABILITY, OR OTHER LEGAL FAULT OF GLOBAL GENES OR ANY THIRD PARTY. I ALSO UNDERSTAND AND AGREE THAT DREAMSICKLE KIDS' FOUNDATION, INC DOES NOT ASSUME ANY RESPONSIBILITY OR OBLIGATION TO PROVIDE FINANCIAL OR OTHER ASSISTANCE, INCLUDING BUT NOT LIMITED TO MEDICAL, HEALTH, OR DISABLITY ASSISTANCE IN THE EVENT OF INJURY OR ILLNESS. IN THE EVENT THAT I OR MY FAMILY MEMBER IS INJURED, BECOMES ILL, OR SUFFERS COMPLICATIONS DUE TO COVID-19, ALLEGEDLY AS A RESULT OF MY PARTICIPATION IN A DREAMSICKLE KIDS' FOUNDATION, INC EVENT, I AGREE TO RELEASE AND HOLD HARMLESS DREAMSICKLE KIDS' FOUNDATION, INC IN THE SAME MANNER AND TO THE SAME EXTENT AS SET FORTH ABOVE.
DREAMSICKLE KIDS' FOUNDATION, INC Transfer Policy
If another individual participates in my place per DREAMSICKLE KIDS' FOUNDATION, INC transfer policy, the new registrant must agree to this disclaimer and waiver by default of transfer in writing as provided by the First Service department.
Choice of Law and Venue
I understand and agree that the law of the State of Nevada will apply to this contract and the Venue for any legal action.
BY COMPLETING THE REGISTRATION FOR THIS EVENT, I HAVE CAREFULLY READ AND FULLY UNDERSTAND ALL PROVISIONS OF THIS RELEASE. AND FREELY AND KNOWINGLY ASSUME THE RISK AND WAIVE MY RIGHTS CONCERNING LIABILITY AS DESCRIBED ABOVE.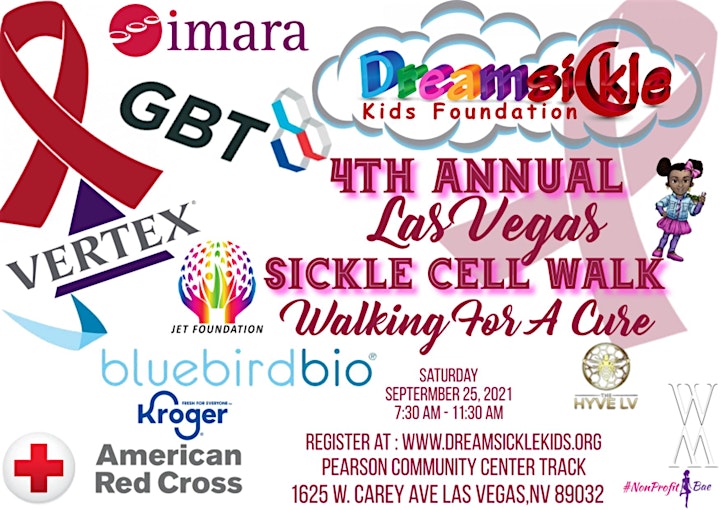 Organizer of 4th Annual Las Vegas Sickle Cell Walk
Gina Glass, the Executive Director and Founder of Dreamsickle Kids Foundation which is the 1st active Sickle Cell Disease nonprofit in Las Vegas. Established in 2018, Dreamsickle Kids Foundation has jump started  Nevada to take an active role in addressing disparities faced by the Sickle Cell population. The mother of two, with her youngest being affected by the genetic disease, the treatment of those with this illness is  very important. Though, unlike many other states, the population in Nevada is much smalle.r Gina , with the founding of Dreamsickle Kids has moved to make the support for this group of individuals just as important as any other cause in the state regardless of the size of those affected. the mission of the organization is to #MakeSickleCellPopular by shedding light on the treatment of people with Sickle Cell Disease not only in healhcare settings, but in the community , from home,school, to work. There is a lack of understanding about the severity of this disease and how its unpredictability can impact those who are affected on many fronts ,physically and mentally. Gina hopes that through the work of the organization , children like her daughter will grow in an environment where they do not have to be ashamed to disclose their illness, or fearful that the medical professionals charged with treating them will have little to no knowledge of  the disease or proper treatment which can prove to be fatal for people with Sickle Cell in Nevada and across the US.