Description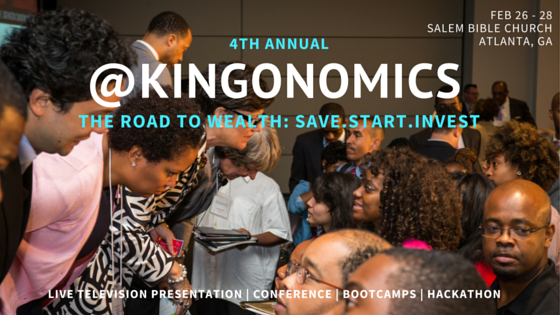 4th Annual Conference
February 26th through 28th, 2016, Kingonomics will convene in Atlanta, GA for its 4th Annual Access To Innovation, Entrepreneurship and Investment Conference. This year's theme is "The Path To Wealth: Save. Start. Invest" and will focus on the intentional presentation of definitive tools and opportunities that everyone, minorities and under-represented communities in particular, can activate in their finances, careers, businesses, families and lives immediately. Over a three day period, we'll engage with over 5,000 attendees live-in-person as we take them on an exciting journey of how to effectively create wealth by accessing expert knowledge, saving money, starting a viable business and investing to create individual, corporate and community wealth.


This year, we're also adding a special two-hour live broadcast presentation on The Impact Network. Founded by Bishop Wayne T. Jackson in Detroit, MI, The Impact Network is currently in 45 million plus households via its distribution relationships with Direct TV (ATT), The Dish Network and Comcast. We will also stream all of the main conference sessions as well.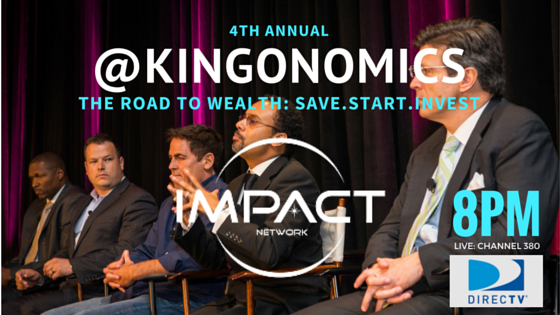 SCHEDULE

FRIDAY, FEBRUARY 26, 2016
Live Television Special
The Impact Network
"The Road To Wealth: Save. Invest. Start."
8P - 10P
This event is free and open to the general public.
This is a live broadcast. Doors open at 6P. All attendees must be seated by 7P.
Sign up at [signup.kingonomics.org] to receive a free Kingonomics chapter


SATURDAY, FEBRUARY 27, 2016

General Conference & Breakouts
Doors open at 8A.
Registration Required [$50/$200]
Use promo code OHUB for 50% discount.

Opening Session
10A - 12P

The Power of Your Economics
Presented by US Black Chambers, Inc. and MyEcon

Open Lunch | Networking
12P

General Learning Sessions
1P - 4P
The Power of Investing
Presented by Groundfloor.us

The Power of Coding: 1 Million Jobs
Presented by TSL School of Coding, The Iron Yard and Whitehouse Office of Science & Technology Policy & My Brother's Keeper Initiative

Special Breakout Sessions
Start Registration Required [$200]
Use promo code: OHUB for 50% discount
1P - 4P

The Power of Starting A High Growth & Scalable Business
Presented by TechSquare Labs, Opportunity Hub, City of Atlanta, Clark Atlanta Univesity
Morehouse College, US Black Chambers & ATDC (Georgia Tech)

YOUTH SESSION (FREE)
Stock Trading 101:
Trading Your Way To Wealth
Presented by Young Wallstreet Traders, Inc. & The Business School at Clark Atlanta University
Kingdom Innovation. Pastors & Leaders Only
Presented by Brain Rain Labs

VETTED EXHIBIT EXPO
Friday - Saturday
All Day
SUNDAY, FEBRUARY 28, 2016

Kingonomics Sunday
10.45A

SPEAKERS
Lonnie Johnson, Inventor, The Super Soaker
David Weild IV, Former Vice Chairman of NASDAQ
Jewel Burks, Cofounder, Partpic
Ceasar Mitchell, President, Atlanta City Council
Allen Nance, Partner, TechSquare Labs
Alvin Curry, Cofounder, MyEcon
Mavin Carr, Policy Advisor, The Whitehouse Office of Science & Technology
Brian Dally, Cofounder, Brian Dally
Faruq Hunter, Founder, Genius Corps
Darin McAuliffe, Founder, Ideate; Senior Adivsor, Opportunity Hub
Jen Bonnett, General Manager, Advanted Technology Development Center, Georgia Tech
Ron Busby, President & CEO, United States Black Chambers, Inc.
Sue Malone, CEO, Strategies for Small Business
Candace Mitchell, Cofounder, Myavana
Bruce Berger, Director, Center for Innovation & Entrepreneurship, Clark Atlanta University
Tiffany Bussey, Director, Morehouse Entrepreneurship Center
Travis & Troy Nunnally, Cofounder, Brain Rain Labs

MORE

Schedule and speakers are subject to change without notice.
No refunds. All purchases are final.
Friday's live special broadcast presentation is free and open to the public. RSVP required.
Organizer of 4th Annual Kingonomics Conference | The Road To Wealth: Save. Invest. Start
Based on the best selling book inspired by the economic ideals of Dr. Martin Luther King, Jr. as interpreted through the lens of veteran technology entrepreneur, investor, author and consecrated bishop, Rodney Sampson, Kingonomics is the definitive social impact platform designed to provide exposure, knowledge and opportunities in innovation, entrepreneurship and investment.
The definitive mission of Kingonomics is to facilitate an economic and institutional platform designed to address poverty and the wealth gap via the efficient use of existing and new knowledge and best practices for innovation, entrepreneurship and investment.
This is accomplished by creating an efficient ecosystem of interconnected experts, firms, research centers, universities, thought leaders, economists, incubators, entrepreneurs, investors and advisors that are presented via Kingonomics large scale conferences, intensive trainings, learning programs, courses, curriculum, assessments and certification. Kingonomics launched #WealthMonth in February 2015.
Since, 2013, over 10,000 people have attended Kingonomics conferences in Atlanta and Washington, DC.