Actions and Detail Panel
4th Annual Hunt for Charisma!
Sat, April 29, 2017, 1:00 PM – 5:00 PM CDT
Description
Who doesn't love a good scavenger hunt alongside friends and family? Even better that this one supports a great cause! Gather a team and let your Charisma show!
The team with the most points wins first place! First place team members will each receive a trophy, as well as a cash prize of $500 for the team! (Trophies also given to members of second and third place teams.)
Check out a video of past participants:
Teams & Tickets:
Teams will be made up of up to four people.
Team Entry: If you purchase entry for a team, you have purchased entry for up to four people. Each team entry includes

four

raffle tickets

.
Individual Entry: If you purchase an individual ticket, you will be assigned to a team of up to four people - this is a great way to meet new people! Each individual entry includes

one raffle ticket

.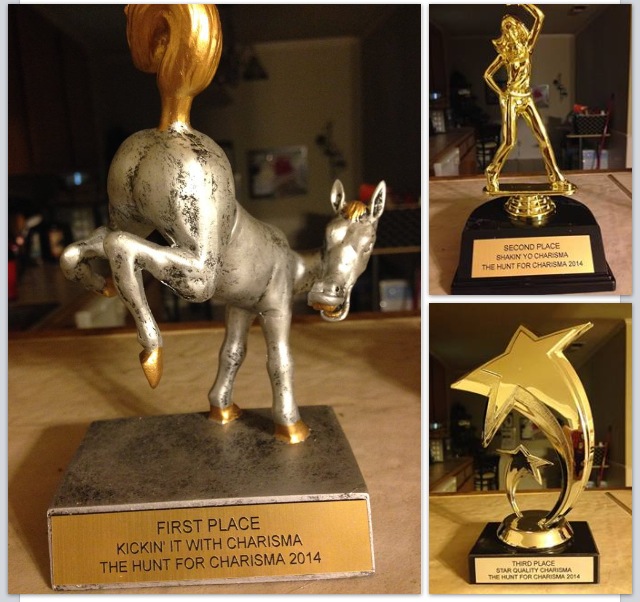 On The Hunt:
Here is the expected itinerary for the day of the event and idea of what will be needed in order to complete your list of tasks:
1:00 p.m. to 1:30 p.m. – Check In - The Pantry Restaurant
1:30 p.m. – The Hunt Begins! Tasks will be:
Directly related to a list of participating businesses and the goals/vision of the Charisma Charter Chapter of ABWA.
Many tasks will require interaction with social media, so at least one smart device (equipped with a camera and access to the internet) per team will be needed.
Most tasks will require all team members to participate.
3:30 p.m. – Deadline for Finishing Tasks!
3:30 p.m. to 4:30 p.m. – Break for Judging (Great time to Eat & Shop!)
4:30 p.m. to 5:00 p.m. – Announcement of Winners & Raffle Drawing! (The Pantry restaurant)
And The Winner Is…
Teams earn points for:
Timeliness of task completion
Charisma shown in completing tasks (a panel of judges will award "charisma" points).
Who We Are
The mission of the ABWA (American Business Women's Association) is to bring together businesswomen of diverse occupations and to provide opportunities for them to help themselves and others grow personally and professionally through leadership, education, networking support and national recognition. The Charisma Charter Chapter of ABWA is raising money to support the continued education and development of its members through monthly speaker programs and attendance of regional and national leadership conferences. Our organization is a "safe place" for members to grow and learn in a fun way while working toward their career and personal goals.
To learn more about The Charisma Charter Chapter of ABWA, please visit: