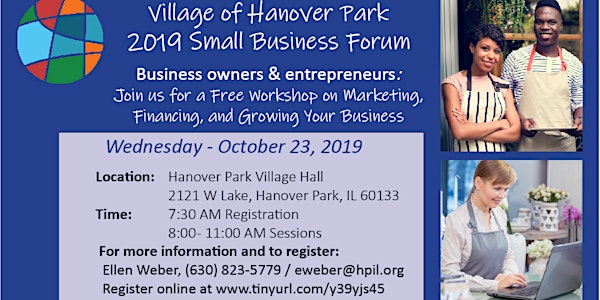 4th Annual Hanover Park Small Business Education Forum
Join business development experts for a morning discussing marketing, financing and growing your business as you scale up and grow.
When and where
Location
Hanover Park Village Hall, 2121 W Lake St 2121 West Lake Street Room 214 Hanover Park, IL 60133
About this event
Learn, Grow, and Network at the 4th Annual Hanover Park Small Business Forum.
Join us at Village Hall for a free workshop on marketing, financing, and growing your business.
Be Your Best On-line! Lue Jimenez and Tia Juarez will help you understand your best customer and how to use social media as an advertising platform to create a winning sales funnel.
Different stages in the growth cycle benefit from alternate sources of capital. Gene Khalimsky, Burke Groom, and Abigail Scanlan will discuss how you can work with a banker to tap into these sources as you bridge from micro-lending to conventional financing.
As you grow, you won't be able to do it all - when to delegate and when to hire? Ute Westphal and Sybil Ege, both experienced Small Business Development Counselors will discuss identifying where you need help and how to find it.
For more information, contact the Village of Hanover Park Community Development Department at (630) 823-5780. Registration is at 7:30, sessions run 8:00 - 11:00 A.M.