Event Information
Location
La Sierra University - Tom & Vi Zapara School of Business
4500 Riverwalk Pkwy
Riverside, CA 92505
Description
Join us for the 4th Annual GrowRIVERSIDE Conference: Grow With Us!
Learn with 14 sessions through four tracks.
Explore career opportunities through two student programs.
Network with regional food systems stakeholders.
Conference keynote speaker: Will Allen, Urban Farmer & Founder of Growing Power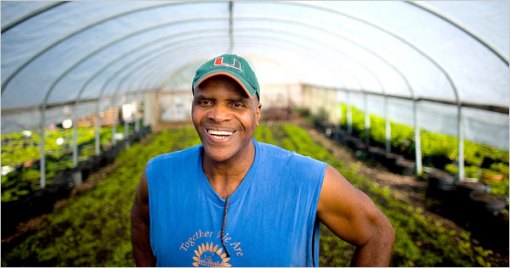 After a brief career in professional basketball and a number of years in corporate marketing at Procter & Gamble, Will Allen returned to his roots as a farmer, using his retirement package to purchase a plot of inner-city land with greenhouses, where he has built the country's pre-eminent urban farm and is transforming the cultivation, production, and delivery of healthy foods to underserved urban populations.
Breakout Sessions
Track 1: Farming How Tos
Track 2: Food & Ag Business Development
Track 3: Connecting Community Development & Food Systems
Track 4: Student Program
Register today!
Ticket sales end March 27, 2017.
Ticket holder voluntarily assumes that their email will be used to receive emails pertaining to GrowRIVERSIDE. We are committed to keeping your e-mail address confidential. We do not sell, rent, or lease our subscription lists to third parties, and we will not provide your personal information to any third party individual, another government agency, or company at any time unless compelled to do so by law.
Date and Time
Location
La Sierra University - Tom & Vi Zapara School of Business
4500 Riverwalk Pkwy
Riverside, CA 92505