About this Event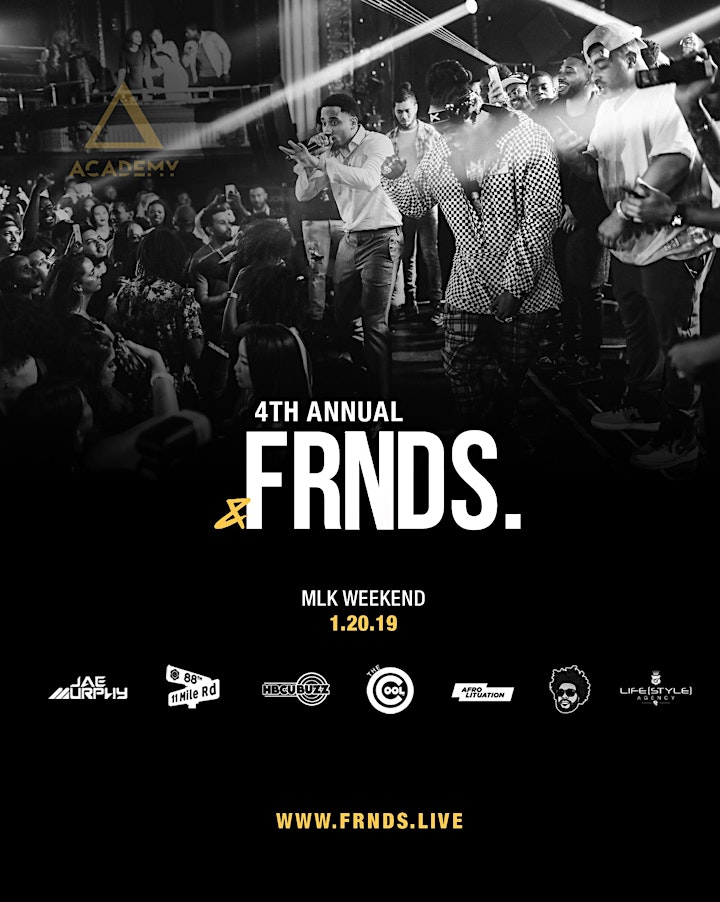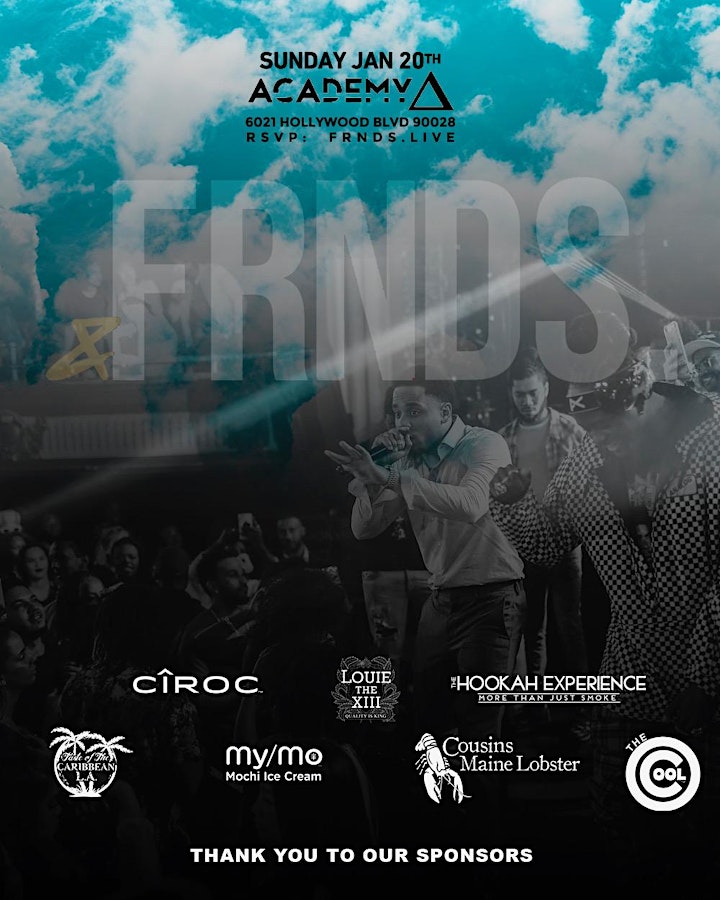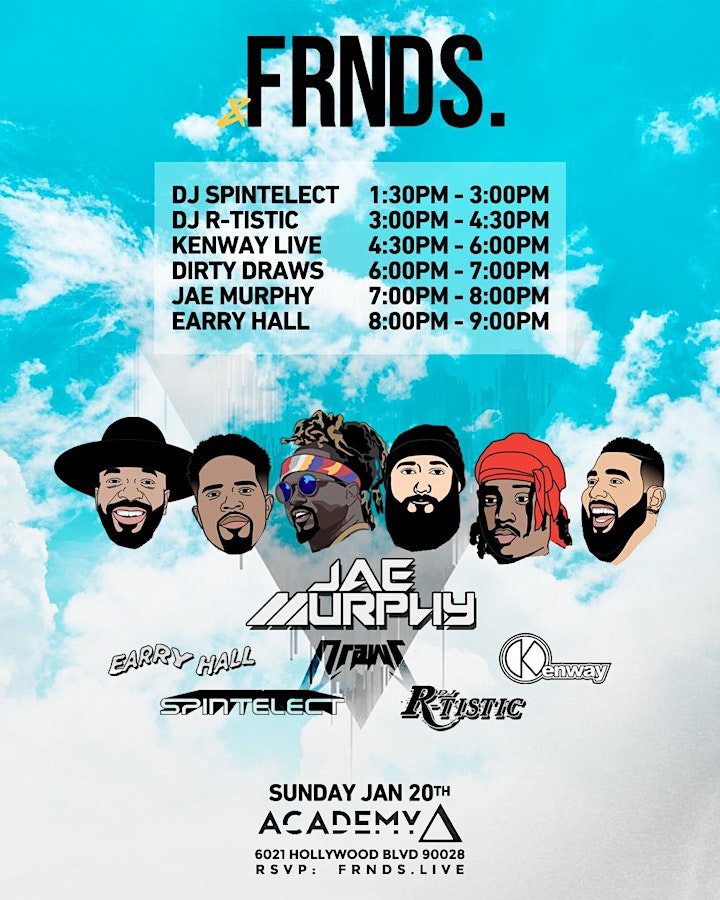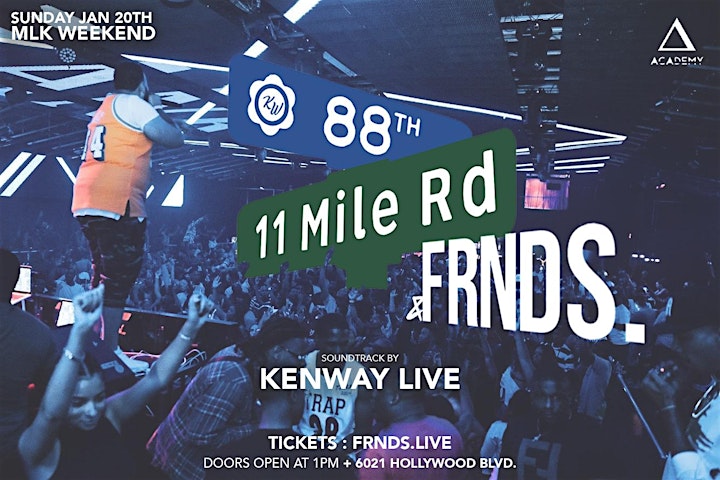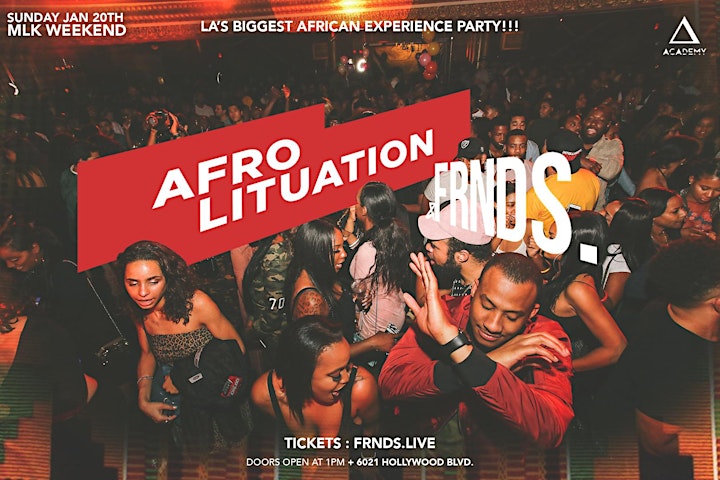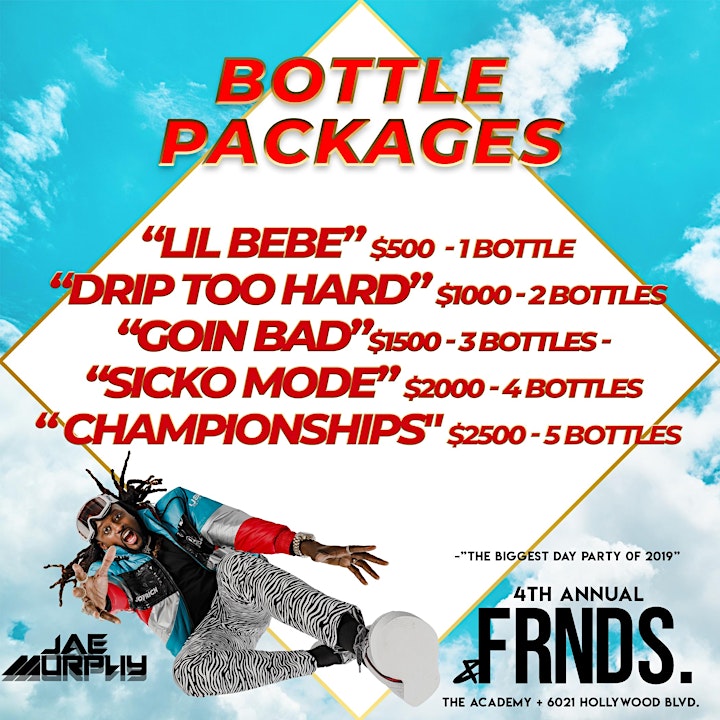 *BOTTLE SERVICE RESERVATIONS* - (301) 221-1719
The 4th Annual FRNDS Experience.
An annual gathering of the most creative and brilliant minds in this millennial generation of entertainment and entrepreneurship.
Our event is an indoor & outdoor experience with food vendors, early open bar, live activations, games, exclusive media gifting suite, red carpet, pop-up celebrity performances, and of course, the musical soundtrack curated by Jae Murphy, Kenway Live, & other special guest DJs.
Come connect with our mass millennial network of who we like to call our FRNDS!
Sunday January 20th, 2019
(MLK Weekend)
Academy LA
6021 Hollywood Blvd Hollywood, CA 90028
Phase I
1pm - 5pm
Outside Patio
4th Annual HBCU Reunion
"The Tailgate"
- Ciroc Bar
- Food Vendors
- The Hookah Experience
- YEEZY GIVEAWAY from Cool Kicks LA
Music By DJ Spintelect and DJ R-Tistic
Phase II
5pm - 9pm
4th Annual &FRNDS Day Party
"The Main Event"
Music By: Kenway Live, Dirty Draws, Jae Murphy, Earry Hall
Bottle Service Available:
$650 - 1 Premium Bottle + 1 Moet - "Lil Bebe" [6 People ]
$800- 2 Premium Bottles - "Drip Too Hard" [6-8 People]
$1100 - 2 Premium Bottles + 1 Moet - "Goin' Bad" [10 People]
$1200 - 3 Premium Bottles "Sicko Mode" [12 People]
$1500 - 3 Premium Bottles + 1 Moet " A Lot" [15 People]
$2500 - 5 Premium Bottles - " Championships" [15 -20 People]
Hosted By:
Jae Murphy
88th x 11th Mile
HBCU Buzz
League Twenty Two
The Cool By Cool Kicks
AFROLITUATION
Lamont Tory
The Lifestyle Agency