Description
The McKinley Heights, Clifford Sanchez, Homewood Heights
Neighborhood Association presents and Events by PaigeVll presents:
The 4th Annual East Austin Community Festival!
It's a fact that East Austin is rapidly growing and changing.
Get a chance to meet your neighbors at The East Austin Community Fall
Festival.
Saturday, November 4, 2017
Space12 located at 3121
E. 12th St. Austin, Tx 78702.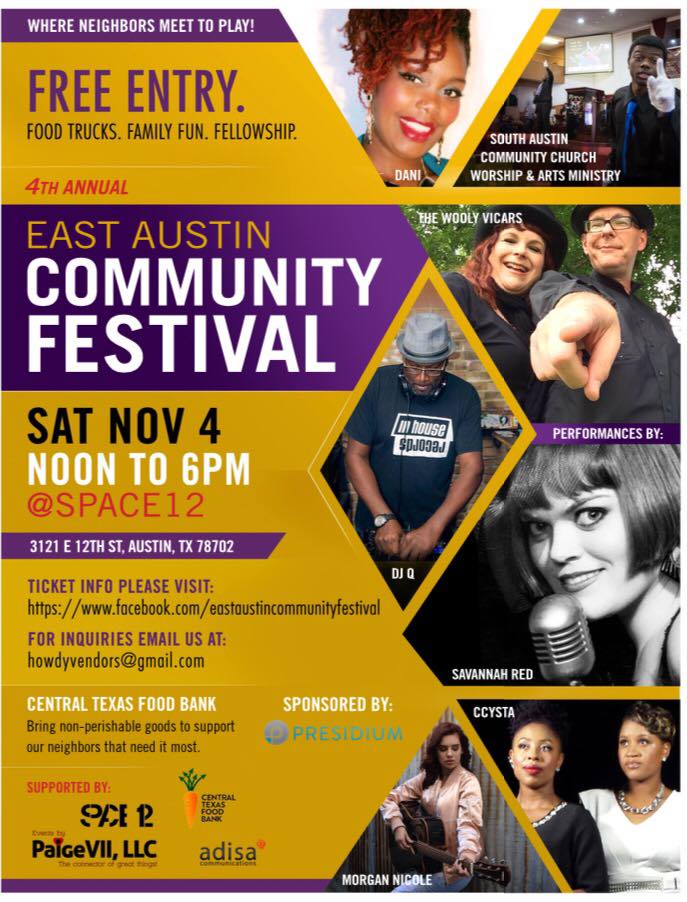 As a community we are supporting the Central Texas Food Bank and making an effort to stop hunger. You are welcome to bring non perishable food items to donate to help a family or individual in need just before the holiday season.
This is a family friendly event and this event is FREE!
We are also making an efforts to aid our neighbors who were affected by Hurrican Harvey. A link has been created to donate to
the Central Texas Food Bank.
Our artist line-up includes:
- South Austin Church Worship & Arts Ministry
Please see Facebook for this link.
Come out and meet your neighbors!
We can share history of our neighborhood, enjoy good food and listen to some great tunes in addition to supporting a great cause.
Last years festival was a tremendous success!
The Central Texas Food bank reported that as a community we donated 220 pounds of food which equates 184 meals.
This year our goal is to reach 500-1000 pounds of food in non-perishable food donations.
Will you help us?
There will be vendors for retail therapy, food for your taste buds, and family fun.
Entertainment will be provided by the hottest bands in town. (the music line-up has been confirmed and will be released soon)
Donation: 3 or more non-perishable food items.
For inquiries email : howdyvendors@gmail.com