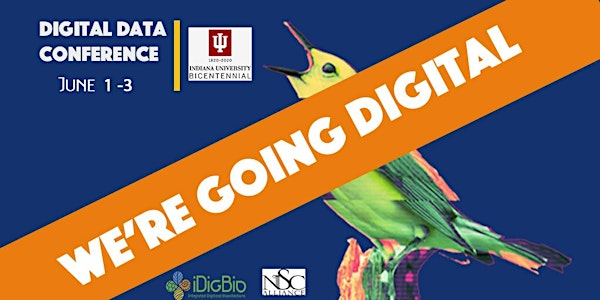 4th Annual Digital Data in Biodiversity Research Conference
Digital Data 2020: Harnessing the Data Revolution and Amplifying Collections with Biodiversity Information Science
When and where
Location
Indiana University Bloomington 107 South Indiana Avenue Bloomington, IN 47405
About this event
Indiana University in collaboration with iDigBio of the Florida Museum of Natural History, and the Natural Science Collections Alliance is pleased to announce the fourth annual Digital Data in Biodiversity Research Conference, to be hosted ONLINE by Indiana University 1-3 June 2020 .
Please watch for further announcements via several listservs and the conference announcement page (https://www.idigbio.org/content/digital-data-2020-harnessing-data-revolution-and-amplifying-collections-biodiversity). The conference will again provide an important opportunity to explore digital data tools, techniques, research protocols, discoveries, and outcomes across all biodiversity research domains.
For further information please contact Gil Nelson (gnelson@floridamuseum.ufl.edu) or Jill Goodwin (jvgoodwin@fsu.edu) at iDigBio.
Digital Data Conference Registration Fees*:
$100.00 for professionals
$50.00 for students.
*Registration fees are optional but encouraged. The fee is $50.00 for students, post-docs, and emeritus faculty; $100.00 for professionals. When registering, those who wish not to make a financial contribution to the conference will have that option. Although registration is optional, your registration information, even if you opt out of the fee, will allow us to keep you updated about conference activities.
Abstracts: You must register for the conference to submit abstracts for posters, talk or discussion sessions. The link to submit abstracts will be in your confirmation email from Eventbrite.
Abstract submission deadlines: 24 April 2020
A link to submit abstracts will be provided in the confirmation email sent after registering.Cancellations cannot be accepted for this conference.