Description
4th ANNUAL DC AFRICAN HERITAGE CELEBRATION
A Tribute to Past & Present Leaders of the African Diaspora
Date: Monday | September 30, 2013| 06:00 PM -10:00 PM
Location: The Howard Theatre|620 T Street NW| DC
The DC Mayor's Office on African Affairs (OAA) and the DC Commission on Arts and Humanities, are pleased to invite you to the 4TH ANNUAL DC AFRICAN HERITAGE CELEBRATIONin honor of the District's proclamation of September as African Heritage Month, and the worldwide observance of the 50th Anniversary of the African Union. This event will be held on Monday, September 30th, 2013 at the legendary Howard Theatre [620 T St NW Washington, DC 20001] from 6pm to10pm.See attached English, Amharic and French flyers.
In honor of these two historic milestones, this year's DC African Heritage Celebration will feature a unique cultural experience that will showcase seven exceptional leaders in the African community, remarks by Mayor Vincent C. Gray, art, music, dance and more!
EMCEE­: Ndimyake Mwakalyelye | Broadcast Journalist at Voice of America
Reception & Networking
Remarks by Mayor Vincent C. Gray
Awards Ceremony
Recognizing seven exceptional leaders of the African Diaspora who have made unique contributions to the cultural and economic renaissanceof the District's African community.
Pan-African Bridge Builder Award | Arts Award | Cultural Education Leader Award | Institution Builder Award | Community Organizer Award |Business Leader AwardPublic Service Award
African Heritage Performances by Local & International Artists
Haile Roots & Chiggae Band:

Chiggae is the debut Amharic language album from Hailemichael Getnet, better known by his stage name as Haile Roots. The 31-year-old Ethiopian sensation came up with a display of real roots, showcasing compelling, melodic riffs and interesting lyrics.

Eme & Heteru Band:

Eme & Heteru is a whirlwind of musical and cultural diversity based in DC . With DC-based Nigerian as lead singer, this band sets itself apart with exotic world music that continues to break the identity barrier with mass appeal that goes straight to your sweet spot.

Balafon West African Dance Company

:

Officially formed by Kadiatou Conte-Forte and her Washington, DC students in 1997, Balafon is a creative partnership among several artists who masterfully blend the natural elegance of traditional West African dance and music with amazingly heroic athleticism.

Loide

is a Washington DC-based jazz vocalist serving up a mix of contemporary jazz and warm afro-lusophone rhythms. With roots in Mozambique and Guinea Biassau, Loide has spent the last 10 years honing her musical craft in some of the nation's hippest speakeasies and jazz clubs.

Waterflow

Wageble

: With the combination of talent, skill, dedication and hope for a better world, Waterflow is a DC-based Senegalese rapper spreading a positive message through Hip-Hop across platforms and conferences around the world with the help of his life experience.

Anna Mwalagho

:

Anna Mwalagho is more than a triple-treat performer. She is an internationally recognized actress, comedian, poet/spoken word artist, African dancer, singer/songwriter and storyteller. She has won numerous national awards in her native country Kenya, and here in the U.S.A, where she is recognized as the Queen of spoken Afro beat and also "Mama Africa."

DJ Underdog

:

Born Timoteo Fabrega in Panama, DJ Underdog came to DC at age seven with his mother. Today, he is one of the most sought after DJs in the DC music circuit as his sets traverse Hip Life, Soukous, Coupé-Décalé , Zouk, Brazilian, Samba, Kuduro, Cumbia, Afrobeat, Tribal House and Kwaito.
****Live Art by Aniekan Udofia****
**Raffle for two roundtrip tickets to Africa from ETHIOPIAN AIRLINES. **
Join us and celebrate this historic moment with us. This event is free and open for public however space is limited and RSVP is required.
Special thanks to our partners DC Office of Human Rights, DC Office of Community Affairs and our corporate donors AmeriHealth District of Columbia, U Street Parking, Dantes Partners, Ethiopian Airlines, MetroLab, and Compass Solutions for supporting this event!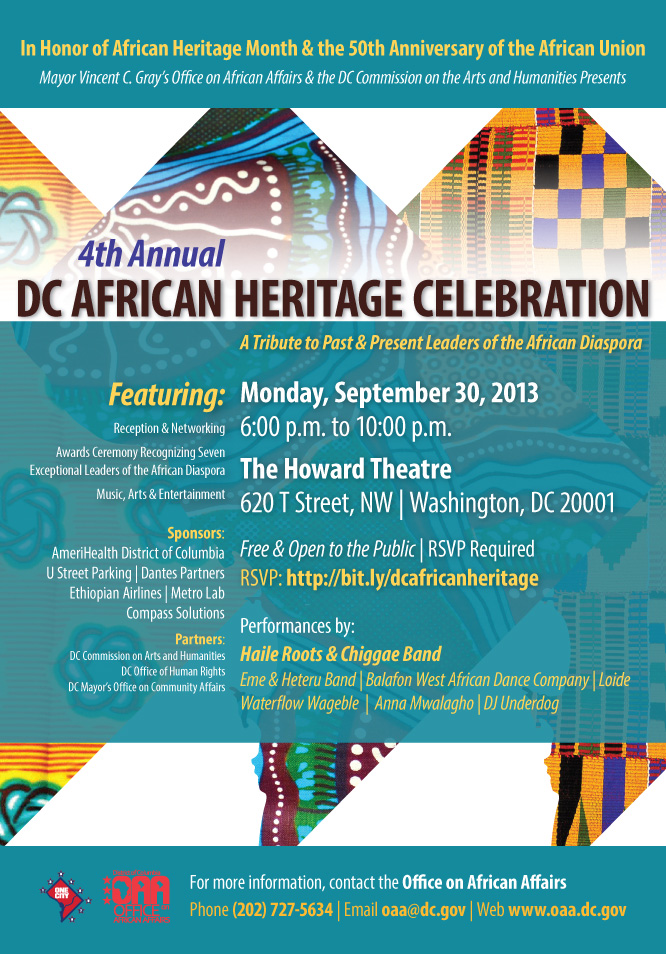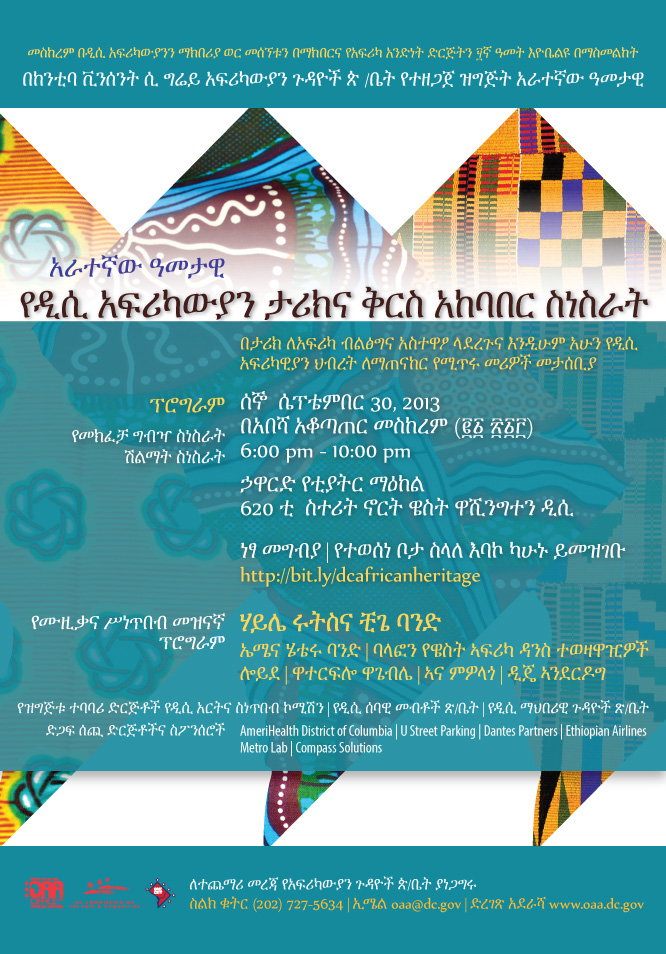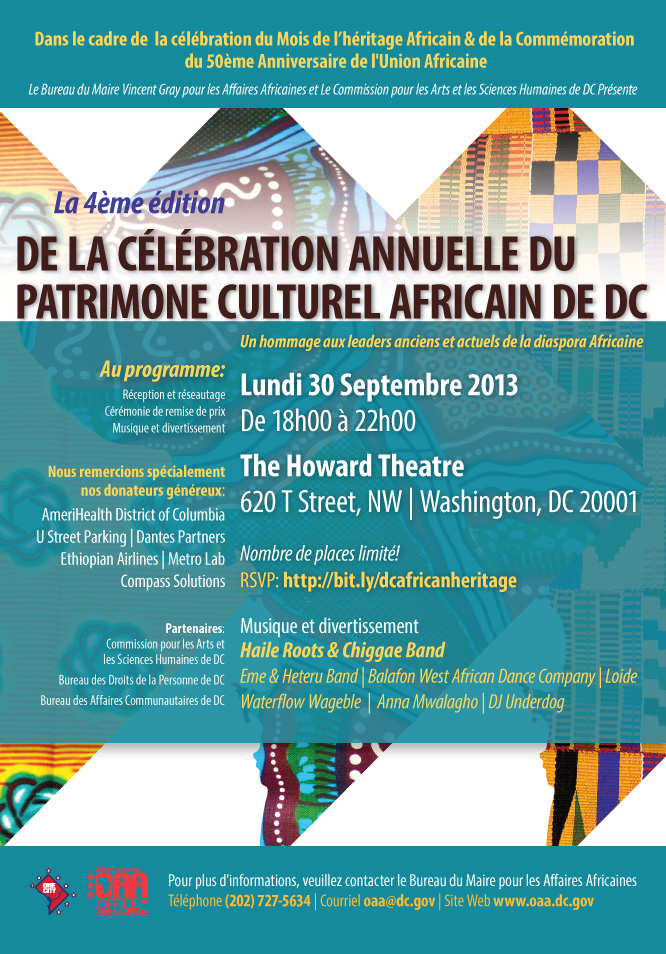 "The Annual DC Africa Celebration is a wonderful celebration of the uniqueness and diversity of the District of Columbia – and a real actualization of my vision of building 'One City'! With approximately 10% percent (147,336) of the nation's foreign-born African population living in the Greater Washington region, we are proud to be the home of one of the most vibrant and diverse ethnic African communities in the country!"
Mayor Vincent C. Gray