Location
The Westwood
438 North Avenue
Garwood, NJ 07027
United States
Journey with us as we challenge you to shift your mindset, take the lead over your life and propel you to your next level !
About this event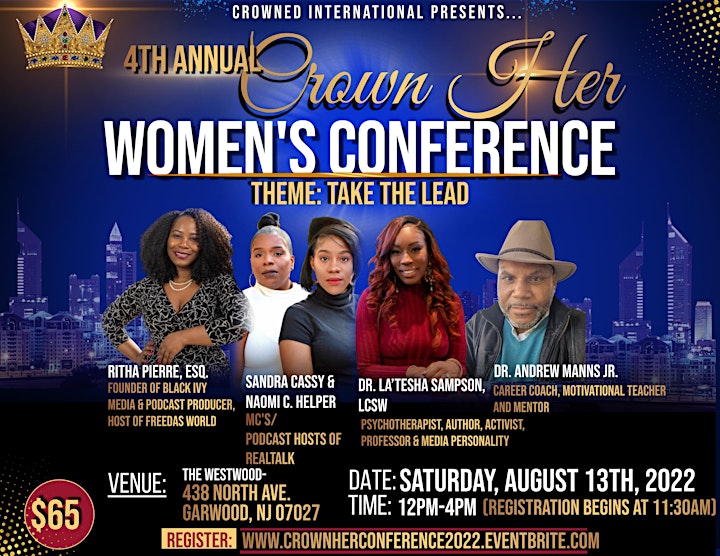 Hey Queens ! It's that time again!
We are excited to be hosting our 4th annual conference this year on Saturday, August 13th, 2022. The Crown Her conference is held every year to celebrate, elevate and empower women of color to become all that God wants them to be. Journey with us as we challenge you to shift your mindset, take the lead over your life and help propel you to your next level ! This year we will have line up of phenomenal speakers who are experts in their field as they take on the theme "Take the Lead" Topics that we will cover include:
The Power of Authenticity
The Courage To Overcome Fear
The Importance of Taking Risks.
This will be a life changing afternoon filled with fellowship, entertainment, music and DELICIOUS FOOD. We want you to come out feeling empowered and elevated!
So tell a friend to bring a friend and come support the movement. It's time for you to Take The Lead !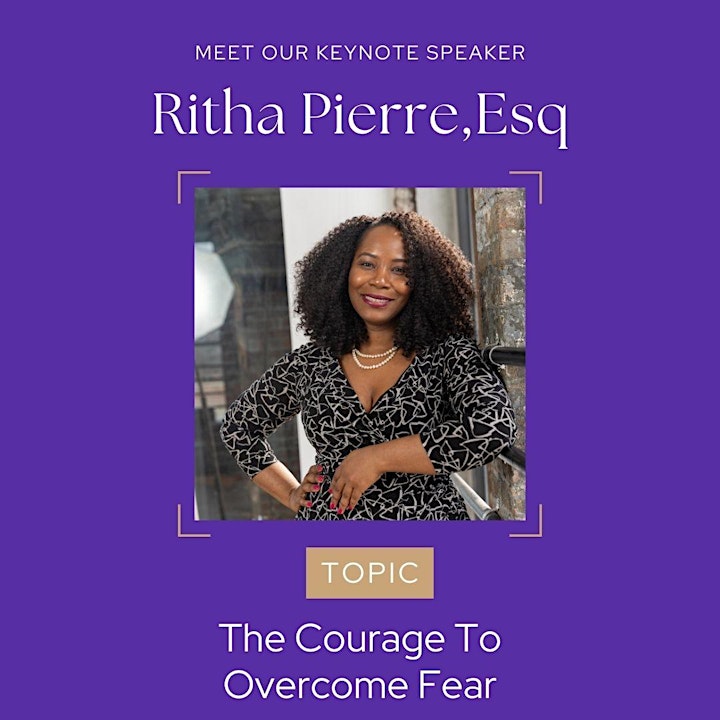 Impassioned by every black woman who rose above social adversity, Ritha Pierre has dedicated her career to empowering others to persevere and take control of their lives. She is deeply motivated to use her expertise in social justice to empower others and has built a career committed to addressing real-world problems related to the underserved individuals and communities of our world. In addition to being the proud founder and principal at R. Pierre Legal LLC, she is adamant about leveraging her influence as an enthusiastic social activist, philanthropist, attorney, writer, podcast host, entrepreneur, radio personality, and producer to give disadvantaged populations the leg up needed to accomplish their goals.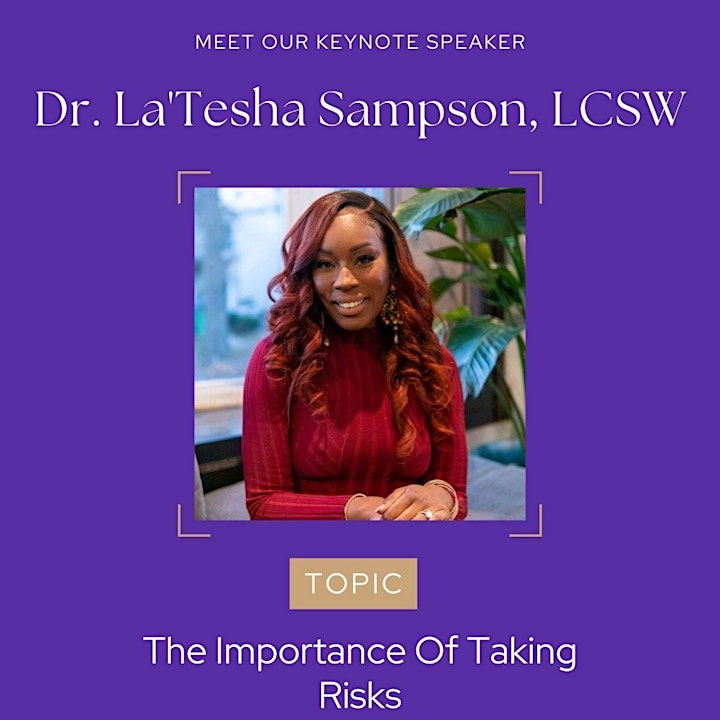 Dr. La'Tesha , a proud Roselle, NJ native, has been a formidable voice in the human services field for over two decades. Dr. La'Tesha is a licensed psychotherapist, professor, author, grant writer, corporate trainer and social justice activist.Dr. La'Tesha is the founder and Executive Director of Great Joy Counseling and Consulting Services where she and her team of therapists provide innovative psychotherapy services to thousands of individuals, couples, families and groups each year.Dr. La'Tesha is the CEO of Great Joy Community Development Corporation, a 501c3 organization with a mission to promote great joy, health and quality of life for disenfranchised people globally.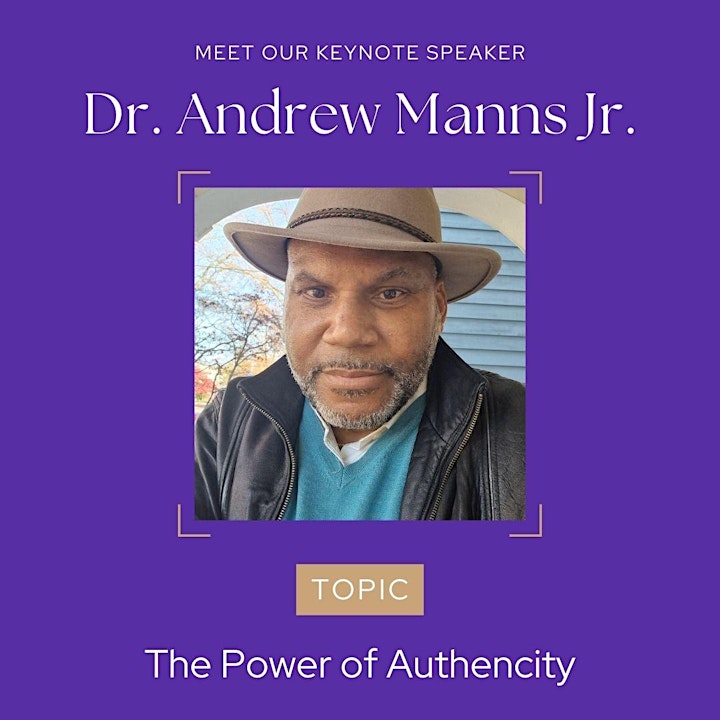 Dr. Andrew D. Manns, Jr. is a retired Criminal Trial Lawyer, Child Advocate, Social Entrepreneur, Creative Change Agent, Film producer, Career Coach, Motivational Teacher and Mentor. Dr. Manns received his Doctorate of Law Degree from Rutgers Law School in Newark and has been a practicing criminal defense lawyer and Child Advocate for many years. He has litigated many cases of abuse and neglect and termination of parental rights cases in NJ. He holds the further distinction of trying the first Munchausen Syndrome by proxy case in Middlesex County. As a Social Entrepreneur he founded Manns Associates, a leadership development firm that specializes in building leadership capacity for non-profits and community-based organizations. Dr. Manns fashions his life by two simple principles:
1. "To whom much is given, much is required."
2. "You know that you are standing on higher ground when you reach down and lift someone else up."
Vendor Opportunities Available
For Business Advertisement, Sponsorship Requests or to Join as an Events Affiliate Partner- Email us at crownedinternational@gmail.com (serious inquiries only please)
For vendor pricing please CLICK HERE.
Available Vendor Categories are:
Cosmetics (makeup, lashes, etc.)
Accessories (e.g. handbags, jewelry, eye-wear, hats & scarfs)
Clothing
Books
Other (Products/Services)
For Sponsorship pricing please CLICK HERE.
FAQs
How can I contact the organizer with any questions?
Email : Crownedinternational@gmail.com (Please allow us 48 hours to respond)
Is there a spot open for speakers ?
No, speakers are booked ahead of time. If you would like the opportunity to be a speaker for our next conference, please email us.
Do I have to bring my printed ticket to the event?
No, names are added to our registry list upon ticket purchase. However, if you are transferring your ticket to someone else they must come with a copy of the printed ticket and their ID.
Do I have to wear a masks?
Masks are optional. We ask that if you are running a fever or have been exposed to an individual with Covid to please refrain from attending.
Refund Policy?
No refunds.