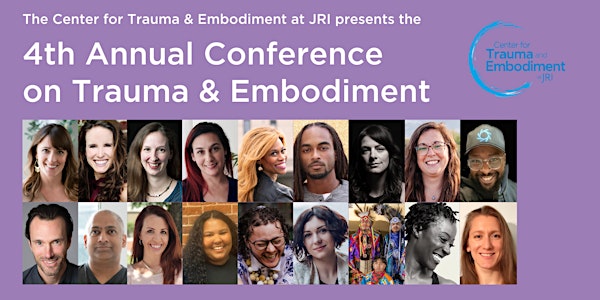 4th Annual Conference on Trauma and Embodiment
The 4th Annual Conference on Trauma and Embodiment is a two day event on April 8th and 9th from 8am to 1pm EDT each day.
By Center for Trauma and Embodiment at JRI
When and where
Date and time
April 8 · 5am - April 9 · 10am PDT
Refund Policy
Contact the organizer to request a refund.
Eventbrite's fee is nonrefundable.
About this event
1 day 5 hours

Mobile eTicket
Reminders:
• Breakout sessions, listed below, are chosen upon checkout.
• Registrants will have the option to attend live, access a recording for one week after the event, or both.
* Several sessions are eligible for CE credit from Yoga Alliance and from IAYT - please see listings for details (you must attend the entire session to receive credit).
• The entire Conference will be ASL-Accessible.
• ASL-Accessible & Spanish-language TCTSY practices will be offered. ASL registration available through March 15th.
• Registration Fee is a sliding-scale for resource-based accessibility.
• To Register a group at a discounted rate, please email kschwartz@jri.org.
• Zoom information for the main group & breakout sessions will be emailed a week in advance of the conference.
Pricing
• Enrollment Fee Sliding Scale $59-$99 - you are invited to reflect on your access to resources related to COVID and/or as a result of forms of intersectional oppression. For example, we acknowledge that our economic system has been intentionally crafted to exploit the land and labor of BIPOC since its very founding. We also recognize that people not conforming to the gender binary or to heteronormativity have been intentionally excluded from employment and economic benefits for generations. The same applies to people with disabilities and more. We are so glad you are interested in our conference and we will strive to prevent economics from being a barrier. Please consider your lived experiences as you choose your conference rate.
• Option for donation (anyone with means is welcome to make an additional donation)
• Group rate of $500 for non-profit organizations who register 10 or more. Email kschwartz@jri.org for details.
Saturday, April 8
8:00am optional TCTSY (45-min)
9:00am Opening and Welcome
9:10 - 9:50am Keynote Speaker: Justice Roe Williams What is Trauma Informed Cultural Competency?, expanding our understanding of oppression-based trauma.
10:00 - 10:50am Breakout Session 1
Embodiment with Deaf Youth
Explore ways to practice embodiment with Deaf youth during sessions, whether 1:1 or in a group setting, and what we can learn more broadly from this exploration. This includes looking at cultural lenses and how that may impact a Deaf youth's understanding of the practice, e.g. if a child experienced Language Deprivation, how does one teach the abstract concept of agency and choice-making through body work? Presenter, Dru Balsley
Experiences of intersectional trauma care in Israel
Rachel Oren became Israel's first Facilitator of TCTSY in 2017. Over the ensuing years, Rachel gained experience working within a vast range of local trauma-impacted communities, while simultaneously raising awareness of TCTSY within the Israeli mental health community. Living in a country that never seems to be out of the headlines, Rachel has become deeply cognizant of how issues surrounding Israeli intersectionality, community-belonging, and global outlook impact the provision of and response to trauma care. Rachel's breakout group will feature discussions of her work as a Facilitator through the lens of local intersectionality, lessons learned from working with special demographics, as well as reflections on the core humanity that transcends borders and unites us in our diversity. Presenter, Rachel Oren
Yoga: Persons and Bodies
The Western tradition, with roots in ancient Greek philosophy, sets off with a dichotomy between the mind and body as early as Plato. Plato conceives of the body as a prison of the soul (mind). But then Western responses to this model insist on valorizing this relationship of being in one's body. Sometimes this is called embodiment. In this session we will look at what Yoga has to teach us about bodies, minds and the senses. A proper understanding of Yoga, especially as we learn about it from ancient sources, helps us understand our need for and responsibility to our bodies. Yoga, the integration of various personal expressions, allows us to understand how our bodies, minds and senses can be functionally identical to us when we practice. Presenter, Dr. Shyam Ranganathan (This session is eligible for 1 CE hour from Yoga Alliance & 1 CE from IAYT)
11:00 - 11:20am Movement Break (Dave or Jenn)
11:30am - 12:20pm Breakout Session 2
Why Can't I Rest my Breath? Embodiment is Community Care.
Have you ever thought about why this word "trauma" has been pop-cultured into our mainstream ways of being, so to speak? And what does our trapped helplessness in our nervous system have to do with embodiment? And, most importantly, how is embodiment considered a form of community care? It may be imperative as leaders and healers of our communities to begin to embody the Self in order to understand the CORE of the Self. In this breakout room you may become more curious about how the CORE of the Self is correlated with the concept of projections and what these projection stories might be trying to attain by subconsciously/unconsciously using folks as a source of controlling our own fears, as well as our unclaimed and unhealed parts of ourselves when left unconscious. Presenter: Nicole Brown Faulknor
#WeLift: Transforming Trauma With Weight Lifting
The world feels relentlessly heavy at times and it can feel seemingly impossible to transform our pain, rage, confusion and heartbreak. The reality is, we lift heavy things all the time, but the opportunity may be for us to collectively experience how lifting heavy things with intention (weight lifting) may just be a liberatory practice. Join us as we explore, experiment and embody how approaching the world/life/barbell/dumbell/insert-heavy-thing in a trauma informed way better prepare us for healing and the resistance. Presenters: Mariah Rooney and Candace Liger
Facilitating Nondirective Embodiment for Gender-Safer Spaces
What does it mean to co-author trauma-informed spaces that acknowledge the harm of the gender binary and systemic transmisia? Following the lead of trans and nonbinary youth, presenters will facilitate exploration of how non-directive embodiment can help us better serve our gender diverse communities. When we make a space safer for trans and nonbinary bodies, it's a gender-safer space for all bodies. Presenters: LB Moore and Lindsey Harrington
12:30pm (20-min) Personal reflection on, "What does it mean to me to connect to the wisdom of my body?" and breakout conversation with a peer.
12:50 Closing
Sunday, April 9
8:00 - 8:45am optional TCTSY (45-min)
9:00am Welcome Back!
9:10 - 9:50am Keynote Speaker: Kenneth Shirley and the Indigenous Enterprise Troupe Indigenous Liberation: The troupe will be presenting dances from their ancestors. This presentation will also address the origin stories and the power of how dance is a healing medicine.
10:00 - 10:50am Breakout Session 1
ReScripted: Theater-based trauma healing for youth
ReScripted is a trauma-informed intervention anchored in embodiment practices that utilizes the power of play, theater and movement to promote the development of a whole healthy self, focused on children and teens. ReScripted is guided by the tagline, "act. embody. and empower.", which is brought to life by inviting students to remain connected to their embodied experience as they explore the choices they are making in the scenes that are developed. In addition, there is a focus on some specific skill modules including problem solving, identity development, and perspective taking. Presenters, The ReScripted troupe
Moving Towards Wholeness
The somatic aspect of "unblending" dissociated parts in the body through yoga. Can Janina Fisher's concept of "unblending" the dissociated parts of complex trauma survivors' personalities be helpful outside psychotherapy? It might! In this session Carolina Const will present how she adapts this model for her work as a Trauma Center Trauma-Sensitive Yoga Facilitator. First, to explain how TCTSY creates framework for reclaiming the body after trauma, and second, as a tool to assist her clients in making sense of their own somatic experience, overcoming alienation within their bodies, and eventually moving towards self-acceptance, self-compassion and empowerment. Two case studies and single testimonies will showcase the process itself and the effects of this approach. Presenter: Carolina Const (This session is eligible for 1 CE hour from Yoga Alliance & 1 CE from IAYT.)
Original Research: Trauma Sensitive Yoga as a New Model of Care for Women Veterans
Our presenter has been pioneering research within the United States Veterans health care system for over a decade. In this breakout, Dr. Kelly will share her latest insights and up-to-date research outcomes. Presenter: Dr. Ursula Kelly (This session is eligible for 1 CE hour from Yoga Alliance & 1 CE from IAYT)
11:00 - 11:20am Movement Break (Dave or Jenn)
11:30am - 12:20pm Breakout Session 2
Restorative TCTSY? Yoga and Team Cohesion in Paralympic Sport
In this session, we'll discuss how the principles of TCTSY support the training of elite athletes and teams, and look at some Paralympic athletes' experiences of restorative yoga and myofascial self-massage offered in the style of TCTSY with Paralympic athletes and teams. We'll talk about how athletes integrate it into their training and recovery, and how teams can use it to develop cohesion, trust, and shared authentic experiences in sport. Presenter, Dr. Margaret Smith (This session is eligible for 1 CE hour from Yoga Alliance & 1 CE from IAYT.)
Cultivating a Therapeutic Experience in the Gym with the Neurosequential Model
With a basic understanding of how our Brains process Stress & Trauma Responses, we break down the the therapeutic effects of Sports & Exercise, & how they can be used to heal from trauma. Presenter, Martin Simms
TCTSY is Embodied Eating Disorder Treatment
Eating disorders are serious but treatable mental and physical illnesses that can affect people of all genders, ages, races, religions, ethnicities, sexual orientations, body shapes, and weights. How present moment awareness, nervous system regulation, and embodied experiences can lead to agency in recovery. Presenter, Katie Comeau (This session is eligible for 1 CE hour from Yoga Alliance & 1 CE from IAYT.)
12:30pm All Group Dance led by Indigenous Enterprise
12:50 Closing
Presenter Biographies https://www.traumasensitiveyoga.com/conference
About the organizer
Experiences of psychological trauma profoundly change our relationship to our body. The Center for Trauma and Embodiment at JRI is dedicated to researching, developing and training providers in effective, trauma-informed practices that help survivors safely re-connect to their body so that they may engage more fully with their life.