Description


Background:
As the one and only high-profile event to cover the whole industry chain of energy stragy in China at the end of 2017, CESS2017 will be held in Shenzhen China on 30th Nov-1st Dec, involving all stakeholders in the value chain including 50 expert speakers, 500+ professional attendees. With the theme "China Energy Storage Market Pattern Under Global Business Innovation", our interactive sessions address almost every aspect of commercialized energy storage. If you'd like to benefit from in-depth analysis of Newest Policies, Business And Technology Innovations of China energy storage industry, CESS2017 will be a ideal place for you to go, you will get the chance to network with the Global specific audiences ranging from utilities to storage companies to policymakers to energy end-users, discussing topics acrossing Microgrid, Renewable Energy, Advanced Battery Technologies, Power Battery, UPS, Supercapacitor, PV, PCS, BMS, Wind Power, Energy Internet, Distribution Power Generation and so on.
Organizer:
--Host:
ACE EVENTS LIMITED
--Supporter:
China Energy Storage Alliance
Australian Energy Storage Alliance
German Energy Storage Association
Agenda At A Glance
Our 2017 agenda, which will feature comprehensive tracks to drill down on the hottest Energy Storage topics on the basis of your role, experience level and key focus.

Experience visionary speaker, guest and energy storage executive keynotes, insightful breakout sessions led by energy storage experts, case study and panel presentations delivered by select industry leaders, the Energy Storage Innovation Top ASIA& PACIFIC Storage reveal, workshops, roundtables for sharing best practices, networking receptions, solution provider sessions and more.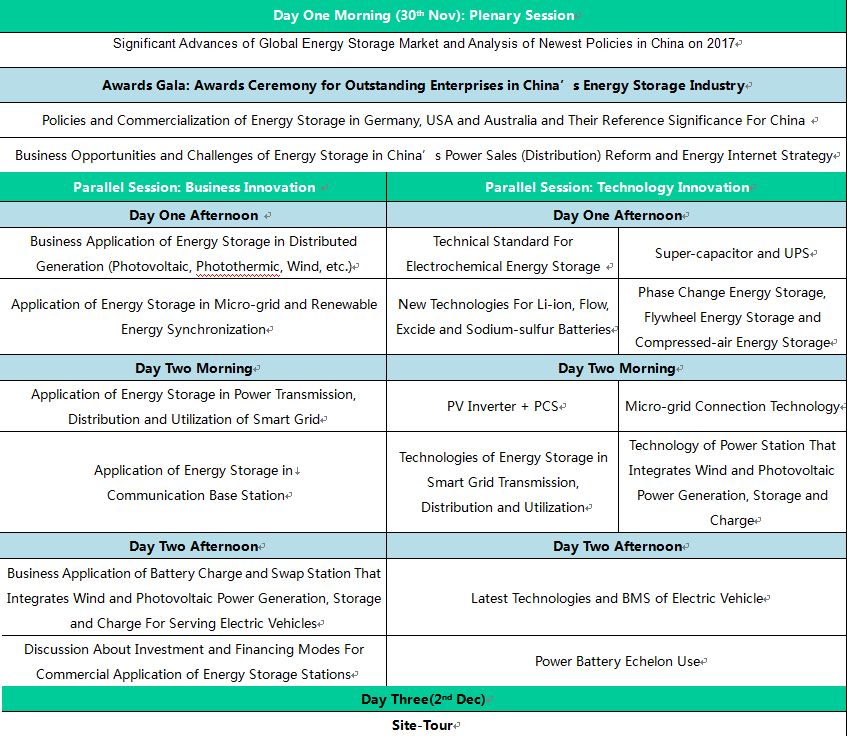 Contact Us:
Easy Ways to Register
This conference is not free. Please contact us if you need to sign up.
E-mail: lena.ji@acevents.org.cn
Website:http://www.eschina.org/