CKIDSFW is a weekend of fun and fashion for kids of all ages! Complete with fashion shows, vendors, designers, retailers, and more!
About this Event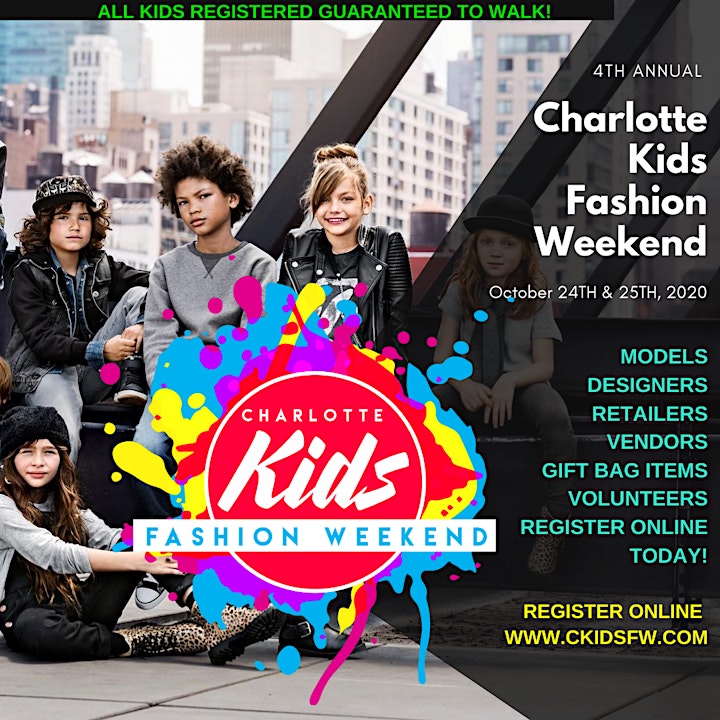 Models that can walk, up to age 17 can register for CKIDSFW. ALL CHILDREN ARE ACCEPTED! All children who register will participate in the freestyle runway shows (themes will be emailed to you)
All children will be added to a model look book that designers and retailers can choose from for their showcases.
This event is all about inclusion, fun & self esteem building!
Includes:
Oct. 24th, 2020: 1 photo shoot (1 look and 5 edits)
Oct. 25th, 2020: Participation in the actual runway show & high resolution copies of the images from the weekend for your child's portfolio.
DUE TO COVID-19, WE ARE ONLY ACCEPTING A LIMITED NUMBER OF CHILDREN. NO ADDITIONAL SPOTS WILL BE OPENED ONCE CUT OFF HAS BEEN REACHED.
VERY IMPORTANT: YOU UNDERSTAND AND AGREE THAT YOUR REGISTRATION AS A MODEL, DESIGNER, RETAILER, VENDOR, OR TICKET HOLDER IS COMPLETELY AND INDISPUTABLY NON-REFUNDABLE. IN THE EVENT THAT THE GOVERNOR OF NC EXTENDS PHASE TWO AND IT OVERLAPS WITH OUR EVENT DATE, OR SOME OTHER UNFORESEEN CIRCUMSTANCE RELATED TO AN ACT OF GOD OR COVID-19, YOU WILL BE ISSUED A CREDIT WITH OUR COMPANY. BY CHOOSING TO REGISTER BELOW, YOU ARE AGREEING TO THE TERMS OUTLINED HERE.
MODELS, VENDORS, DESIGNERS: ONCE YOU REGISTER YOU WILL RECEIVE AN EMAIL WITH ADDITIONAL INFORMATION :-)