Actions and Detail Panel
4th Annual CFAC Awards & Recognition Banquet
Sat, April 30, 2016, 7:00 PM – 10:00 PM CDT
Description
Enjoy a free Cocktail with hors d'oeuvres courtesy of the Non-Profit Organization, Kuntry Kidz, Inc. at our 4th Annual Cocktails For A Cause (CFAC) Awards & Recognition banquet.
It will be hosted by Kuntry Kidz, Inc's Founder Elisha Booth-Barnes and the organization's National Spokesperson Dawn Montgomery-Greene, but with a twist this year. We want to host a cocktail hour with sponsors & guests beginning at 6:00 pm and that will be followed by our new Awards & Recognition program at 7:00pm.

This event raises funds annually for various projects that are beneficial to students who cannot afford them in rural areas in South Mississippi.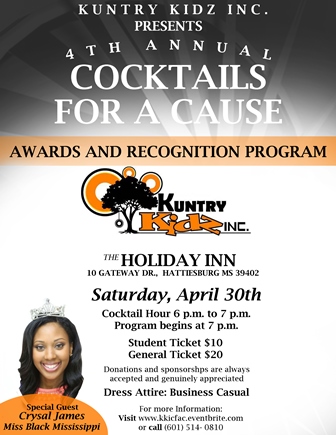 Last year over 100 supporters of the organization joined Kuntry Kidz, Inc. to celebrate our Volunteers, our organization's accomplishments & awards and heard personal stories of how Kuntry Kidz, Inc. has help students in South Mississippi.
COME JOIN US AGAIN THIS YEAR! New location, More Awards and Lots to Celebrate!

Kuntry Kidz, Inc is a 501(c)(3) Federal and State Tax exempt organization and all donations help us to EXPOSE, INSPIRE & ENCOURAGE youth in Mississippi.
If you cannot attend the event then please either buy a ticket so that someone who cannot afford a ticket can attend or pledge to buy one of our Donation tickets and we will honor you the night of the event.

Your attendance is requested to WIN one of our Raffle prizes given in support of Kuntry Kidz, Inc.