4th Annual Cen-Tex Pro Football Camp & Combine

Friday, July 12, 2013 from 5:30 PM to 9:00 PM (CDT)
Event Details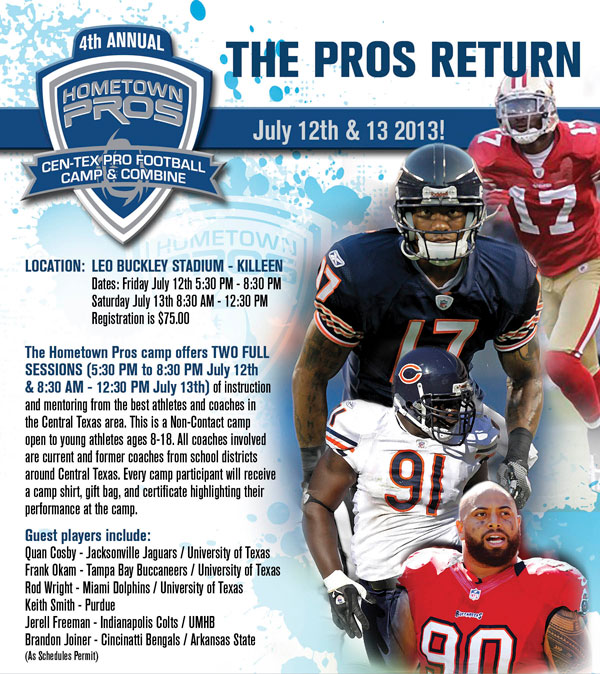 Over the last 4 years our camp has brought together numerous NFL Professional football players to host a two day football camp for kids. The camp features training exercises, football drills, mentor-ship talks, and competitions for each age group. This years camp will continue to build on the success of the past camps as we strive to make a positive impact for the young athletes in Central Texas. We will have guests from the NFL, local coaches from every age level and guests from Universities around Texas.

This years guests will include (As schedules allow) - Quan Cosby, Frank Okam, Rod Wright, Keith Smith, Jerell Freeman, Brandon Joiner and more. (As schedules allow)

The Hometown Pros camp offers TWO FULL SESSIONS (5:30 PM to 8:30 PM July 12th & 8:30 AM - 12:30 PM July 13th) of instruction and mentoring from the best athletes and coaches in the Central Texas area. This is a Non-Contact camp open to young athletes ages 8-18. All coaches involved are current and former coaches from school districts around Central Texas. Every camp participant will receive a camp shirt, gift bag, and certificate highlighting their performance at the camp.

SPACE IS VERY LIMITED! REGISTER TODAY TO RESERVE YOUR CHILD'S PLACE!!
We are excited to add a Junior Cheer Camp to this years event!! Click the image below to see the registration page for our 1st Annual Junior Cheer Camp!


This years proud sponsors include: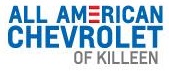 ***Due to scheduling and preorder of supplies NO REGISTRATION WILL BE REFUNDED (You can request your registration be transfered to another camper)

***Parents of athletes with special medical conditions: Please disclose to us by email and on the day of the camp what special attention or concerns are needed for your child. If you have any questions about a child's health in regards to his full or partial participation, it is the parent or legal guardians responsibility to get the participant a physical from a physician. If you believe your child may not be capable of completing a strenuous physical workout please DO NOT BRING THEM!
 
***Hydration is EXTREMELY important!
(We recommend hydrating, especially with sports drinks, a few days prior to camp. and the night after the first session)
***Remember to apply an athletic/sweat proof sunscreen with an SPF rating of at least 50 to your child prior to entrance into the camp.
 
***We highly recommend the athlete brings cleats.
 
***We prefer to have parents remain at the camp to watch and cheer on their child. We will not be held responsible for children that are dropped off. If you choose to drop your child off and not remain on the premises you accept all liablity. (The camp will start and end as scheduled, we are not responsible for your child after camp hours.)
When & Where

Leo Buckley Stadium
3498 Atkinson Ave
Killeen, TX 76543


Friday, July 12, 2013 from 5:30 PM to 9:00 PM (CDT)
Add to my calendar
Organizer
Hometown Pros is a Non-Profit organization that strives to teach young athletes the importance of being not only physically fit, but also mentally fit, while encouraging strong character, and empowering young people to hold themselves to a higher standard than they ever have before. We host community events which feature professional and collegiate athletes with a strong desire to give back to the communities where they grew up.