4th Annual CAREER STEAMposium
Description
Preparing our students today for careers of tomorrow
The event will expose students to diverse pathways in the STEAM-related careers. STEAM stands for Science, Technology, Engineering, Arts and Math. This symposium will give students the opportunity to discover why STEAM careers are in high demand and why a career in this area is very important and can be an exciting choice. This conference includes:
Breakfast and lunch;

Resources and information needed to succeed in college and beyond;

Connections with industry professsionals;

Opportunities to learn about STEAM careers; and

Informational workshops and hands on activities.
***ALL FREE***
Parking instructions: Park in the lot on Hill Ave and Colorado Blvd.
---
Hands-On Activities
Robotics/Engineering/Virtual Reality/Gaming Program:
Bronco Motorsports CPP Formula SAE & Liquid Rocket Lab Team (Cal Poly Pomona),

"Droidnaughts" (Monrovia High School Robotics Team),

Robotics Team "Team Sprocket" (Diamond Bar Highs School Robtics Team),

Lego Robotics "Team RoboHeroes & Team Wolf Corp (Suzanne Middle School First Lego Robotics),

Virtual Reality (AT&T).

Gaming Program (Azusa Pacific)
SAE (Society of Automotive Engineers) Race Car Team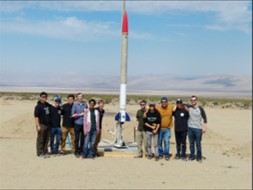 Cal Poly Pomona's Liquid Rocket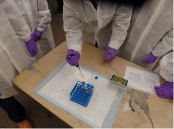 City of Hope - Hands On Activity
---
Annual Career STEAMposium - 2019


Workshop Descriptions
---
Science
This engaging workshop will be led by Dr. Anthony Murphy, Jr. and Dr. Maurice Hale.
Dr. Murphy is a Hospitalist/Internal Medicine physician for Dignity Health Medical Foundation Group. Dr. Murphy currently practices at Northridge Hospital Medical Center in Northridge, California with a focus on a wide range of acute illnesses afflicting the adult population. Dr. Murphy was born and raised in Milwaukee, Wisconsin and went on to complete his undergraduate studies with a double major in biochemistry and Spanish at Florida A&M University. He completed his medical training at Indiana University as a medical student and Internal Medicine resident.

Dr. Hale is the President of the Board of Certified Radioligists. He leads the Diagnostic Imaging Network and has a host of doctors in the radiology imaging field at his disposal. Maurice speaks about the lack of "people of color" in his field and encourages those interested in medicine to pursue radiology as a career choice.
Technology
This innovative workshop will be led by Chester Hawkins and Lanny Smoot.
Chester Hawkins graduated from Loyola Marymount University with a BS in Computer Science. Chester currently works for the world's largest content delivery network, Akamai, as a software development engineer. He loves technology and keeping up with the latest tech news. When Chester's not at work, you can find him making mobile apps as well as teaching a team of middle school kids how to build and program robots in order to compete in the national Botball competitions.

Lanny Smoot is a Sr. Research Scientist at Walt Disney Imagineering's Research and Development organization. Lanny has held leadership positions in telecommunications research at Bell Labs, Bellcore, and Telcordia. At Bell, among other things, he designed some of the first fiber optic, and video-on-demand systems. Lanny spent 10 years in Walt Disney Imagineering's Research and Development organization where he led R&D groups that focused on innovative sensing techniques, human computer interaction, robotics, imaging, and special effects systems for the Disney Parks. At Disney Research, he has helped create new 3D displays, robotic, and ride, systems. Lanny holds both Bachelors and Masters Degrees in electrical engineering from Columbia University. He has earned more than 75 US Patents for his work. This is sure to be an exciting workshop that integrates technology with innovation and entrepreneurship.
Engineering
This inspiring workshop will be led by Ferris Harvey and Raymond Ealy.
Ferris Harvey works in the Phantom Works Advanced Space Exploration organization at Boeing Corporation. He is focused on design and integration of sub systems within the Experimental Space Plane platform. Ferris is a recent graduate of the Engineering Career Foundation Program (ECFP) Class of 2017, a two-year, enterprise-wide leadership and technical skill rotational development program across Boeing Commercial Airplanes, Engineering Operations and Technology, and Boeing Defense, Space and Security. He is a graduate of Howard University with a B.S. Mechanical Engineering degree, and is currently pursuing his Masters in Aerospace Engineering from UCLA.

Raymond Ealy is the Founder of STEAMCODERS, an organization that focuses on teaching underrepresented and underserved K-12 students of color the fundamentals of Science, Technology, Engineering, Art and Math. Their Mission is to unlock the potential of each participant through an educational and enjoyable curriculum focused on logic, critical thinking and problem solving skills. Raymond believes in making sure our youth are exposed to opportunities and looks forward to sharing.
Arts
This creative workshop will be led by Andrew Law and Dexter Tanksley. They will highlight how STEM skills are used within artistic and entertainment industries.
Dexter Tanksley is a Disney Imagineer and Senior Project Manager in the Project Management Portfolio responsible for translating the ideas of the creative team into dimensional attractions and rides at Disney theme parks worldwide. This includes working with professionals from a variety of disciplines – from writers to artists and engineers – to understand and manage creative concepts from ideation through final construction. He earned his Bachelor's Degree in Architecture at Hampton University. He is an associate member of the American Institute of Architects. This will be an entertaining and informative workshop where you will learn how artistry meets technology.

Andrew Law is a Free Lance Lighting Programmer. He earned his Bachelor of Arts in Theater with an emphasis in Design and Technology from Indiana State University. Through Production Resource Group (PRG), he has worked on various projects such as the Grammy Awards, Beyonce Formation Tour, and Universal Studios Halloween Horror Nights/Grinchmas. Through Walt Disney Parks and Resorts, as an Entertainment Technician/Lighting Programmer, he has worked on various shows such as the ABC Holiday Special, The Nighttime Fireworks Spectaculars, and was a member of the Grand Opening Lighting Team for Shanghai Disney. He continues to work on Projects and Shows for PRG and Disney as well as many television shows. He is looking forward to sharing and answering questions on how lighting makes the magic in the Entertainment Industry.
Math
Math is the foundation for everything. This workshop will be led by Ed Magee and Michelle Saywell.
Ed Magee believes that Math is Music to Our Ears. He brings over 25 years of diverse work and life experience to his current role as Senior Vice President of Operations at Fender Musical Instruments Corporation, one of the world's leading musical instrument manufacturers, marketers and distributors. Prior to Fender, he worked at Harley-Davidson, a company with an incredibly passionate consumer base and a true sense of purpose. With this background, he moved to Fender, another company with immense passion, purpose and history. Magee spent the early years of his professional life flying the A-6E Intruder and the F/A-18 Hornet for the United States Marine Corps where he earned a rank of Lieutenant Colonel. Math is key to music. Join this workshop to see and possibly play Fender instruments while you're learning the math of music.

Michele Saywell graduated from the University of Michigan with a Bachelor of Science degree in Applied Mathematics. She works for the global firm of Konica Minolta Business Solutions as a Senior Account Executive where she provides solutions for data capture, access, production, management, and security. She uses math, interpersonal, sales and marketing skills to work with businesses all over the world to solve problems for her customers and drive revenue for her company. In her spare time, she volunteers to help various communities throughout the Los Angeles area.