4th Annual Canine Memorial at Lake Baldwin

Saturday, August 13, 2016 from 7:00 PM to 9:30 PM (EDT)
Event Details

Join us TONIGHT! Saturday, August 13, for the 4th annual Canine Memorial at Lake Baldwin

We started this event four years ago when a very important member of our family, our beloved golden retriever Brandon, died. As anyone who considers a dog a companion knows, the intense pain that accompanies this loss was unbearable. Unfortunately, and as most pet parents often do, we felt alone.

During the following months, as our family grieved over our pet, friends, neighbors and even strangers shared their stories of loss and bereavement with us. That's when it became painfully obvious to us that we all shared the same feelings of isolation as there wasn't much support out there for those who grieve for a pet.

We realized that what we all needed most as a group was to have our feelings validated…

Motivated by that, my daughters and I decided to coordinate a collective memorial in order to provide everyone with the opportunity to honor and bid farewell to their treasured companions. The first Canine Memorial was held on the one year anniversary of our beloved Brandon's passing, July 27th, 2013. 

On that day, the cities of Orlando and Winter Park, Florida, united to help us create the most beautiful and unique ceremony; one that brought together animal lovers from near and far, who expressed their sorrow by decorating lanterns in honor of their canines. These lanterns were then released into the water to carry away the heartwarming messages written to their beloved.

For some, it was the first real opportunity to say goodbye to their companions!

Sadly, and as expected, many more dogs have crossed over since our first memorial, leaving behind many families in need of an outlet for their grief. We must continue our mission... 

Please join us Saturday, August 13th and you too will have the opportunity to honor the memory of a canine companion you have loved and lost. 

An experience you won't want to miss! 

Thank you so much for your interest. We hope to see you there.



Please note that just like last year, the entire ceremony will take place at the beautiful Harbor Park in Baldwin Park, Orlando.

Reserve your lantern to guarantee availability. For more information: contact Jannette at 561-577-7050 or Alanna 407-951-4515

You can help us promote the memorial by posting this link: 
http://4thannualcaninememorial.eventbrite.com/ on your social media pages. 

As in previous years, we respectfully request that attendees refrain from bringing their dogs.
___________________________________________________________________________________ 
Frequently Asked Questions:
Is there an admission fee involved? No, all of our events are free to the public. However, to participate in the antern floating you should reserve a lantern before the event, otherwise, we cannot guarantee availability.
May I bring my dog? We respectfully request that you do not bring your dog. Please understand that we aim to encourage a connection among animal lovers that have lost their companions. The night is about honoring our departed companions, not the ones we are lucky enough to still have with us.
Where can I park? There are several parking areas around the community, including the parking lot at the new apartment complex Baldwin Harbor next to the park, as well as three main parking lots. (see diagram)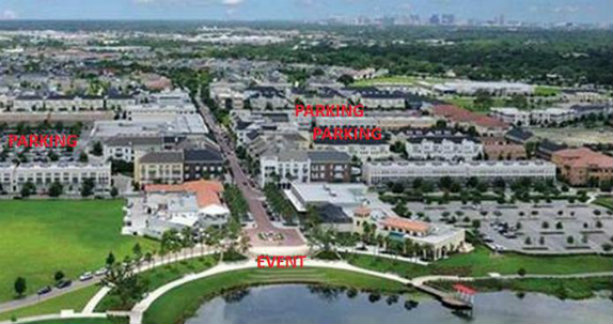 Also, attendants of the event will be able to park at the Fairwinds Credit Union parking lot and the Cuhachi & Peterson (CDLP) parking lot (located behind Fairwinds Credit Union) and walk to the Village Center.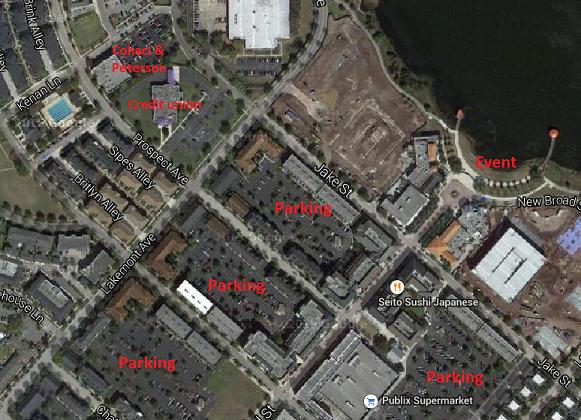 Will the event take place rain or shine? Any rain delays or if the event gets canceled due to bad weather will be communicated via our Facebook page.
Where do I pick up my lantern? Lanterns will be available for pick up in the registration area the day of the event. Please bring a printed copy of the receipt as proof of payment in order to receive your lantern(s).
I cannot be there to personally float a lantern, can I still participate? Yes, you can order an absentee lantern, and request to have your remembrances written onto it by a volunteer who will set it afloat for you the night of the event. You must select Absentee Lantern if you are choosing this option! 
What should I bring? If you are floating a lantern, bring a 5″ x 7″ photocopy of a picture of your beloved pet companion to be attached to it. Art supplies for lantern decoration will be provided. Please note: extra decorations make the lanterns tilt when placed in the water and therefore will not be allowed.
Can I bring my own lantern to float? No. Our lanterns were pre-approved, due to Fire Department's restrictions.
Do you use real candles? No, for the safety of the environment and all those involved, we use flickering LED lights instead. They have the same effect, plus they stay lit for hours, making them easier to find when it's time to retrieve the lanterns from the lake.
What happens to the lanterns after the ceremony? Every single lantern will be retrieved from the water right after the event and a volunteer crew will check again the following morning. Some of the wooden parts will be cleaned and stored for future usage, while all the sleeves with the dedicated remembrances will be removed and handled in a proper and respectful way.
Is Floating Lantern Memorials a non-profit?  No, Floating Lantern Memorials, Inc. is a special events company created with the purpose of organizing collective pet memorials in our communities. 
Thank you so much for your interest. We hope you can join us!
DISCLAIMER: All participants understand that Floating Lantern Memorials, Inc., has no control over unforeseen events nor will be held responsible for any loss, injury or damage to any person or property that may occur as a result.
When & Where

Harbor Park (Baldwin Park)
4990 New Broad Street
Orlando, FL 32814


Saturday, August 13, 2016 from 7:00 PM to 9:30 PM (EDT)
Add to my calendar
Organizer
Floating Lantern Memorials, Inc.
The mission of Floating Lantern Memorials is to facilitate meaningful ways for friends and family to celebrate the memory of their pet companions.

4th Annual Canine Memorial at Lake Baldwin