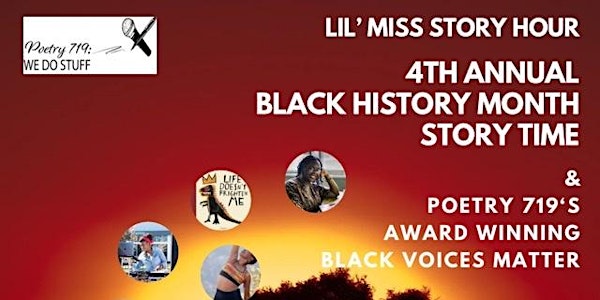 4th Annual Black History Month Story Time
Join Lil' Miss Story Hour for our 2023 Story Time season kick off!
When and where
Location
KCH 20 West Pikes Peak Ave Colorado Springs, CO 80903
About this event
On February 18, 2023, Lil' Miss Story Hour will host their opening community story time event of the 2023 season in collaboration with Poetry 719's Black Voices Matter and Black Vendor Market event. We will celebrate Black History Month by honoring and elevating Black history, culture, and heritage through stories, art forms, crafts, special guest artists, and picture books! Explorations include but are not limited to writing, illustrations, mathematics, music, and social experiences.
Book selections will include "Life Doesn't Frighten Me," by Maya Angelou; and "Gordon Parks: How the Photographer Captured Black & White America" by Carole Boston Weatherford. Special guests will be DJ and life coach, DJ ChloeBeeBlessed; African Dance Instructor, Leona Abdullah-Ward; and visual artist, Kai Gaynor. This event WILL NOT be aired virtually.
Event Schedule
12pm - 3pm ----- Black Vendor Market
1:30pm - 3pm -- Lil' Miss Story Hour's Story Time (RSVP/registration required)
3:30pm - 5pm -- Poetry 719's Black Voices Matter
HEALTH AND SAFETY
Mask optional
ADMISSION INFO
RSVP/registration is required for this event.
DONATIONS
Donations are strongly encouraged! Donations can be made when you RSVP above, as well as on-site, the day of the event.
Attendees may also donate via any of the following platforms:
Venmo: @lil-miss-story-hour
PayPal: paypal.me/bettiethebookworm
Cashapp: $nesscapades
For more information about this event, please visit lilmissstoryhour.com, email Vanessa Little at lilmissstoryhour@gmail.com, or message Vanessa Little at @lilmissstoryhour on Instagram.