4th Annual Beyond the Professoriate, the Online Career Conference for PhDs
Description
Learn about PhD jobs and careers . . . and how to get them!

Beyond the Professoriate is the online conference for PhDs in career transition. Join us for two days of presentations and discussion with PhDs working in non-faculty roles in a variety of jobs and careers. Learn from PhDs who've been there, done that!
The 4rd annual conference will take place live on Saturday, 6 May, and Saturday, 13 May 2017, starting at 11:00am EDT both days. All conference sessions will be recorded and will be available to watch on demand for 21 days.

Full conference tickets are only US $49 (early bird) and US $59 (late registration) + the Eventbrite processing fee.

Day 1: Career Day (Saturday, 6 May 2017)
Careers in Higher Education
Careers in Government
Careers in Nonprofits
Careers in Industry or Business
All now available in streaming video format in our online platform; each panel is 80 minutes long
Day 2: Professional Development Day (Saturday, 13 May 2017)
Leveraging Your PhD: Identifying Career Paths to Suit You and Your Goals (Catherine Maybrey)
Stages of the Job Search Process (Rachel Leventhal-Weiner)
Your Resume & Cover Letter (Kristine Funch Lodge)
Build Your Brand & Your Network (Jared Wesley)
How to Articulate Your Transition Story in a Non-Academic Interview (Heidi Scott Giusto)
The Hiring Process (Josh Magsam)
2017 Quick Facts
4th Annual Beyond the Professoriate, the Online Career Conference for PhDs
Saturday, 6 May, and Saturday, 13 May 2017
2 days, 10 sessions (4 career panels, 6 presentations), 11+ hours of live interactive video content
21-day on-demand video replay
16 panelists (Day 1: Career Day) and 6 invited speakers (Day 2: Professional Development Day)
Hosted entirely online via webconference
Produced by and for PhDs from a wide variety of disciplines
More than 750 tickets sold for the 2014-16 conferences, combined
2016 attendees: 39% STEM, 26% humanities, 18% social sciences, 6% health, 5% education, 7% other
*New* All conference attendees will receive free access to the Beyond the Professoriate online community during May 2017! Details to be announced
For more information, including the full program and speaker bios, check out our website.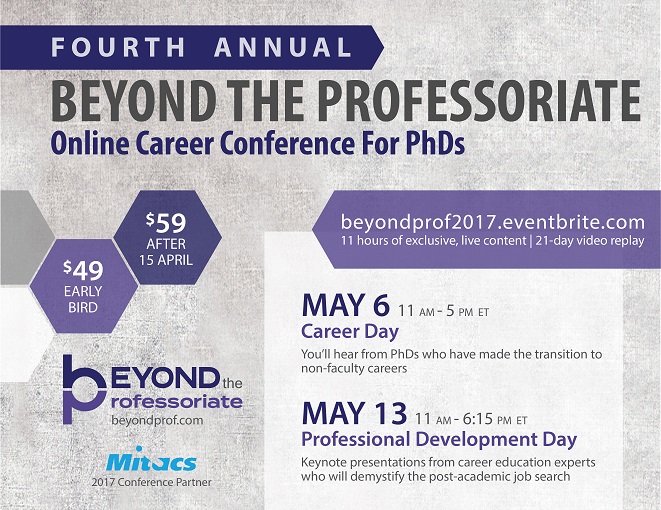 FAQs
I'm busy that day. Will the conference be recorded?
Yes! Can't attend live? No problem. Watch all sessions later. Recordings will be available for 21 days afterward.
Can I purchase tickets for my students or postdocs?
Each year about half our sales are to university offices and departments. Encourage your faculty of graduate studies, graduate or postdoc professional development office, or program chair to purchase a group of tickets for you and your peers!

Ready to purchase? You can get single tickets or receive a discount on larger orders. For 10 or more tickets, save $5 off the total cost of each ticket; for 20 or more tickets, save $10 off the total cost of each ticket. The discount is automatically applied when you select the appropriate ticket option in Eventbrite. Full details and instructions on our website.

Can I get a discount?
Group discounts are available for 10 or more tickets. Choose either the 10+ or 20+ Group Purchase option during checkout and the discount will be automatically applied.

How can I contact the organizer with any questions?
Email us at info@beyondprof.com. If you want to reach either Jen or Maren specifically, we are at jen@beyondprof.com and maren@beyondprof.com.