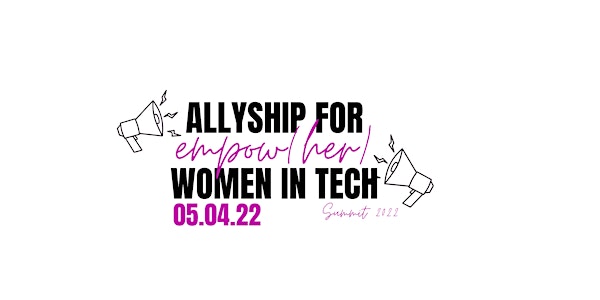 4th Annual ATW - SW Summit Presents Empow(her): Allyship for Women in Tech
Location
Venue 8600
8600 East Anderson Drive
Scottsdale, AZ 85255
Sales Have Ended
Ticket sales have ended
Thank you for joining us after a year on pause. We couldn't be more excited to have you as our ATW Ally and see you in-person at our upcoming 2022 Summit at Venue 8600 in Scottsdale, Arizona!
Join us in-person for our 4th Annual Alliance of Technology and Women - Southwest Summit in Scottsdale, AZ with local leading women in tech!
About this event
Sponsored by CSAA Insurance Group, AttackIQ, and Openforce
We are beyond excited to reunite in-person on May 4, 2022 for our most exciting summit yet, Empow(her): Allyship for Women in Tech! Now more than ever we need to empower one another through allyship for women in tech which is why we have put together an amazing agenda with diverse leaders in technology across the Valley.
Together, we will take a journey on what it means to be and support women in tech while navigating today's landscape. You will not only get to learn more about who we are as ATW - Southwest, but why we do what we do. You will also hear from our guest speakers, panel, and get the opportunity to learn how to network with our networking guru at happy hour. 
From men to women and executives to college students, this event is for anyone who has a career in tech or is just starting out and lunch is included.
Take a look at our curated agenda with YOU in mind and we look forward to seeing you after a year on pause and meeting more ATW Allies!
Agenda Overview
Registration 10 - 11 am
Lunch (Included) 11 - 11:45 am
Dress for Success - Learn tips and tricks on how to dress for success at work while working remote.
Keynote Speaker: Being an Ally to Women in Tech with Kate King, Founder of Human on Purpose and Chief Growth Officer at Footprint
Being an ally in technology today is more important than ever. Kate King has been a technology leader and CEO and will share her journey. How can personal sovereignty drive change and inspire generations to come? She'll leave us all with a personal mission and journal work to drive future discussions!
Why are We Here? with ATW - Southwest Board and McKinsey & Company
Hear from the ATW - SW Board about our beginnings , mission and purpose of bridging the gap for women in tech between those who enter the field and those who stay with guest speaker Usha Jagannathan, Principal Engineer at McKinsey & Company, presenting the latest women in tech McKinsey study.
Breaking the Digital Glass Ceiling Panel Discussion
Against the odds, our panel of inspiring and powerful leaders have perverted and succeeded in their fields to lead change in tech as CIOs, CEOs and Technology Leaders. Our panel will share their personal stories and share insights in a candid conversation with our ATW Board Member, Marlys Rodgers, CISO
Panelists
Jan Belt, CEO at Agilesys
Margaret Mitchell, CIO at Resonea, Inc.
Melissa Harrison Fortuna, Ph.D, Lithography Technical Supplier Owner at Intel
Speaking with Confidence - Tips for Ambitious Women & Their Allies
Learn how to speak with confidence with tips on how to navigate work conversations, questions to ask and avoid, and more with Carla Howard
Employee Resource Group Panel
As workplace diversity and inclusion programs are becoming more prevalent, Employee Resource Groups (ERGs) are gaining in popularity. Board members ask tough questions of our panelists, leaders of ERG initiatives at their companies – How are we measuring success? How are they promoting and supporting women in tech?
Panelists
Isabella Giannini, Director of Customer Loyalty at Axon
Robin Morocco, Vice President of Inside Sales at ZipRecruiter
Alexis Castorina, Senior Director, Consumer Marketing & Education
The Art & Science of Networking (Happy Hour)
Let the ideas and insights of the day spark conversation at our networking and happy hour portion of the day with hands on activities/coaching. You will learn how to network and put it into practice with Marlys Rodgers, CISO and Wendy Greenland, CEO at Openforce.