4th ANNUAL ATLANTA INT'L BACHATA FESTIVAL - April 26-30, 2012

Thursday, April 26, 2012 at 7:00 PM

-

Monday, April 30, 2012 at 3:00 AM (EDT)
Event Details
4th ANNUAL ATLANTA INT'L BACHATA FEST 2012™
 at MELIA ATLANTA HOTEL - April 27-30th
Your host Jose Maldonado & MC Mario B invites you to the 4th Annual International Bachata Fest April 27-30, 2012 @ the Beautiful Melia Hotel in Atlanta.
"You Have To Be There... ABF 3 WAS AMAZING!!!" ... With over 27 states attending the night parties, rooftop pool parties, spectacular line-up of shows, world-class workshops and the best congress experience, join the Bachata Revolution as Atlanta welcomes Bachata Dancers from around the world.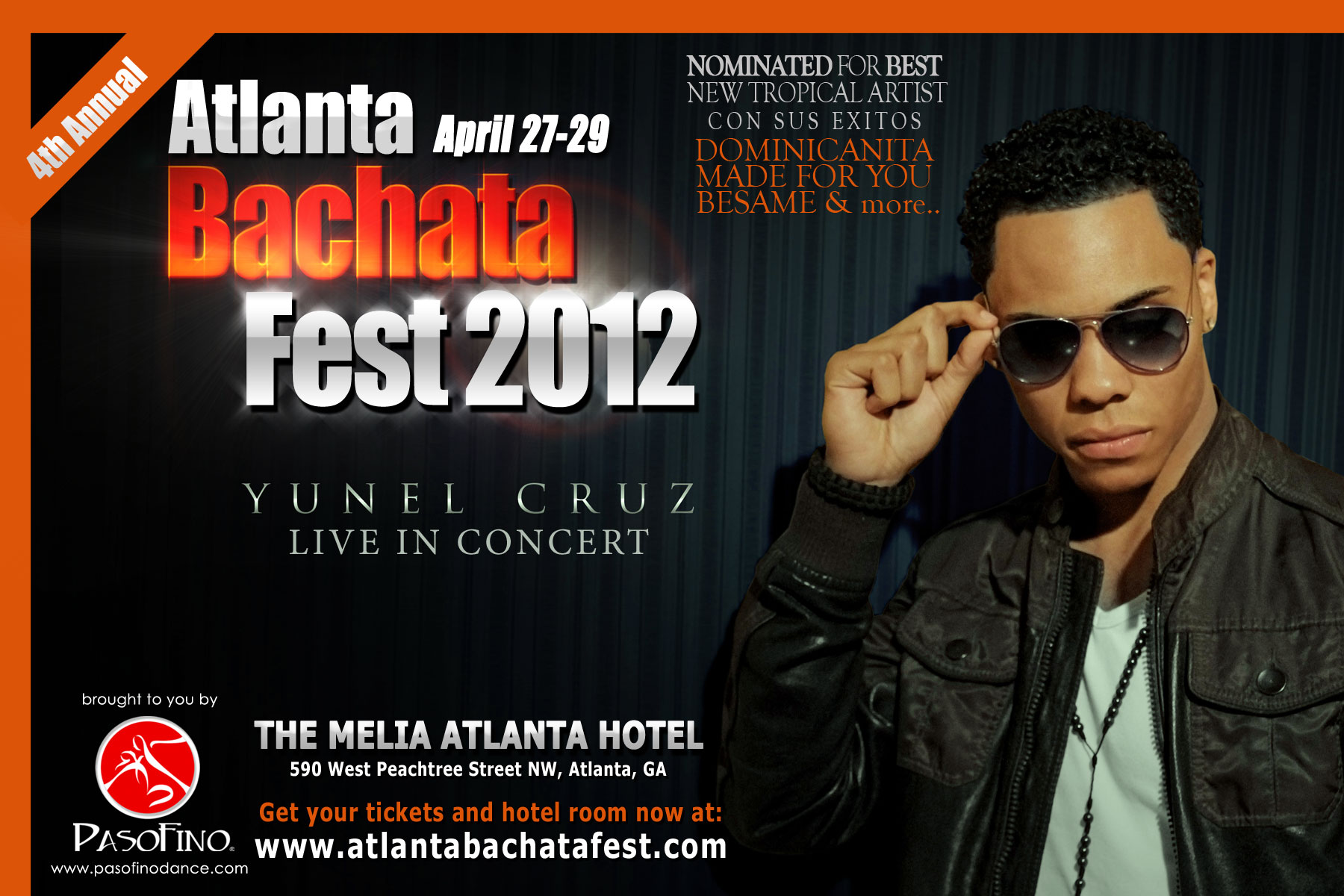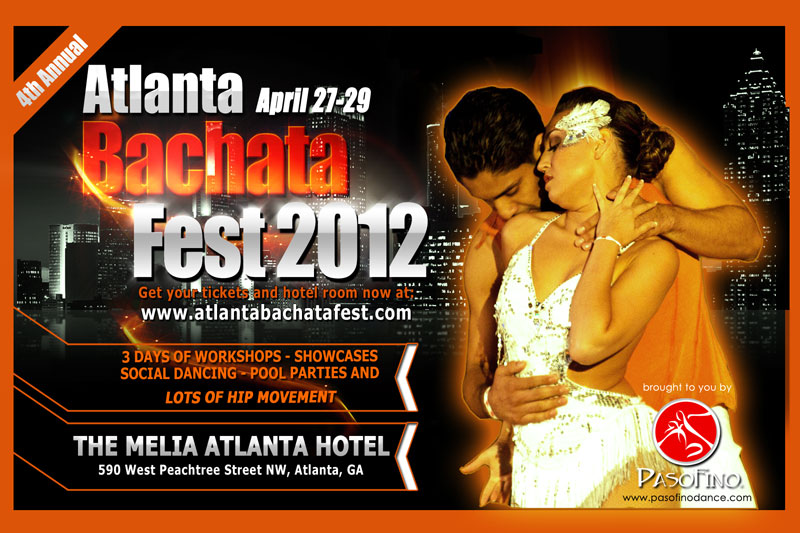 Atlanta's HOTTEST Bachata dance and music event.

The city of Atlanta is leading the bachata revolution as PASOFino Inc., presents ABF 4, the fourth annual Atlanta Bachata Festival April 27-30th, 2012 at the magnificent Melia Atlanta Hotel on West Peachtree Street. Last year had attendees from over 27 states, 20 instructors, showcases and vendors demonstrating their passion for Bachata and Latin Dancing.  This annual showcase event for Latin Dance, has also become the launch place for new dancers, choreographers and new show debuts in the last three years. The show MC Mario B (NJ) and regulars like Jorge Elizonzo (Texas) and Christian Sola (Orlando) are joined this year, for the first time, by International Pablo Vilches (Spain) and Carola Tauler (Chile) and DJs BachaTessa (Orlando), Jorge Charun (Miami), Rumbero (Philly) and Skip Lopes (Charotte). Other artist showcases includes Jose Maldonado, Robert & Robyn, Joby Brava, Salsa Heat, and PasoFino, besides a whole slew of Djs, dance instructors, vendors and industry promoters. Also new this year will be the Salsa Room hosted by Mario B and Salsa Fever On2.

The unmistakable message from this year's show is that the dance revolution is set to explode making Latin dancing an international phenomenon that unify all global communities. The performance showcase displayed at the ABF 2012 will illustrate this trend.
Join us this weekend, as Atlanta Salsa & Bachata dance and music enthusiasts are treated to the most fun and best in Latin dance workshops and performance showcases given by some of most talented local and world renowned instructors, dance groups and couples. As well as DJ's playing the hottest Bachata & Salsa music around where you can dance each night away until early morning.
Atlanta has gained a reputation as a go-to destination for groundbreaking Latin dance events. In its 4th edition, Atlanta Bachata Fest is poised to continue this exciting tradition of Latin Dance with a special touch of Southern hospitality so we hope you can come join us.
SEE PICTURES OF ABF 3 >> HERE



WHY COME TO THE ATLANTA BACHATA FESTIVAL?

- 6 Awesome DJs!!!
- 3 Days of Amazing Showcases
- 3 Days of Bachata, Salsa and Kizomba Workshops
- 3 Days of THEMED PARTIES
- Salsa Room hosted by Dj Mario B
- Sexiest Rooftop Pool Party with awesome ATL'S Skyline
- Vending Marketplace
- World-Class Bachata & Salsa Instructors
- Jack & Jill Bachata Contest and more...


WORKSHOPS: (Beginner to Advanced friendly Workshops)

- Beginner Bachata Bootcamp
- Bachata Tango Bootcamp
- Kizomba Bootcamp
- Ladies Styling & Footwork
- Bachata Tricks & Dips
- On1 Salsa L.A. Style Salsa
- On2 Mambo New York Style Salsa
- Pachanga Salsa Footwork & Shines
- Bachata Rueda and Bachata Dominicana...


FEATURING ARTIST:
LIVE IN CONCERT ON SUNDAY
RECORDING ARTIST YUNEL CRUZ

- Official MC Mario B (NJ)
- Pablo Vilches (Spain)
- Carola Tauler (Chile)
- Christian Sola & Sensual Bachata (Orlando)
- Jose Maldonado & Connie Lee (Atlanta)
- Jorge Elizondo (Texas)
- Joby Brava & Las Bravas (Atlanta)
- Robert Lay & Robyn Chance (Texas)
- Eymar Marcano & Salsa Heat Bachata Team (Orlando)
- Anthony Umina & Marissa Johnson (San Diego)
- Sean Christopher & Dancing 4fun (Atlanta)
- Ingrid La Gringa Buxbaum (Atlanta)
- Mambo Violento (Houston)
- Wendy & Rodrigo Jimenez (Charlotte)
- Michael "Chino Casino" (Atlanta)
and more..


FEATURING DJs:

- DJ Mario B (New Jersey)
- DJ Jorge Charun (Miami)
- DJ Rumbero (La Mega Philly)
- DJ Bachatess (Orlando)
- DJ Skip Lopes (Charlotte)
- DJ Chritian Sola (Orlando)



Melia Atlanta Hotel ($89 per night) includes breakfast & internet
Call to Reserve your Room Today:  404 877 9000
 
INFO:
www.AtlantaBachataFest.com
When & Where

MELIA ATLANTA HOTEL
590 West Peachtree Street NW
Atlanta, GA 30308


Thursday, April 26, 2012 at 7:00 PM

-

Monday, April 30, 2012 at 3:00 AM (EDT)
Add to my calendar
Organizer
Jose Maldonado - pasofinodance.com - atlantabachatafest.com
Event organizer, Int'l instructor, dancer & judge with more than 15 years of experience in the Latin dance community. Director and owner of PASOFino Latin Dance Studio.  Currently teaching Salsa, Bachata, Cha cha Jose is known for his smooth lead, technical approach, body movement and playfulness in the dance. He loves to connect with people and always ready with a big smile.
PASOFino Events >> Producer of quality events such as the Atlanta Bachata Fest, judge for the Bachata Masters in Madrid (2012-2016), Miami Latin Dance Championships (2016-1017), and ESPN World Salsa Championships (2016).
Contact info - (1) 678 895 6955 - info@pasofinodance.com - www.facebook.com/pasofinodance
4th ANNUAL ATLANTA INT'L BACHATA FESTIVAL - April 26-30, 2012