Description
Please join Tennis Alliance for the 4th annual 24 HOURS of TENNIS 3-day fundraiser (6 hrs Fri, 12 hrs Sat, 6 hrs Sun). In addition to Friday night exhibitions, social and pro-led clinics, the event includes your choice of a two-hour Tennis Mixer on Saturday or Sunday. You select the time you prefer! This is one of the biggest events for the tennis community - not to be missed!
To register for the event or to make a donation, click on the green button labeled "REGISTER."
All proceeds and donations go to support the mission of Tennis Alliance, including community outreach programs, development of youth and junior tennis, community tournaments and costs associated with the development of the new tennis center in Millersville Park. Click HERE to see some of our accomplishments!
---
---
Sponsorship Information:
Interested in Sponsoring this Event? Click HERE for more Details.
---
---
FRIDAY KICKOFF PARTY
NO TICKET REQUIRED - All Welcome!!
Friday Oct 13, 6 - 8pm Kickoff!!! Dress Theme - All Things NAVY!! Wear your favorite Navy gear!
Tennis Community and Friends are invited to attend the complementary 24 Hours of Tennis Kickoff with music, food truck service provided by CrabTown Curbs Cuisine, silent auction, Navy exhibition, Mix and Mingle.
6 - 6:15pm Welcome

6:15 - 7:15pm Navy Varsity Exhibition

7:15 - 8pm Mix and Mingle off-court social

10pm Presentation of Silent Auction Winners

9:30 to Midnight On-court Juniors (Age 12-18) Tennis Party. Separate registration – Click HERE for Junior Registration.

---
---
---
YOUR $100 WEEKEND TICKET INCLUDES
Fri night activities and a 2 hour Tennis Mixer on either Sat or Sun:
Friday Oct 13 - Kickoff Party 6-8pm; Plus...Lessons/Games!
8 – 10pm Group lessons and drills for serve, return, forehand, backhand, volley and overhead culminating in 30 minutes of on-court games utilizing these skills. Offered by area pros volunteering in support of the event. Registration for a Weekend Ticket is required.
Saturday Oct 14 - Music and Raffles all Day! Check out your Tennis Mixer dress theme when you register and select your playing time.
8am - 8pm Select one 2-hour Tennis Mixer as your contribution toward completing our goal of 24 Hours of Tennis! Once play begins, players will change partners for 5 rounds, staying within their general level of play. You can register as a foursome, with a partner, or we can find you a partner. Foursomes can choose the Mixer format or stay as a foursome.
Sunday Oct 15 - Music and Raffles all Day! Dress Themes for each Tennis Mixer.
Noon - 4pm Additional 2 hour Tennis Mixers.

4 - 6pm "Points of Compass Tournament" competition (See Rules Below). 3.0-4.0 players on 4 courts and 4.5+ on additional 4 courts. Spectators welcome.

6pm Closing Ceremonies and Prizes.
---
---
FAQs
Rain dates?
Rain-outs will be rescheduled for Saturday night after 8pm, Sunday before noon and/or Sunday evening after 6pm. Call 443-924-6263 or check website for updates.
We strongly encourage payment by credit card. If you cannot pay by credit card:
Please mail a check to Tennis Alliance - 24 Hours, PO Box 6279, Annapolis, MD 21401 by 10/10 (3 days before event). You still must complete this Registration to participate and to select playing time, T-shirt size etc. On-site payment is discouraged.
What can I bring into the event?
Food, drink, and coolers are permissible. Anne Arundel County Public Schools prohibits alcohol onsite.
How can I contact the organizer with any questions?
Please contact Jennifer McGowan jennifer.mcgowan@comcast.net or Louise Thomas Lthomas@TennisAllianceAAC.org for further assistance.
What's the refund policy?
The event is a fundraiser. Your registration fee is a donation to Tennis Alliance of Anne Arundel County. Refunds are not provided.
Do I have to bring my printed ticket to the event?
This is not necessary. We will have the list of registrants at the Registration table for your convenience.
Can I update my registration information?
Yes. Once you receive your email confirmation of registration and "ticket" you will be provided a link to make any updates needed. However, we cannot guarantee that a change in playing time will be available at a later date.
---
POINTS of the COMPASS TOURNAMENT RULES
Points of the Compass Doubles Tournament for two levels on Sunday October 15, 4-6pm. Tournaments will conclude the Weekend 24 Hours of Tennis Fundraiser.

"A" level tournament registration is limited to 4.5+ league players, including local coaches and teaching professionals.
"B" level tournament registration will be designed for 3.0 – 4.0 Players.
Both tournaments will have assigned teaching professionals to assist with the smooth flow of the tournament and help keep the competition friendly and to potentially step in to be part of the fun.
Trophies and awards will be presented to all teams. All rounds will be 6 game pro sets with no ad scoring and a set tiebreaker at 5 all.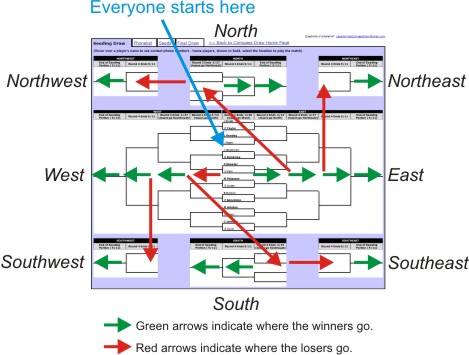 Date and Time
Location
Refund Policy