Description
This charity-fundraising event is hosted in recognition of Armed Forces Day. With a throwback to World War II, the 1940s USO Night is a night of fun, nostalgia and fundraising with proceeds supporting area Veterans in need - to date, this event has generated over $35,000 in direct support for area veterans!
Come early and socialize with a cash bar prior to a fabulous meal prepared by Harvest Brazillian Grille, battle other bidders in the Live and Silent fundraising auctionpurchase packs of candy cigarettes and win fabulous prizes and cap the night off with swing dancing to Big Al's Big Band! Attendees are encouraged to dress in period attire (not required) - service members are invited to wear their uniforms (if they fit)!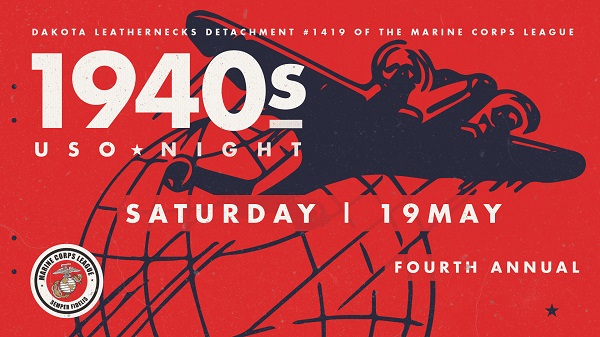 Scheduled for Saturday, May 19, 2018, at the World War Memorial Building, 215 N 6th Street, in downtown Bismarck, .
5:00 PM - Social Begins (Cash Bar available all night)
6:30 PM - Supper (3-meat buffet, side dishes and salads with other treats)
8:00 PM - Big Al's Big Band performs
Live auction begins during 1st band break. Silent auction ends when band begins second set.
Tickets are limited and are only available in advance! Ticket includes social, dinner, and dance - to the sound of Big Al's Big Band. This event has been back to back to back sell-out - Don't Wait!!! Get YOUR tickets now!!!
The 1940s USO Night is held in recognition of Armed Forces Day and hosted by MOJO 107.5 FM, Big Rig 105.9 FM, River + Ranch Magazine, Bismarck Magazine and the Dakota Leathernecks Detachment #1419 of the Marine Corps League.