About this Event
4th ANNIVERSARY PARTY DETAILS -
Date: January 25th, 2020
Location: 9030 Kenamar Dr. #308, San Diego, CA 92121
VIP Hour (Cellar Cyndicate Members only): 12-1pm
General Admission: 1-5pm
Beer Garden & Food: We'll be blocking off a large portion of our parking lot for beer tents, food trucks, music, games and lounge areas.
Rare Beers: We have been stockpiling beers all year long for this party, and are going to bring them out for you to sample.
Cellar Beers: We will be pulling beers out of our cellar for purchase. Many of these beers will only be available on this day.
Games: Throughout the day we will be having games such as corn hole, stein holding and more fun to keep everyone entertained.
Raffles & Prizes: As part of your admission you will receive a raffle ticket for prizes throughout the day. You can also purchase more raffle tickets, all raffle ticket sales go to benefit San Diego Coastkeeper and the amazing work they do here in San Diego.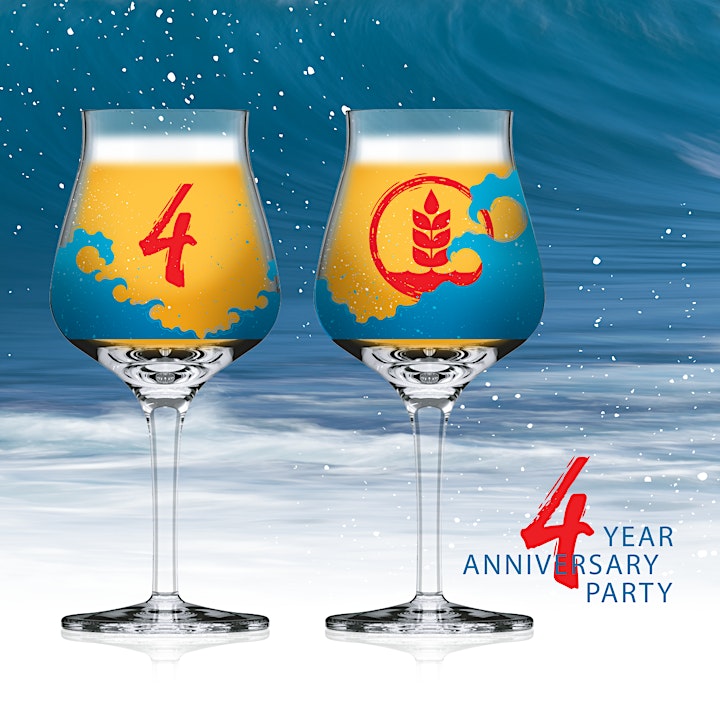 Anniversary Tickets are $25 per person. $1 from every purchase will go directly to support San Diego Coastkeeper. Your ticket includes:
-General Admission
-Limited Edition 4th Anniversary Stemware
-Entry into the raffles to win prizes throughout the day
-4 drink tokens
(NOTES- *Tickets sales are limited to 5 per purchase.)
Be sure to have either a digital copy or a print out at entrance the day of the event.
Human only event, sorry no dogs... but yes kids are welcome!
OTHER LEGAL DISCLAIMERS OUR LAWYER SAID WE SHOULD PUT ON HERE:
Your receipt of an electronic or other form of order confirmation does not signify our acceptance of your order, nor does it constitute confirmation of our offer to sell. Pure Project reserves the right at any time after receipt of your order to accept or decline your order for any reason or to supply less than the quantity you ordered of any item. Other sites accessible through our site have their own privacy policies and data collection practices. Please consult each site's privacy policy. Pure Project is not responsible for the actions of third parties. This site may contain links to other sites on the Internet that are owned and operated by third parties. By agreeing to these terms and conditions you are also consenting to receive updates and messages from Prue Project via email and SMS in regards to this and future events. We will never sell, rent, or give away our email list for 3rd party marketing. Our Privacy Policy also applies. By participating, you consent to receive text messages sent by an automatic telephone dialing system. You can opt out of email and SMS updates at any time for any reason and participation is not mandatory to attend or purchase a ticket to any event. You acknowledge that Pure Project is not responsible for the operation of or content located on or through any such site. Unless otherwise specified, all materials appearing on this site, including the text, site design, logos, graphics, icons, and images, as well as the selection, assembly and arrangement thereof, are the sole property of Pure Project, Copyright © 2017, ALL RIGHTS RESERVED. You may use the content of this site only for the purpose of shopping on this site or placing an order on this site and for no other purpose. No materials from this site may be copied, reproduced, modified, republished, uploaded, posted, transmitted, or distributed in any form or by any means without prior written permission of Pure Project. All rights not expressly granted herein are reserved. Any unauthorized use of the materials appearing on this site may violate copyright, trademark and other applicable laws and could result in criminal or civil penalties.