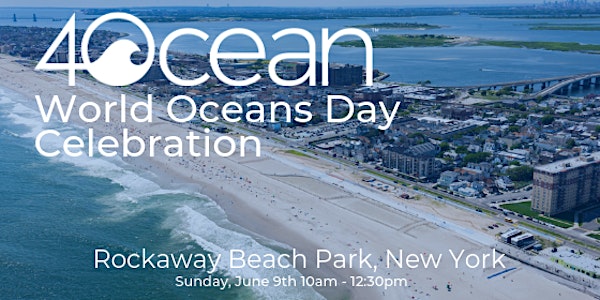 4ocean World Oceans Day Celebration
When and where
Location
Rockaway Beach Park Beach 94th Street Plaza Far Rockaway, NY 11963
Description
4ocean World Oceans Day Celebration
FREE // FAMILY-FRIENDLY// FUN
Join us at Rockaway Beach Park in New York on Sunday, June 9th as we celebrate a weekend of cleaner oceans! The event will be located in the plaza at the intersection of Beach 94th Street and Shore Front Parkway. We'll kick the morning off with a message from the co-founders of 4ocean, Alex and Andrew at 10 am before getting our supplies and heading out to clean the beach until 11:30 am. We'll be joined by local environmental organizations in the 4ocean Village to help us process what can be done to support the mission of a cleaner ocean. This education and experiential event is a perfect time to meet people in your community who love the environment and want to do more. The 4ocean Pop-Up Shop will be open during the event to sell cleanup exclusive apparel, the 2018 Legacy Bracelets, and all of the 2019 bracelets so far!

Important Information:
Cleanup supplies will be provided (gloves and hemp bags)
Keep the Rockaways plastic-free and bring your reusable water bottle
Protect Yourself: wear a hat, sunscreen, and closed-toe shoes
Anyone under the age of 18 must be accompanied by an adult
Bring your ticket to the event to check-in
Event Schedule:
9:30 am Check-In Opens
9:30 am-12:30 pm 4ocean Pop-Up Shop & 4ocean Village Opens
10:00 am-11:30 am Kick-off Speech by Alex & Andrew, Beach Cleanup Begins
11:30 am-12:00 pm Presentation from the UN Friends of World Oceans Day & Group Photo
Pop-Up Shop Merchandise:
4ocean 2018 Legacy Bracelets: $20 +tax
4ocean January - June 2019 Bracelets: $20 +tax
4ocean Rockaway Beach T-shirt: $25 +tax
4ocean Classic T-shirt: $20 +tax
4ocean Hat: $15 +tax
4ocean Reusable Bottle: $30 +tax
4ocean Multi-Purpose Bag: $15 +tax
Only 100 of the 4ocean Rockaway Beach T-shirts will be available for sale at the Pop-Up Shop!
For more information and updates, please visit our Facebook event page: https://www.facebook.com/events/2119062994849195/
We are excited to see you there and ready to join the movement in New York!
---
If you would like to volunteer at this event with the 4ocean Team, please sign up here: www.4ocean.com/wod2019