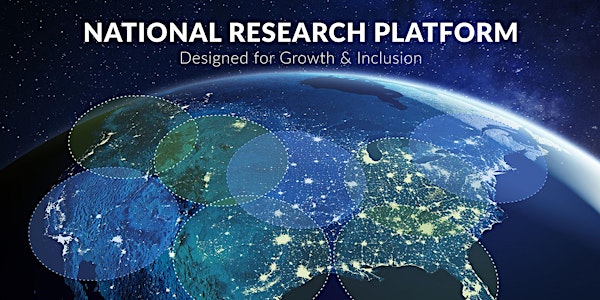 4NRP Program February 8-10, 2023 at UCSD
Fourth National Research Platform (4NRP) Workshop at UC San Diego, February 8-10, 2023
When and where
Location
Atkinson Hall, UC San Diego 9500 Gilman Drive San Diego, CA 92093
Refund Policy
Contact the organizer to request a refund.
Eventbrite's fee is nonrefundable.
About this event
The February 8-10, 2023 Fourth National Research Platform (4NRP) Workshop at UC San Diego
Tom DeFanti, Workshop General Chair
Frank Würthwein, Program Committee Chair
The Fourth National Research Platform (4NRP) Workshop will once again bring together our networked research and education community, which has grown out of the NSF-funded Pacific Research Platform (PRP), Cognitive Hardware and Software Ecosystem Community Infrastructure (CHASE-CI), and Toward the National Research Platform (TNRP) grants. In the last year, these cyberinfrastructure Platforms have been integrated with the Prototyping the National Research Platform (PNRP) grant (Frank Würthwein, PI and 4NRP Program Chair) to form the National Research Platform (NRP) [https://nationalresearchplatform.org/]. The PNRP grant will significantly help sustain the NRP for another 5-10 years and expand it nationally.
The NRP runs Nautilus, a 250-node, 30-campus, highly distributed, centrally managed hypercluster serving researchers' data-intensive computational science needs, as well as a rapidly growing number of machine learning applications. Nautilus features over 1,000 GPUs, 10,000 CPU cores, dozens of FPGAs, and more than 10 PB of nationally distributed fast storage. Nautilus researchers on nearly 100 campuses run software in containers, orchestrated across the NRP by Kubernetes, bursting from their laptop environments to dozens or 100s of GPUs at a time. Nautilus exploits the Science DMZs, previously built with NSF funding on over 100 US campuses. Crucially, campuses contribute power, rack space, and 10-100G networking for Nautilus nodes.
The NRP is designed for growth and inclusion. Over the last seven years, our Nautilus user community has rapidly grown from 20 campuses to nearly 100, from 2 states initially to 39 states (plus DC, Guam, and Puerto Rico), from 1 to 17 of the 28 EPSCoR states, and from 5 (all in California) Minority Serving Institutions (MSIs) to 16 (in 6 states). The Workshop will be exploring opportunities for broadening and deepening this participation.
Attending the 4NRP Workshop will be hundreds of representatives from existing PRP/CHASE-CI/TNRP partners, the new PNRP awardees, and many other institutions. 4NRP attendees also include domain scientists, network and system administrators, campus CIOs, regional network leaders (The Quilt), and representatives of ESnet, Internet2, ACCESS, NSF IRNC awardees, as well as the Open Science Grid (OSG), the Open Storage Network (OSN), and the OpenAirInterface (5G/6G) Software Alliance. In addition, there will be leadership attending from NSF's Office of Advanced Cyberinfrastructure (OAC).
Join us in La Jolla in February to participate in this vibrant community!
They will discuss expanding/replicating the NRP, addressing the potential challenges, funding opportunities, and private sector interest in scaling the Science DMZ model to a national and international level with the National Research Platform as a fully working, welcoming, and expandable model.
For more information on the National Research Platform, see nationalresearchplatform.org.
4NRP Program February 8-10, 2023 at UCSD
WEDNESDAY, FEBRUARY 8, 2023
At The San Diego Supercomputer Center (SDSC)
Wednesday Afternoon 2:00-5:30 (6 optional tutorial sessions, 90 minutes each):
Tutorial titles and descriptions to be announced.
Wednesday Evening Reception at the Birch Aquarium 6-9PM
THURSDAY, FEBRUARY 9, 2023
At Atkinson Hall / Qualcomm Institute (QI)
Panel speakers to be announced.
8AM-9AM: Breakfast
9:00AM-9:30AM: Keynote: NSF's Computational Ecosystem for 21st Century Science & Engineering; Amy Walton
9:30AM-10:00AM: NRP & the Path Forward: Progress in 2022-2023 and the next 10 years; Frank Würthwein
10:00AM-10:50AM: Panel: Democratizing Access to CI and Democratizing Access to STEM via CI; Chair: Lauren Michael
10:55AM-11:15AM: Break
11:15AM-12:30PM: Panel: Open Infrastructure for an Open Society: OSG, Commercial Clouds, and Bring-Your-Own-Resources; Chair; James Deaton
12:30PM-2:00PM: Lunch
2:00PM-3:25PM: Panel: Expanding the Reach of the NRP through 5G and 6G wireless; Chair: Al Pisano
3:25PM-3:45PM: Break
3:45PM-4:30PM: NRP Application Drivers; Larry Smarr
4:30PM-5:15PM Panel: Global Research Platform's International *RP leaders; Chair: Joe Mambretti;
5:15PM-6:00PM: Panel: Building the NRP Ecosystem with the Regional Networks on their Campuses; Chair: Jen Leasure
Dinner: On your own to explore restaurants on campus, La Jolla, Del Mar, and Convoy.
FRIDAY, FEBRUARY 10, 2023
At Atkinson Hall / Qualcomm Institute (QI)
8AM-9AM: Breakfast
9:00AM-9:50AM: Panel: NRP Science Impacts: Chair: Subhashini Sivagnanam
9:50AM-10:40AM: Panel: Engaging underrepresented researchers and educators in the NRP ecosystem; Chair: Marla Meehl
10:40AM-11:00AM: Break
11:00AM-12:00PM: Panel: Reaching More Minority-Serving Campuses; Chair; Richard Alo
12:00PM-12:45PM: Closing Session: Open Mic for Participants: Chair: Kevin Thompson (45 minutes)
12:45: Box lunches, tours of QI, informal discussions. Buses to the airport starting at 1:00
Workshop General Chair: Tom DeFanti (UCSD)
Program Committee:
• Frank Würthwein, Chair (SDSC)
• Maxine Brown (University of Illinois at Chicago)
• James Deaton (Great Plains Network)
• Larry Smarr (UCSD)
• Marla Meehl (UCAR)
• Lauren Michael (Internet2)
• Subha Sivagnanam (SDSC)
Local Arrangements: Susan Rathbun and Lara Sievert (UCSD)
Local Hotels:
There is no conference hotel/room block. We recommend booking local hotels quickly to get the best rates; several reasonably priced hotels within 15 minutes of UC San Diego campus include:
Homewood Carmel Valley*
Doubletree Carmel Valley*
Marriott Residence Inn Carmel Valley*
Best Western Del Mar
Hilton La Jolla
Hyatt Regency La Jolla
*Shuttle service will be provided at these locations to UC San Diego Campus.
Parking:
There is very limited visitor parking at UCSD and requires a permit from the pay stations. We recommend parking at Hopkins Parking Structure for the closest walk to the venues. Please arrive early to locate parking.
Birch Aquarium parking is free.
UC San Diego follows all county COVID guidelines; the current status can be found here:
https://returntolearn.ucsd.edu/campus-guidelines/event-planning/index.html