On Black Friday, let's celebrate the other 4 Love Languages in this unique bonfire experience.
About this event
Have you heard of the 5 Love Languages? It captures the ways we each give and receive Love. 1) Words of Affirmation; 2) Physical Touch; 3) Quality Time; 4) Acts of Service; 5) Gifts.
During the Holiday Season, the dominant love language in our culture is Gifts. . . even though for the vast majority of people, their top love language is 1 of the other 4, and in many cases, gifts are the least important.
That's why at the 4Love: Community Bonfire, we celebrate the other 4 love languages. During this time, you'll have the opportunity to give and receive Words of Affirmation; let's get real, sometimes we all need to be reminded how amazing we are. There will be family-friendly Physical Touch, from hugs to fist bumps, as well as opportunities for Acts of Service - to find out what people really need this holiday season and to have each others' backs a bit more. And of course, this event is meant to be a prime example of Quality Time, as well as an opportunity to reconnect with old friends, make new ones, and create more Quality Time moving forward.
We've chosen Black Friday as the event date because historically that's when people rush the malls or online to buy tons of stuff. And while we enjoy gifts as much as the next person, 4Love represents a new tradition, taking a stand for the holidays being a time for deeper connection among us.
We'd LOVE for you to join us on November 26, and invite away; truly the more, the merrier. There's an opening ceremony at 6:15 pm that you do NOT want to miss. Please bring any food / drinks you'd like to consume and/or share.
4Love is a project from Global Family, a 501 (c) (3) non-profit dedicated to unifying humanity, ending loneliness and separation.
With love,
- Jon, Cuyla, Allan, and the incredible community we consider family
Oh and Yes Christmas Treez will be burned!! Yay!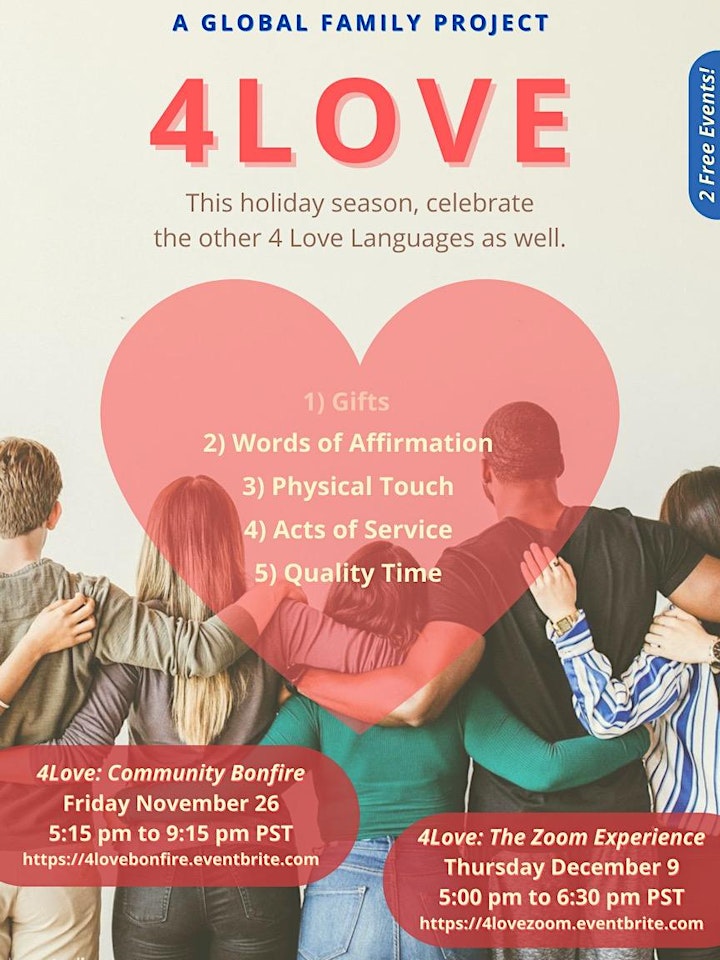 Organizer of 4Love: San Diego Bonfire
Jon Block has led 100+ seminars in the personal growth and entrepreneur training space. Jon was the founder of Speaker Venture, a multiple 6-figure seminar company that trained spiritual business owners to master their on-stage presentations from the inside-out. He has spoken across the country on 500+ stages, and was named 1 of the Top 20 Conscious Entrepreneurs of the year.

Currently Jon is the co-founder, along with his sister Melissa, of Tiny House Block. As San Diego's first-ever tiny house village, Tiny House Block provides short-term & long-term housing, and hosts personal growth and music & arts events celebrating unity through diversity.
Jon loves international travel, red wine, and conversations that go way below the surface.