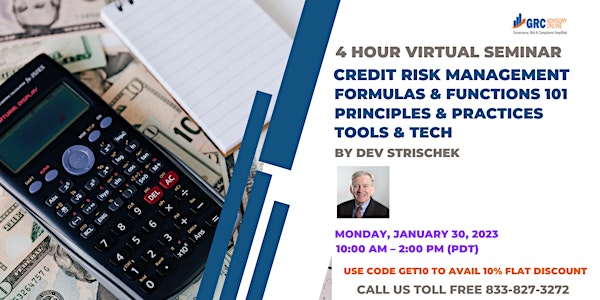 4Hr Virtual Seminar CreditRisk Management: Principles&Practices,Tools&Tech
4-hour virtual seminar on Credit Risk Management: Principles and Practices, Tools and Techniques
Refund Policy
Contact the organizer to request a refund.
About this event
Course Description:
Credit Risk Management is the function that ensures the organization is balancing its risk appetite with its risk tolerance to attain the organization's desired credit risk objectives. This course provides guidance in how to implement and maintain the desired level of credit risk management with practical tools and techniques. Both the market and the regulatory agencies expect credit risk management to reflect the bank's credit culture, so the class also offers direction on how to identify the organization's credit culture and to reposition it to support the desired credit risk culture and management.
Why Should You Attend?
A strong credit culture:
• Focuses the organization—everyone on the same page
• Reduces organizational conflict and confusion—priorities
• Minimizes need for rigid controls
• Supports commitment to the organizational vision and mission
• Adds to the organization's bottom line and enhances shareholder value
In order to achieve the advantages of a strong credit culture, there must be a strong credit management. Achieving both means:
• Employing a set of diagnostic credit discipline tools to identifyyour existing culture and deciding on whether to maintain it or move on to a stronger culture
• Implementing the policies, processes, and procedures to implement your desired culture
• Managing the supporting infrastructure of credit administration, credit policy, loan documentation, loan booking, etc.
• Linkage between an effective credit risk management and a strong credit culture
• Types of credit cultures and methods for identifying organization's existing credit culture
• Determining which credit culture best supports your organization's risk appetite and risk tolerance
• Tools for identifying, measuring and managing portfolio transactional, intrinsic, and concentration risks inherent in loan portfolios
• Examples of effective credit risk management practices and processes
Use Code - "GET10" and get a 10% discount!
Area Covered In The Webinar
Elements of credit culture
Types of credit culture
Framework for implementing desired credit culture
Credit discipline tools to diagnose, maintain, and improve credit culture
Managing transaction, intrinsic, and concentration credit risk
Credit policy and credit administration best practices
Who Will Benefit:
Credit Analysts
Credit Managers
Loan review officers
Work-out officers
Commercial Lenders
Credit Risk Managers
Chief Credit Officers
Senior Lenders
Senior Lending Officer
Bank Director
Chief Executive Officer
President
Board Chairman
Instructor Profile:
Dev Strischek, A frequent speaker, instructor, advisor and writer on credit risk and commercial banking topics and issues, Dev is principal of Devon Risk Advisory Group and engages in consulting, speaking and training on a wide range of risk, credit, and lending topics. As former SVP and senior credit policy officer at SunTrust Bank, Atlanta, he was responsible for developing, implementing, and administering credit policies for SunTrust's wholesale lines of business--commercial, commercial real estate, corporate investment banking, capital markets, business banking and private wealth management. He also spent three years as managing director and credit approver in SunTrust's Florida commercial lending and corporate investment banking areas, respectively. Prior to SunTrust, Dev was chief credit officer for Barnett Bank's Palm Beach market. Besides stints at other banks in Florida, Kansas City, and Ohio, Dev's experiences outside of banking include CFO of a Honolulu construction company, combat engineer officer in the U.S. Army, and college economics instructor in Hawaii, Missouri, and Florida. A graduate of Ohio State University and the ABA Stonier Graduate School of Banking, he earned his M.B.A. from the University of Hawaii.
Dev serves as an instructor in the Stonier Graduate School of Banking, the Southwestern Graduate School of Banking, and the American Bankers Association's (ABA) Commercial Lending. His school, conference, and workshop audiences have included participants drawn from the ABA, RMA, OCC, Federal Reserve, FDIC, FFIEC, SBA, the Institute of Management Accountants (IMA) and the AICPA.
Dev has written about credit risk management, financial analysis and related subjects for the ABA's Commercial Insights, the Risk Management Association's RMA Journal, and other business professional journals. He is the author of Analyzing Construction Contractors and its related RMA workshop. A past national chair of RMA and former Florida Chapter president, Dev serves as a member of the RMA Journal's advisory board, and an ex-officio board member of the Florida and Atlanta RMA chapters. He also serves on the advisory board of the Atlanta Chapter of the Professional Risk Managers' International Association (PRMIA), and he has consulted on credit risk issues with banks in Morocco, Egypt, and Angola through the US State Department's Financial Service Volunteer Corps (FSVC). Finally, he was a member of the Financial Accounting Standards Board's Private Company Council which recommends simpler versions of generally accepted accounting principles for use by privately held companies.
Register Now!
Use Code - "GET10" and get a 10% discount!
Refund Policy:
Attendees may cancel up to two working days prior to the course start date and the refund will be processed within two working days. GRCAdvisoryOnline will process/provide refund if the Live Webinar has been cancelled.
Refunds will not be given to participants who do not show up for the webinar. On-Demand Recordings can be requested in exchange.
Webinar may be cancelled due to lack of enrolment or unavoidable factors. Attendees will be notified 24 hours in advance if a cancellation occurs. Substitutions can happen any time.
If you have any concern about the content of the webinar and not satisfied please contact us at below email or by call mentioning your feedback for resolution of the matter. Please leave your name and number for a call back.
We respect feedback/opinions of our customers which enables us to improve our products and services.
To contact us please email customercare@grcadvisoryonline.com or call +1-833-827-3272(Toll Free).