49th Annual Concord Police Association Fish Derby & Fish Fry/BBQ

Saturday, November 4, 2017 from 3:00 PM to 11:00 PM (PDT)
Event Details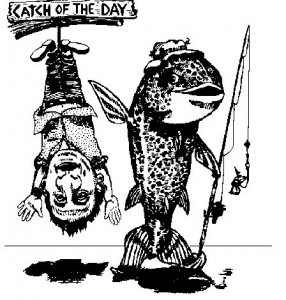 Concord Police Association
 49th Annual Fish Derby
Fishing October 20th – November 3rd, 2017
SOLD OUT!!!  
NO TICKETS WILL BE AVAILABLE
AT THE DOOR!!  
Waitlist Available
FISH FRY/BBQ/Beer Fest
November 4th 2017 @ 3pm
It is FISH DERBY time!! On behalf of the Concord Police Association and the Concord Police Foundation, I want to invite all members of Law Enforcement (including CSO's) Firefighters, police employees and their guests to fish for a cause.  All proceeds raised will be donated to the Concord Police Foundation Officer Emergency Fund. We encourage any and all new competitors to join in on our derby tradition and invite all to our ALL YOU CAN EAT FISH FRY, BBQ, BEER GARDEN and Fish Derby Awards Ceremony on November 4th, 2017, 5060 Avila Rd. in Concord.  Doors open at 3:00PM, awards at 6PM, followed by raffle at 7PM and Texas Hold'em poker tournament at 9PM (Tentative, May be cancelled depending on participants).  
All you can eat fish & chips, tri-tip, side dishes, local craft beers, sodas, water and more!  Spouses, family & friends encouraged to attend! 

ALL PROCEEDS GO DIRECTLY TO THE 1ST RESPONDERS THAT LOST EVERYTHING IN THE SANTA ROSA/SONOMA COUNTY FIRES!!!****

Eligibility: Open to all active, reserve and retired law enforcement, community service officers, firefighters AND GUESTS!.
Rules: Derby begins at 0001 hours, Friday, October 20th and concludes at 1800 hours, Friday, November 3rd, 2017.  No fish caught before official starting time or after official closing time will be weighed in. A derby participant will weigh in no fish unless that participant caught the fish on his/her own pole. California Department of Fish and Game laws apply (one sturgeon and two bass per day). Any violation of Fish and Game Laws or derby rules may result in disqualification from prize eligibility and or up to a maximum of three years ineligibility from fish derby participation at the discretion of the rules committee. Rules committee decisions are final and may not be appealed. Ties will be broken by a toss of a coin.
Trophies and Prizes: Trophies will be awarded to the top 3 entrants in striped bass and legal length sturgeon (adhere to current DFG regulations for Sturgeon!). Prizes will be awarded to the top 3 entrants in each category. Participants may catch fish qualifying in both classes but will appear on the leader boards for their highest placing fish (either Sturgeon or Striped Bass). With declining fish populations we are switching to a more conservative approach for Top Fisherman. This year the top fishermen prize will now be awarded to the person who catches the 2 largest Striped Bass (minimum weight 5lbs each) and largest Sturgeon, combined weight. This is to award the fisherman who displays a well rounded fishing knowledge and expertise.
*Top Agency will be honorable mention*

Entry Fee: $40 for fish derby and awards dinner, $30 for dinner only.   

Official Weigh Stations:
Martinez Marina Bait & Tackle: 95 Tarantino Drive: 925 229-9420
Hours: Mon – Thurs 6am-6pm, Fri-Sat 5:30am-6pm
Lost Anchor @ McAvoy's 1001 McAvoy Rd. Bay Point
925-458-1717
7 Days 6am-6pm
Lost Anchor 908 W. 2nd St. Antioch
935-384-5005
Mon-Thursday 7am-6pm, Fri-Sat 6am-8pm, Sun 6am-6pm
You MUST have your ticket in your possession when you are fishing!
Weigh stations will ask to see your ticket when you weigh in your fish.   
Questions:           
Please direct all questions or concerns to concordfishderby@yahoo.com
I hope to see all my old friends on the water this year and meet new ones. We would like to have a record year of anglers participating in this year's derby, so please pass this invitation on to anyone you think may be interested in participating or attending.  If you're out fishing let us know on VHF Channel 68.

Good luck in the derby and be safe out there.

Greg Rodriquez
CPA Fish Derby Chairman
Questions or concerns can be addressed to concordfishderby@yahoo.com or 925-676-8298 (Concord Police Association)
Greg Rodriguez, CPA Fish Derby Chairman
When & Where

Concord Police Association Facility
5060 Avila Road
Concord, CA 94520


Saturday, November 4, 2017 from 3:00 PM to 11:00 PM (PDT)
Add to my calendar