49th Anniversary Celebration
About this event
The Anniversary Celebration is ACA's signature annual gathering to celebrate the year's accomplishments and refuel for future success. This year's event is also the kick-off of the organization's 50th anniversary in 2022, which is themed "Passing the Torch - Remembering Our History; Reimagining the Future."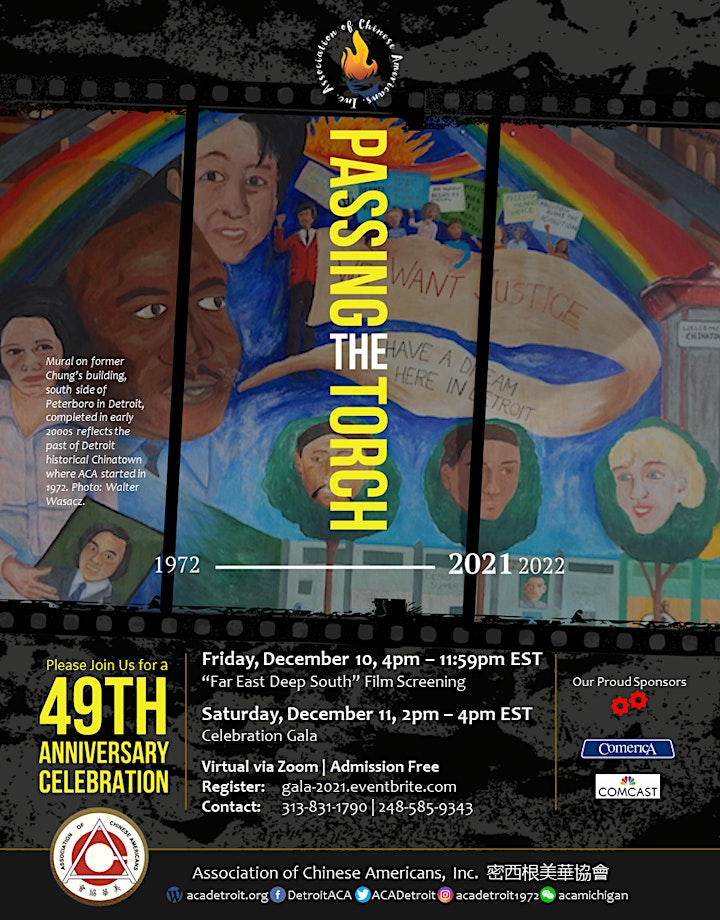 The Association of Chinese Americans, Inc. (ACA) is proud to announce the organization's 49th Anniversary Celebration to be held virtually on Zoom:
Friday, December 10, 4pm – 11:59pm EST: "Far East Deep South" Film Screening
Saturday, December 11, 2pm – 4pm EST: Celebration Gala
The Anniversary Gala is ACA's signature annual gathering to celebrate the year's accomplishments and refuel for future success. This year's event is also the kick-off of the organization's 50th anniversary in 2022, which is themed "Passing the Torch - Remembering Our History; Reimagining the Future."
WHAT MAKES THIS GALA CELEBRATION TRULY SPECIAL?
To begin the celebration, ACA will be screening the documentary Far East Deep South on Friday, December 10 from 4 pm to 11:59 pm , in the hopes that the film will help commemorate the Asian American presence in the U.S. as well as the ACA's own organizational history. The virtual celebration will also feature state and city officials, cultural performances, and recognition of our outstanding community partners and sponsors.
After a second year of fighting the pandemic, we have a lot of stories to share with you. We look forward to meeting new and old friends, colleagues, partners, and community leaders in a renewed spirit of collaboration and community service.
Join us for an afternoon of networking, fun, and celebration on Saturday, December 11, 2021, 2pm on Zoom. Please also extend a special invitation to your network to join us for the 49th Anniversary Celebration Gala.
Please feel free to contact (313) 831-1790 or (248) 585-9343 with further questions. Event information is also available on the website: www.acadetroit.org. We look forward to seeing you at the event.
Organizer of 49th Anniversary Celebration
Association of Chinese Americans, Inc. (ACA) is dedicated to advancing the social, political and economic well-being of Asian Pacific Americans in the United States.  ACA operates four service centers which provide services and programs on Language Education, Art and Culture, Preventive Mental Health Program, Senior Hot Lunch, Social and Immigration Services, Translation Services, Notary Public, Community Services, Senior Programs, Youth Programs, Adult Well-Being Programs, Facility Rental, Computer Training Classes, and Physical Fitness.  The Service Centers are: Chinese Community Center, Detroit Service Center, Macomb County Center, and Canton Center. 
Please visit the ACA website www.acadetroit.org and contact service centers for further information.