49ers NFC Championship After Party
at Manor West


Sunday, January 22, 2012 at 9:00 PM

-

Monday, January 23, 2012 at 2:00 AM (PST)
Event Details
49ers NFC Championship After party
at Manor West (Sunday, January 22nd)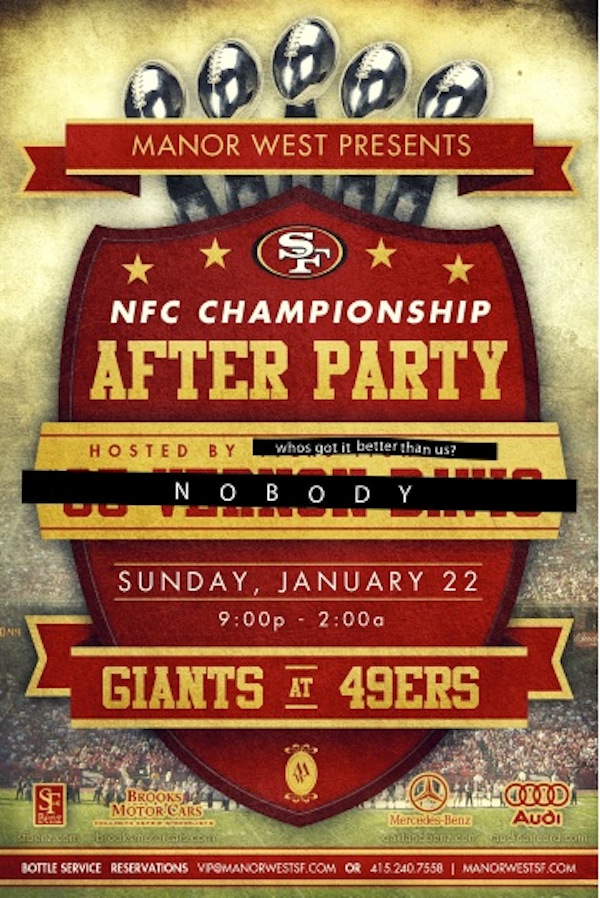 Manor West starting at 9pm /// 21+ /// Music by DJ D-Sharp 
• Reserve a table in the prime-time locations >>>>>
Contact VIP@manorwestsf.com or call 415-240-7558
(when tables sell out we will offer a first come, first serve waiting list)  
• To RSVP for this all-star studded 49er after party see ticket/RSVP info above. This event will be a very hot ticket. We recommend early arrival. 21+ ONLY. 
Questions: info@manorwestsf.com
**Please Dress to Impress**  This is a red carpet event. Fans will not be turned away for wearing jerseys. However - NO baggy clothing, caps, boots, gym shoes, sandals, etc. Manor West reserves the right to refuse entry to any patron for any reason.
Sponsored by: Mercedes Benz of Oakland/// Mercedes Benz of San Francisco/// Audi of Concord/// Brooks Motor Cars
---
Announcement (1/20/12):
Vernon Davis' camp has decided to pull his name from the title of this event as he wants to make it clear to everyone that he is solely focused on the task at hand on the football field this Sunday, as he has been each and every game this season. 
We with the venue (Manor West) would like to issue the following response in regards to the event, Vernon's involvement, and what appears to simply be "silly-season" journalism in terms of the mainstream media's coverage of this event:
Vernon Davis is not, and was not ever "throwing this party." The venue has always been the one organizing the event, not Vernon Davis or his people. This was only organized through his management, never directly with him. Vernon is not, and was not distracted by this event because he was never involved in planning it and it has had no affect on his preparation. This situation seems to be entirely made up by the media in attempts to formulate a story that wasn't there. Although Vernon's name has been pulled from this event title, the event is still happening regardless of the outcome of the game or whether or not Vernon's name is attached to it. 
Furthermore, this event on Sunday night is a celebration of the 49ers season in general, not any sort of attempt at a predicted victory party. This event was in the works before Vernon Davis' name was ever attached to it and the only distraction related to this situation appears to have been entirely created by some in the media. 
So, here's to this "party issue" being completely irrelevant on Sunday night in hopes that we will all be celebrating the 49ers first Super Bowl appearance in well over a decade. Win or lose, everyone who is 21 & over and a classy representation of what a 49er fan should be is invited… including Vernon Davis & his teammates.
Cheers, and Go Niners!!!!! 
Nate Mezmer, 
Manor West creative director 
////////////////////////////////
---
FYI : Dear media and concerned fans... This is a celebration of the entire 49ers season. Win or lose on Sunday vs the NYGiants the Niners have surpassed any and all expectations this season and we plan to celebrate these successes in true San Francisco fashion with great pride and class. This event is not an attempt by anyone to predict victory on Sunday and we all have our fingers crossed and our hearts on our sleeves in solidarity with Niner fans everywhere that this will indeed be more than just an after party for the NFC championship game but also a Super bowl pre-party. If the football Gods are not on our side this weekend we will still remain proud, determined and hopeful for the seasons ahead. The future is bright. Go Niners !!!!!! 
When & Where

Manor West
750 Harrison Street
San Francisco, CA 94107


Sunday, January 22, 2012 at 9:00 PM

-

Monday, January 23, 2012 at 2:00 AM (PST)
Add to my calendar
Organizer
"Like the mighty Thor harnessing the forces of thunder & lightning, "Thundergod" channels his power through bass and electronic noise, wielding music & sound like a hammer from the heavens above, crushing all dance floors in his path"