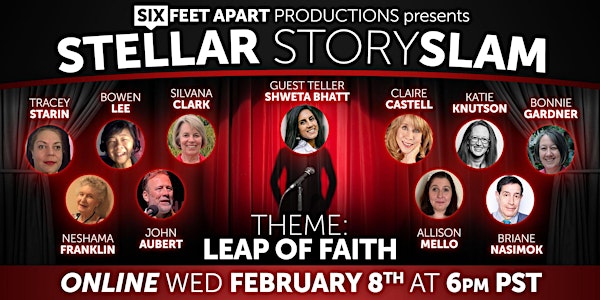 StellarSlam! Open Mic Grand Slam Show
Join us as the 2022 StorySlam winners tell for the StellarSlam title and YOU the audience select the champion.
Refund Policy
Contact the organizer to request a refund.
Eventbrite's fee is nonrefundable.
About this event
1 hour 30 minutes

Mobile eTicket
stel·lar adjective exceptionally good; outstanding
"This show has a stellar line-up of storytellers."
Not just any Slam, it's a Stellar Slam! Join us as we gather our 2022 StorySlam Winners and Wild Cards for the ultimate battle. Help decide who wins the title of Stellar StorySlam Champion. A storytelling adventure with the audience selecting the favorite story of the night.
This is a virtual online show streaming on YouTube Live. Want to be in the Zoom room with our storytellers? Grab a Backstage Pass ticket. Once you register, you will receive a link to access the live event in your confirmation email.
Join us along with the eight tellers for stories on the theme of "Leap of Faith." Stories about taking a chance when the outcome is uncertain. Blind faith, a shot in the dark, the path unknown, sight unseen, and all leaps taken despite having no certainty of the outcome.
Take the leap and join us for a stellar show!
Emcee: Regina Stoops
Special Guest Storyteller Shweta Bhatt took the grand prize at last year's StellarSlam on the theme of "Silver Linings." A conduit of wonder, Shweta spent her childhood preparing to become an astronaut and hoping goldfish crackers would materialize into real fish upon application to water. Through an education in anthropology, a career in consulting, and a dream of speaking to millions, Shweta has seen herself through the evolution of hearing her voice as a storyteller.
And presenting our 2022 storytellers:
Claire Castell grabbed a spot with her appearance in March with her story on the theme of "Luck." Claire lives a life full of stories that she now crafts and tells for our entertainment. Her performance venues throughout the Bay Area include The Oakland Story Slam, Orinda Tale Spinners, Silk Road, Delta Word Weavers, the Frank Bette Center, The Marsh Theater, and The Moth at Berkeley Freight and Salvage. The inspiration for Claire's stories comes from the challenges of her own life, telling true tales of the struggles growing up in a single parent home, misadventures of dating and looking for love, all of which will come together in her forthcoming solo show "My Life of Debauchery."
Neshama Franklin won our June slam on theme of "Schools Out."Neshama has been telling ever since she learned to talk. so happy to still be able to share her passion for stories, woven from the inexhaustible yard goods of everyday life.
Allison Mello won in August "Dog Days." Allison is a teacher, a yogi, proud dog mom, and a bay area resident who is not ashamed to say she enjoys chain restaurants from time to time. She accidentally got into storytelling via a dare during a sparsely attended show in mid-pandemic times, and appreciates a space to share the awkward moments of her life.
Tracey Starin won our "Memories" show in September. Tracey is a writer, storyteller, and boulevardier from Queens, NY. When she is not hunting for the perfect pork & chive dumpling, she spends her time contemplating life's big questions, like, "How many licks does it take to get to the Tootsie Roll center of a Tootsie Pop?" and "How do they get the filling inside a Twinkie?" She also knows all Karen Hill's lines from Goodfellas. She's beyond delighted to be part of this event.
Bonnie Gardner October, "Skeletons." Bonnie has performed at the Women's Storytelling Festival and at the Stone Soup Storytelling Festival as a 2022 New Voice. Most recently, she performed with Better Said Than Done. She is based in the Washington, DC area.
Silvana Clark won one of our December show, "Tis the Season." StellarSlam Silvana is the author of 12 books and is most proud that she fulfilled a lifelong dream to get her dog to star in TV commercials. Oh yes... she also appeared on the FOX reality show, Trading Spouses. More at silvanaclark.com.
Katie Knuteson took home the top prize on our November "Hoodwinked" show.
And to round out our cast, we've pulled three Wild Cards from our second place finishers:
Briane Nasimok In an eclectic career Briane has had many adventures. He performed mute roles in operas, claiming the title of Canada's Foremost Operatic Mute, the basis of one of his Fringe Festival storytelling show; wrote for Sesame Street, which allowed him one of his favorite memories, getting to put his head through Oscars Garbage can and creating murder mystery event, and knocking off five suspects during a cross-Atlantic cruise where it was hard to dispose of the bodies.
John Aubert is a Professor of Geography and Environmental Sciences at American River College in Sacramento, CA. After realizing that his family and friends were finally getting tired of hearing his stories, he was ecstatic to discover that he could tell them to strangers! He has taken the stage at numerous Moth Story Slams and has been a featured storyteller for Capital Storytelling, Story Collider, Six Feet Apart Productions, and Artists Standing Strong Together. In addition to storytelling, John's other interests include movies, hiking, fly fishing, and guerrilla croquet.
Bowen Lee The English Romantic poet John Keats and his idea of "negative capability," a state in which one is "capable of being in uncertainties, mysteries, doubts, without any irritable reaching after fact and reason," pretty much sums up what Bowen Lee is all about. The uncertainty seems to be where Bowen is plunged neck deep, but despite all odds, she remains a capable person, at least at telling a story.