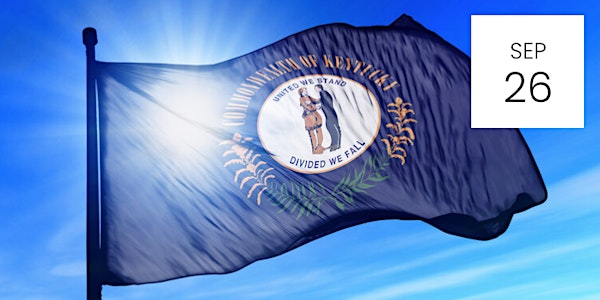 48 State Grave Stone Restoration Tour - Green Hill Cemetery
Location
Green Hill Cemetery
865 E Main St.
Frankfort, KY 40601
Join leading cemetery preservation & gravestone restoration expert Jon Appell for a free one day workshop at historic Green Hill Cemetery.
About this event
Join the Kentucky Trust and monument conservator Jon Appell for a rare opportunity to learn from a leading expert in the field for a one-day free historic gravestone preservation workshop at the historic Green Hill cemetery. This workshop will provide instruction in general best practices for preservation of historic cemetery gravestones and their care. Participants will gain a perspective of historic monument types and traditional materials then move on to techniques for cleaning, repair and conservation of historic gravestones.
A great opportunity for beginners, this workshop will be led through demonstration and hands on activity. Participants may choose to actively practice techniques with the instructor during the workshop.
Please be aware that proper social distancing is required for this workshop and masks must be worn during the workshop. This is a free event, but registration is required and space is limited. Please wear old clothes, bring a mask and gloves, and a sack lunch.
Green Hill Cemetery in Frankfort, KY
Located at the corner of East Main and U.S. 60 in Frankfort, Kentucky's state capital. Green Hill has historically served as the African American burial ground for the capital city of Frankfort.
The Green Hill Cemetery was established in 1865 as part of a larger African American hamlet outside the City of Frankfort. It is the site of the African American Civil War Memorial and provides the citizens of Frankfort with a unique link to our community's African American Civil War heritage. One of its most prominent features is a simple but impressive ten-foot tall limestone pillar bearing the names of 142 veterans of Kentucky's United States Colored Troops (USCT) from Frankfort and the surrounding counties of central Kentucky.
The monument was dedicated on July 4, 1924 by the Women's Relief Corps, an affiliate of the local African American Post of the Grand Army of the Republic, a Union Army veteran's organization.
Officially, 23,703 African Americans in Kentucky responded to the call to arms by President Lincoln and Frederick Douglass to join the ranks of the newly organized USCT. Units were organized with men from across the Commonwealth, mustering into the Union Army at sites from Maysville to Paducah; Camp Nelson, located in Jessamine County, was the second largest recruiting and training facility for African Americans in the country.
About the Tour:
48 States in 48 Days Gravestone Restoration Tour
Jonathan Appell is a leading cemetery preservation expert and for the past 20 years he has collaborated with numerous people and organizations from sea to shining sea how to preserve gravestones and monuments. With this experience he has developed simple and effective hands on techniques, and helped to create a movement to restore America's Burying Grounds.
We are embarking on a mission to preserve America's graveyards.
The plan is to conduct 48 workshops in 48 states in 48 days for free.
Jon will be traveling across the country, teaching how to clean, repair and reset gravestones & monuments. Each location will include the cleaning of veterans memorials.
All events will be 100% Free to the public!
Please join us. Watch, listen, learn, or help.
We look forward to seeing you in your home state along the journey.
Learn more about Jon's work at: www.gravestoneconservation.com/
Learn more about the 48 State Tour: www.48statetour.com/events/kentucky