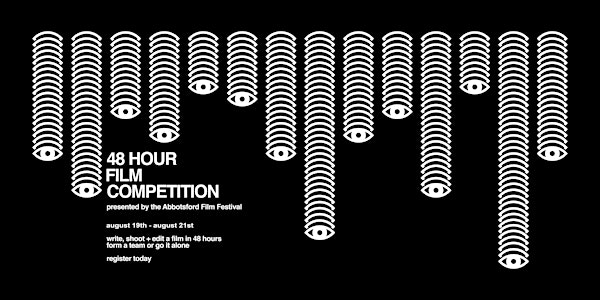 48 Hour Film Competition (Abbotsford Film Festival)
Write, shoot and edit a film in only 48 hours solo or form a team with friends. Completed films will screen at the Abbotsford Film Festival.
When and where
Location
Field House Brewing Co. 2281 West Railway Street Abbotsford, BC V2S 2E3 Canada
Refund Policy
Contact the organizer to request a refund.
Eventbrite's fee is nonrefundable.
About this event
The 48 Hour Film Competition returns, presented by the Abbotsford Film Festival (AFF), as teams write, shoot and edit a film in only 48 hours. Completed films will then premiere at the opening night of the Abbotsford Film Festival on Friday August 26th.
HOW DOES IT WORK?
Registration is $20 per team/film entry. You can create a film either on your own or with a team.
The competition begins Friday August 19th at 6pm when teams are told what "elements" need to be included in their films.
Each 48 hour film will have to include:
A specific line of dialogue
A unique prop
A story element
Then go create a film with whatever means available. Be it your cell phone or camera, write, shoot and edit a film in just 48 hours.
Final films will need to be delivered via secure Vimeo link by 6pm August 21st.
48 Hour Film Competition Screenings
Friday August 26th will see the premiere of short films produced in the 48 Hour Film Competition. This will be followed by a Q & A with attending filmmakers and an audience award for "Best 48 Hour Film". Live music will then close the night.
The Abbotsford Film Festival will feature screenings, Q & A's, live music and more over the course of two nights at The Reach Gallery Museum. A celebration of the arts, innovation, and creativity in our community, come support and experience a diverse range of stories from the valley and beyond.
Note: Each team registration includes one ticket to the premiere on Friday the 26th of August. Due to limited capacity additional tickets are $15 and can be purchased via the website.
- COVID-19 WARNING -
An inherent risk of exposure to COVID-19 exists in any place where people gather. COVID-19 is an extremely contagious disease that can lead to severe illness and death. You assume all risks, hazards, and dangers arising from or relating in any way to the risk of contracting COVID-19 or any other communicable disease or illness, or a bacteria, virus or other pathogen capable of causing a communicable disease or illness, whether occurring before, during, or after the event, however caused or contracted, and voluntarily waive all claims and potential claims against the Chilliwack Film Society and its affiliates.
The Abbotsford Film Festival (AFF) is prioritizing the health and safety of Festival attendees and the greater community. Guests of all in-person events or competitions are asked to:
(a) stay home if they are experiencing COVID-19 symptoms,
(b) self-report positive COVID-19 testing and
(c) adhere to all safety guidelines as set out by government health officials.
In compliance with provincial and municipal directions, we have taken enhanced measures for you, other guests, and Festival staff. You must follow all posted instructions while attending in-person events.
To help prevent the spread and transmission of COVID-19 AFF is committed to:
- Providing access to hand sanitizers
- Encouraging physical distancing
- Wiping down and disinfecting surfaces
- Conducting regular cleaning in high traffic areas
An inherent risk of exposure to COVID-19 exists in any public place where people are present. By attending AFF, you voluntarily assume all risks related to the exposure to COVID-19 and agree that you will not hold AFF liable for any illness that may result.
Please Note: The 48 Hour Film Competition is run by the non-profit Chilliwack Film Society.
The Chilliwack Film Society is responsible for operating in compliance with the Motion Picture Act and Consumer Protection BC. To attend a Chilliwack Film Society film screening (which may not have been classified by Consumer Protection BC), you must be a Chilliwack Film Society member. Membership is by annual subscription and is limited to persons who are 19 years of age or over. Only members are permitted to be present at the place where a non-classified film is being exhibited. Chilliwack Film Society's mandate is the encouragement and appreciation of motion pictures as a medium of art, information or education.