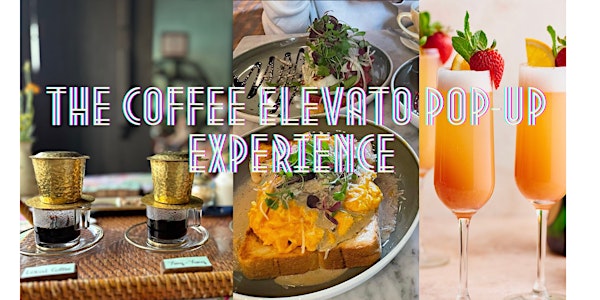 Coffee Elevato Experience Pop Up Event
This exclusive, upscale event pairs the world of coffee with a culinary experience and setting unlike any that you've ever experienced.
Date and time
Saturday, February 11 · 11am - 1pm EST
Location
Space In Time 290 Hilderbrand Drive #Suite B-4 Atlanta, GA 30328
About this event
BaristaSource® is a seasoned , highly recommended immersive, multi-sensory specialty coffee experience company. We bring you several high end coffees from all over the world and pair them with chef inspired dishes to create a truly unique and flavorful tasting experience. No two experiences are alike. Please join us for an enticing morning, where all your senses will be engaged! We are unlike any other experience out there and our guided coffee tasting journey is a different way of experiencing coffee.
Please read all carefully!
Doors open at 10:45am. We start shortly after and doors close then . Please arrive on time by 11:00am. Please plan well in advance for traffic/weather delays. All sales are final. Transfers/Credits available a week prior to the event. Please refer to this description as the final policy. Leading up to the experience we will send reminders and communication via the email you used to make a purchase so please check that email.
Please note that we use our immersive multi-sensory dedicated space for all our experiences. This is a carefully curated guided experience.
Given the nature of this particular experience (live chef preparing food in the moment) note we cannot accommodate any nut, soy, dairy, gluten food restrictions/allergies. Please book accordingly
Ticketed Guests Only. No Walk Ins. Please dispose of any outside food or beverages prior to entering our venue
*Gratuity is completely optional post experience and always appreciated if you feel inspired to do so! Thank you for supporting our business!
Please join us for a fun filled morning of coffee, chef prepared pairings, coffee education with a dose of R&B, spun by a live Dj! Get ready for a coffee journey of flavors and dope vibes!
What does your experience entail?
1. 6 high end coffee flights that you'll get to taste, nose, mouth to amplify your senses and your knowledge.
2. Accompanied by Coffee Master, Kelley Smith who is also the CEO/Founder of BaristaSource LLC. Her unique presentation of each coffee will leave you feeling enticed, amused and informed.
3. Experience includes comfortable assigned seating to ensure maximum engagement from all points within the room.
4. To add to the experience each coffee will be accompanied by a carefully selected pairing created by culinary game changer, Chef Vee Richards, Owner/Founder of Vee Rich Productions. Chef Vee known for bringing versatility, diversity and innovation to her creations. A treat for anyone in attendance.
5. We believe in a full sensory experience and what experience would be complete without music? Music and Coffee are the great connectors of society. Just like our coffee and food, we paired the perfect Dj for this event. Dj Sed the Saint was hand picked for this experience because she understand how to create the perfect vibe. Owner of Sed the Saint LLC and Co-Founder of Stage Wing - a DJ and A/V equipment sharing community, don't be surprised if you start dancing in your seat.
6. Duration of event: -2.5 hours. This is a leisurely luxury experience that includes 6 courses. Event will start and end on time. Guests get very excited, engaged and love asking our team questions about what makes coffee so intriguing. The conversations are part of the fun! This is the perfect weekend experience!
7. Dress Code: We do have a soft dress code: Comfort Chic (no T-shirts or sport hats if possible).
8. This is an adult experience, so no one under 21 will be admitted. Please book accordingly.
While we use multi-sensory, immersive & entertaining techniques that our founder has created to bring coffee to life in an unparalleled way, the focus of the day is imparting coffee knowledge. We are not a meet up or networking event so we like to inform guests that we will be bringing them back to the immersive coffee journey during the course of the evening. They will be required to immerse in the experience.
Note we may choose to post some photos to our social media to capture the wonderful magical nature of our unique experiences. This gives our entire community a chance to see what we're about and get excited to join us. We invite you to check out our instagram to see them).