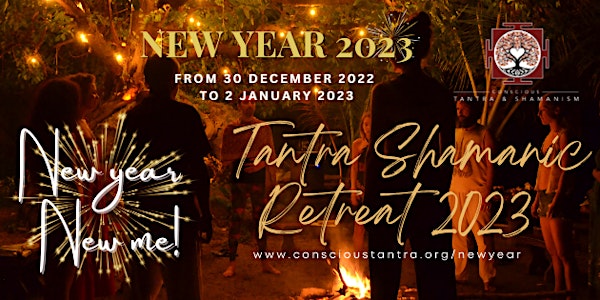 ❤️✨
Celebrate the transition to the New Year with
When and where
Location
Italy - Abruzzo - Pescara Valle del Lupo 65010 picciano Italy
Refund Policy
Contact the organiser to request a refund.
Eventbrite's fee is nonrefundable.
About this event
We want to give you the 𝙤𝙥𝙥𝙤𝙧𝙩𝙪𝙣𝙞𝙩𝙮 𝙩𝙤 𝙘𝙚𝙡𝙚𝙗𝙧𝙖𝙩𝙚 𝙞𝙣 𝙡𝙤𝙫𝙚 𝙖𝙣𝙙 𝙟𝙤𝙮 this important passage, combining awareness, sensuality, playfulness, emotions and intention.
We will prepare 𝙖 𝙢𝙖𝙜𝙞𝙘𝙖𝙡 𝙨𝙥𝙖𝙘𝙚 𝙬𝙝𝙚𝙧𝙚 𝙮𝙤𝙪 𝙘𝙖𝙣 𝙜𝙧𝙖𝙩𝙚𝙛𝙪𝙡𝙡𝙮 𝙡𝙚𝙩 𝙜𝙤 𝙤𝙛 𝙩𝙝𝙚 𝙚𝙭𝙥𝙚𝙧𝙞𝙚𝙣𝙘𝙚𝙨 𝙤𝙛 𝙩𝙝𝙚 𝙊𝙡𝙙 𝙔𝙚𝙖𝙧 𝙖𝙣𝙙 𝙢𝙖𝙣𝙞𝙛𝙚𝙨𝙩 𝙮𝙤𝙪𝙧 𝙉𝙚𝙬 𝙔𝙚𝙖𝙧!
𝘞𝘦 𝘸𝘪𝘭𝘭 𝘨𝘶𝘪𝘥𝘦 𝘺𝘰𝘶 𝘰𝘯 𝘢 𝘧𝘰𝘶𝘳-𝘥𝘢𝘺 𝘫𝘰𝘶𝘳𝘯𝘦𝘺 𝘥𝘦𝘥𝘪𝘤𝘢𝘵𝘦𝘥 𝘵𝘰 𝒔𝒂𝒗𝒐𝒓𝒊𝒏𝒈 𝒕𝒉𝒆 𝒋𝒖𝒊𝒄𝒆 𝒐𝒇 𝒍𝒊𝒇𝒆, 𝒊𝒏 𝒂 𝒑𝒍𝒂𝒚𝒇𝒖𝒍 𝒂𝒏𝒅 𝒋𝒐𝒚𝒇𝒖𝒍 𝒘𝒂𝒚, 𝘳𝘦𝘤𝘰𝘯𝘯𝘦𝘤𝘵𝘪𝘯𝘨 𝘵𝘰 𝘺𝘰𝘶𝘳 𝘣𝘰𝘥𝘺 𝘵𝘩𝘳𝘰𝘶𝘨𝘩 𝘮𝘰𝘷𝘦𝘮𝘦𝘯𝘵, 𝘭𝘪𝘣𝘦𝘳𝘢𝘵𝘪𝘯𝘨 𝒚𝒐𝒖𝒓 𝒔𝒆𝒏𝒔𝒖𝒂𝒍𝒊𝒕𝒚 𝒂𝒏𝒅 𝒚𝒐𝒖𝒓 𝒍𝒊𝒇𝒆 𝒇𝒐𝒓𝒄𝒆.
Together we will celebrate the transition to the New Year, with 𝙥𝙤𝙬𝙚𝙧𝙛𝙪𝙡 𝙩𝙖𝙣𝙩𝙧𝙞𝙘 𝙖𝙣𝙙 𝙨𝙝𝙖𝙢𝙖𝙣𝙞𝙘 𝙧𝙞𝙩𝙪𝙖𝙡𝙨, 𝙞𝙣 𝙖 𝙨𝙖𝙘𝙧𝙚𝙙 𝙖𝙣𝙙 𝙡𝙤𝙫𝙞𝙣𝙜 𝙨𝙥𝙖𝙘𝙚, where you will feel safe and at ease, to be able to manifest your essence.
🔸 YOU WILL EXPERIENCE: 🔸
✨ 𝗡𝗲𝘄 𝗬𝗲𝗮𝗿'𝘀 𝗥𝗶𝘁𝘂𝗮𝗹
✨ 𝗙𝗶𝗿𝗲 𝗥𝗶𝘁𝘂𝗮𝗹
✨ 𝗖𝗲𝗹𝗲𝗯𝗿𝗮𝘁𝗶𝗼𝗻 𝗼𝗳 𝘁𝗵𝗲 𝗣𝗮𝘀𝘀𝗮𝗴𝗲 𝘁𝗼 𝘁𝗵𝗲 𝗡𝗲𝘄 𝗬𝗲𝗮𝗿
✨ 𝗦𝗽𝗲𝗰𝗶𝗮𝗹 𝗡𝗲𝘄 𝗬𝗲𝗮𝗿'𝘀 𝗘𝘃𝗲 𝗱𝗶𝗻𝗻𝗲𝗿
✨ 𝗗𝗮𝗻𝗰𝗲𝘀 𝘁𝗼 𝗲𝘅𝗽𝗿𝗲𝘀𝘀 𝘆𝗼𝘂𝗿 𝗳𝗿𝗲𝗲 𝗮𝗻𝗱 𝗲𝗰𝘀𝘁𝗮𝘁𝗶𝗰 𝗲𝘀𝘀𝗲𝗻𝗰𝗲
✨ 𝗧𝗮𝗻𝘁𝗿𝗮 𝗠𝗮𝘀𝘀𝗮𝗴𝗲
✨ 𝗣𝗼𝘀𝗶𝘁𝗶𝘃𝗲 𝗮𝗳𝗳𝗶𝗿𝗺𝗮𝘁𝗶𝗼𝗻𝘀
✨ 𝗧𝗮𝗻𝘁𝗿𝗮 𝗬𝗼𝗴𝗮
✨ 𝗗𝗲𝗲𝗽 𝗮𝗻𝗱 𝗮𝘂𝘁𝗵𝗲𝗻𝘁𝗶𝗰 𝗰𝗼𝗻𝗻𝗲𝗰𝘁𝗶𝗼𝗻 𝘄𝗶𝘁𝗵 𝗻𝗲𝘄 𝗳𝗿𝗶𝗲𝗻𝗱𝘀
The Retreat is 𝗼𝗽𝗲𝗻 𝘁𝗼 𝗲𝘃𝗲𝗿𝘆𝗼𝗻𝗲, singles and couples. Couples are honored, and they can always decide whether to practice together.
👉 EARLY BIRD DISCOUNT until 8 December 👈
🧘‍♀️ PROGRAM 🧘‍♀️
✨ DAY 1 - 30 Dec 2022
14:30 Opening + Session
17:00 tea break
17:30 Session
19:00 dinner
20:30 Session
22:00 end
✨ DAY 2 - 31 Dec 2022
8:00 Yoga
9:00 breakfast
10:30 Morning Session
13:00 lunch
16:00 Sharing
17:00 tea break
17:30 Session and Preparation for the New Year Ritual
20:00 SPECIAL DINNER
22:00 Dance Party + New Year Ritual
✨ DAY 3 - 1 Jan 2023
8:30 breakfast
10:00 Session
13:00 lunch
15:30 Sharing
16:30 tea break
17:00 Massage
19:00 dinner
20:30 Cacao Ceremony + Meditation
✨ DAY 4 - 2 Jan 2023
8:00 Yoga
9:00 breakfast
10:30 Active Meditation
12:00 Session + Closing
13:30 lunch
❤ YOUR TEACHERS ❤
𝘿𝙝𝙮𝙖𝙣 𝙔𝙤𝙜𝙞 and 𝙉𝙖𝙢𝙖 𝘿𝙚𝙫𝙞
You can read more at this link: https://it.conscioustantra.org/who-we-are
💖 CONTRIBUTION 💖
Retreat: 315€
Early Bird until 8 December: 250€
Discount for Couples: 50€
Accommodation and Food: 120€ (group room) - 150€ (quadruple room) - 180€ (double room)
(three meals a day, vegetarian, mostly organic and with local ingredients)
❗Places are limited to 16, we invite you to book as soon as possible.
📍 ITALY
Pescara, Abruzzo.
From 30 December 2022 to 2 January 2023
✈️ FLIGHT ✈️
The flight from London is direct to Pescara.
If so, you can also opt for Rome Fiumicino or Rome Ciampino airports from which direct buses leave for Pescara.
Find all the information on how to reach ConsciousLand on our web page!
https://www.conscioustantra.org/newyear