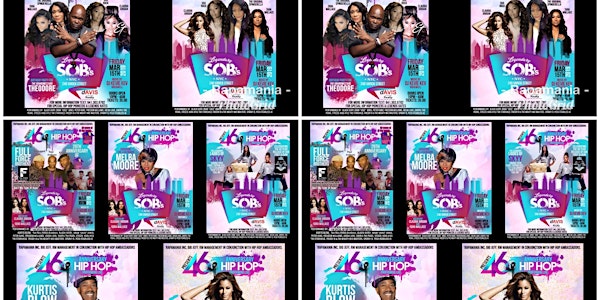 46th Anniversary of Hip Hop
Celebrating the 46th Anniversary of Hip. Performance and Birthday parties for Rahiem(GMF/Furious 5 & GrandWizzard Theodore. Plus more
When and where
Location
Sound Of Brazil 204 Varick Street New York, NY 10014
About this event
#SOBs #FridayMarch15th #Open10pm
THE SCHEDULE LINE UP FOR FRIDAY MARCH 15th 👍 THERE IS NO GUEST LIST 💯
#ItsOnAndPoppin #GetYourTickets
Just Added T Ski Valley performance/Birthday & the birthday and Life of the Legendary Mr. Magic (RIP) also Leland Robinson Birthday & honoring John Blassingame- New Day Associates founder (Today Black Women, Blackmen, Word up, Rapmaster Magazines)
TICKETS ARE ON SALE NOW!! Limited Tickets Left! 15 VIP TICKETS LEFT
(THE HIP HOP FLYERS COMING SOON)
Click link below... #GetYorkTicketsToday
Special Tickets price for Hip Hop Pioneers & Legends (Contact me or inbox me) 💯
DRESS TO IMPRESS! VERY TIGHT SECURITY BY #TBS #MarionFrampton #NYPD #Muhammad Islam
GET YOUR ADVANCED TICKET NOW!!
Celebrating the 46th Anniversary of Hip Hop and the birthday's of Rahiem GMF & Furious 5) & the GranWizzard Theodore #AlBCash Darlene Lewis #TSkiValley
Hosted by The 1st Queen of Hip Hop Sha Rock Radio/ TV/Radio Host #ClaudiaJordan , Actress/Author from Love & Hip Hop Tara Wallace & Hip Hop Queen the Original Spindarella
Co-Host #AlCash #KenMurph #KoolKyle
THE LINE UP AS OF TODAY
1-Dj Mean Gene
2-Dj Mark Collins
3-Dj MC DJ Juneski
4-Dj Freddie B
5-Dj Jazzy G
6-The Original Clark Kent & Imperial Jay Cee
7-Peso (Fearless 4) Performance
8-Sparky D (Performance)
9-T SKI Valley(Performance
10-Waterbed Kev (Performance)
11-Mr. Wave (Dance Performance)
12-Introducing 3 new R&B Artists
(BIRTHDAY CELEBRATIONS) & MR. MAGIC HONOR
Midnight Show Time
13-Black Ivory Performance
14-Full Force Brothers (Performance)
15-Melba Moore (Honor)
16-John Blassingame (Honor)
17-Claudia Jordan (Honor)
18-Melissa Harville Lebron (Honor
19-Ladies Of Skyy
20-Oran "Juice"Jones
21-Cheryl The Pearl
22-Joeski Love
23-Peter Gunz & Rahiem
24-Kurtis Blow
The Music Continue. 💯💯💯💯
25-Dj White Flash
26-Dj Lady Love
27-GrandWizzard Theodore
28-Reggie Well
29-Dj Kevie Kev Rockwell
SPECIAL GUEST APPEARANCE BY
DJ KaySlay, Doctor Dre, Ralph McDaniels,Missy Dee, Sheri Sher, MC Kimba,Kool Dj Red Alert, Kool Rock Ski (Fat Boys, Pete Nice (3rd Bass)
#SOBs #FridayMarch15th #Open10pm
THE SCHEDULE LINE UP FOR FRIDAY MARCH 15th 👍 THERE IS NO GUEST LIST 💯
#ItsOnAndPoppin #GetYourTickets
Just Added T Ski Valley performance/Birthday & the birthday and Life of the Legendary Mr. Magic (RIP) also Leland Robinson Birthday & honoring John Blassingame- New Day Associates founder (Today Black Women, Blackmen, Word up, Rapmaster Magazines)
TICKETS ARE ON SALE NOW!! Limited Tickets Left! 15 VIP TICKETS LEFT
(THE HIP HOP FLYERS COMING SOON)
Click link below... #GetYorkTicketsToday
Special Tickets price for Hip Hop Pioneers & Legends (Contact me or inbox me) 💯
DRESS TO IMPRESS! VERY TIGHT SECURITY BY #TBS #MarionFrampton #NYPD #Muhammad Islam
GET YOUR ADVANCED TICKET NOW!!
Celebrating the 46th Anniversary of Hip Hop and the birthday's of Rahiem GMF & Furious 5) & the GranWizzard Theodore #AlBCash Darlene Lewis #TSkiValley #LelandRobinson
Hosted by The 1st Queen of Hip Hop Sha Rock Radio/ TV/Radio Host #ClaudiaJordan Actress/Author from Love & Hip Hop Tara Wallace & Hip Hop Queen the Original Spindarella
Co-Host #AlCash #KenMurph #KoolKyle
THE LINE UP AS OF TODAY
1-Dj Mean Gene
2-Dj Mark Collins
3-Dj MC DJ Juneski
4-Dj Freddie B
5-Dj Jazzy G
6-The Original Clark Kent & Imperial Jay Cee
7-Peso (Fearless 4) Performance
8-Sparky D (Performance)
9-T SKI Valley(Performance
10-Waterbed Kev (Performance)
11-Mr. Wave (Dance Performance)
12-Introducing 3 new R&B Artists
(BIRTHDAY CELEBRATIONS) & MR. MAGIC HONOR
Midnight Show Time
13-Black Ivory Performance
14-Full Force Brothers (Performance)
15-Melba Moore (Honor)
16-John Blassingame (Honor)
17-Claudia Jordan (Honor)
18-Melissa Harville Lebron (Honor
19-Ladies Of Skyy
20-Oran "Juice"Jones
21-Cheryl The Pearl
22-Joeski Love
23-Peter Gunz & Rahiem
24-Kurtis Blow
The Music Continue. 💯💯💯💯
25-Dj White Flash
26-Dj Lady Love
27-GrandWizzard Theodore
28-Reggie Well
29-Dj Kevie Kev Rockwell
SPECIAL GUEST APPEARANCE BYDJ KaySlay, Doctor Dre, Ralph McDaniels,Missy Dee, Sheri Sher, MC Kimba,Kool Dj Red Alert, Kool Rock Ski (Fat Boys, Pete Nice (3rd Bass)
GET 'YOUR TICKETS EARLY (Click link below)
https://www.gofundme.com/46th-anniversary-of-hip-hop-sobs?utm_source=facebook&utm_medium=social&utm_campaign=fb_co_campmgmt_m