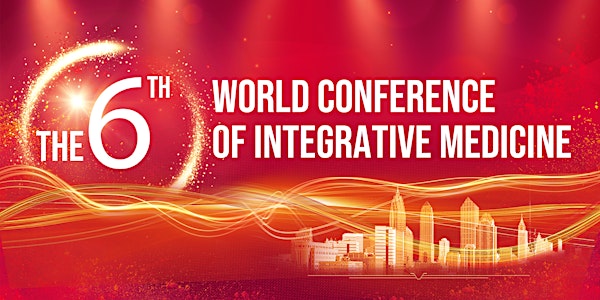 第六届世界整合医学大会
The 6th World Congress of Integrative Medicine 第六届世界整合医学大会
Refund Policy
Contact the organizer to request a refund.
Eventbrite's fee is nonrefundable.
About this event
The goal is to connect all the excellent traditional Chinese medicine theories and techniques in the world, discuss on how to prevent and treat covid-19 and its complications and sequelae. How to use Tai Chi, Qigong, art therapy, integrative medicine, physical and mental therapy to treat different kinds of diseases.
(Approved by CAB and pending approval of NCCAOM)
第六届世界整合医学大会将在12/16-18隆重举行。由世界整合医学学会联合会与美国国际医药大学联合举办,特邀全球顶级专家共同交流防治新冠病毒的经验,人类的各种亚健康与身心灵疾病的治疗方案,第一天免费提供8个加州和全美继续教育学分,三天共24个学分。另外举办三天太极气功处方继续教育课每天8个学分三天24个学分。本次活动为完全公益,不需要学分的免费参加!
時間:美西時間12/16-18 上午9:00am-1:00pm; 下午2:00pm-6:00pm(其它時區請自行換算)
https://docs.google.com/document/d/1CEJ4YYvbbl7dpRJENf_K-YkvnFBALciW/edit?usp=sharing&ouid=105063101138847803160&rtpof=true&sd=true
簽到: 12/16-18 上午8:45am-9:15pm; 下午1:45 pm-2:15pm 以執照英文姓名+執照號登入ZOOM
註意事項:
(1)本次大會提供繼續教育學分每天8個,三天共24個,CEU 已批準,PDA待批準。必須使用真實姓名和有效電子郵箱、執照英文姓名和號碼、電話及有效電子郵箱。
(2)線上參加的學員須先在手機或電腦上下載Zoom並熟悉其操作
(3)需學分者當天,線上參加者請準時進全程在綫,進入zoom時必須填執照姓名+執照號,講座始末15分鐘内將截屏存檔參與者名單。
(4)課程結束後請填寫評估表並寄回ceu@uewm.edu以領取學分證書