4/6/2011: Writing with Passion and Power: An Essential Leadership Skill

Wednesday, April 6, 2011 at 1:00 PM (EDT)
Event Details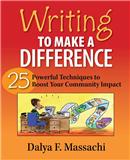 Description:
Do you want to position your work as cutting-edge and worthy of new support? Do you want to become a respected thought leader in your field? In the marketplace of ideas, those who write well are seen as the "experts" at much more than putting words on a page. ("Author" and "authority" come from the same Latin root!) If you want your writing to better express your passion, or tell your story in a fresher and more compelling way, this webinar is for you! Help your words land just as you intend.
Takeaways:
The ABC's of copywriting, including creating and advancing your "brand", understanding your intended readers and their needs, and focusing on the benefits you offer
The top characteristics of effective writing and how to apply them
What to look for when providing feedback on a piece
How to encourage a "writing-positive" culture at your organization
Your copy of the "Editing Checklist" from Dalya's book, "Writing to Make a Difference: 25 Powerful Techniques to Boost Your Community Impact"
NonprofitWebinars.com Wednesday Webinar series for nonprofit staff and board development. Offering strategy, planning, organizational development, branding, marketing, executive search, finance, fundraising, operations, and more.
Meet the Presenter: 
| | |
| --- | --- |
| | Dalya Massachi specializes in helping social sector professionals advance their work through outstanding written materials – online and offline. A lifelong writer, Dalya's first Letter to the Editor was published in her hometown newspaper before she was even a teenager. For nearly 20 years, Dalya has worked with community-oriented individuals and organizations as a trainer, writing coach, grantwriter, journalist, and organizer. She has crafted countless successful marketing pieces, grant proposals, and news articles, and currently pens the career-oriented column, "The Writer's Block," on OpportunityKnocks.org. From 2000-2004, Dalya served as Founding Director of BAIDO: [San Francisco] Bay Area International Development Organizations. She holds an M.A. in Communication & International Development and a B.A. in International Studies. Dalya's new book is entitled, "Writing to Make a Difference: 25 Powerful Techniques to Boost Your Community Impact." |
| | Denice Hinden has over 25 years of experience in organization management and development, research, group facilitation, and professional coaching. As President of Managance Consulting & Coaching, she facilitates bold strategic thinking and planning, business planning, and leader, team, board, and group development with attention to group process and individual responsibility. Denice is an accomplished facilitator with a track record of asking powerful questions and creating distinct strategies that move organizations and individuals to new levels of success. From 2002-2007, she was part of the pioneering team that introduced nonprofits to executive transition management. Her new book, co-authored with Paige Teegarden and Paul Sturm, entitled "The Nonprofit Organizational Culture Guide: Revealing the Hidden Truths that Impact Performance, was published in December 2010. |
| | In 1999, Dalya Massachi founded Writing for Community Success to help those in community-oriented organizations advance their missions and boost their community impact through great writing. All of our work is designed to express clients' values and vision, while engaging a variety of audiences. Affordable services include interactive writing workshops, one-on-one writing coaching, customized editorial services, and on-site presentations. We also publish a free info-packed newsletter (you can subscribe on the website). |