Description
Meteorologia Projektu!
Nie, to nie błąd – będziemy mówić o pogodzie w projektach. Projekt może być jak ciepły, przyjemny maj, ale może też być niczym szalona letnia burza. Czy da się zbudować prognozy zarówno krótko- jak i długoterminowe dla projektów? I co ważniejsze po co? Postawimy tezę, że mogą być one niedocenianym ogniwem w komunikacji między klientem a dostawcą wartości. A jeśli tak, to co śledzić i co mierzyć? Postaramy się dowieść, że nieintuicyjna dziedzina statystyki jest pomocna, nawet jeśli mamy mniej danych niż sądzimy.
Jak to zrobimy?
Pracując w grupach określimy jakie metryki śledzimy obecnie i jak ich używamy. Poznamy koncepcję metryk śledzących i wyprzedzających. Odpowiemy jak znaleźć dla nich odpowiedni balans i odniesiemy to do realnych projektów uczestników. Z pomocą statystyki i modelowania dowiemy się jak budować prognozy nie tylko dla pojedynczych zadań, ale i całych projektów. Dla pojedynczych zadań zrobimy to sami. Do prognozowania całych projektów, z metodą Monte Carlo, zaprzęgniemy do tego oprogramowanie (Actionable Agile Metrics).
Kto poprowadzi warsztat?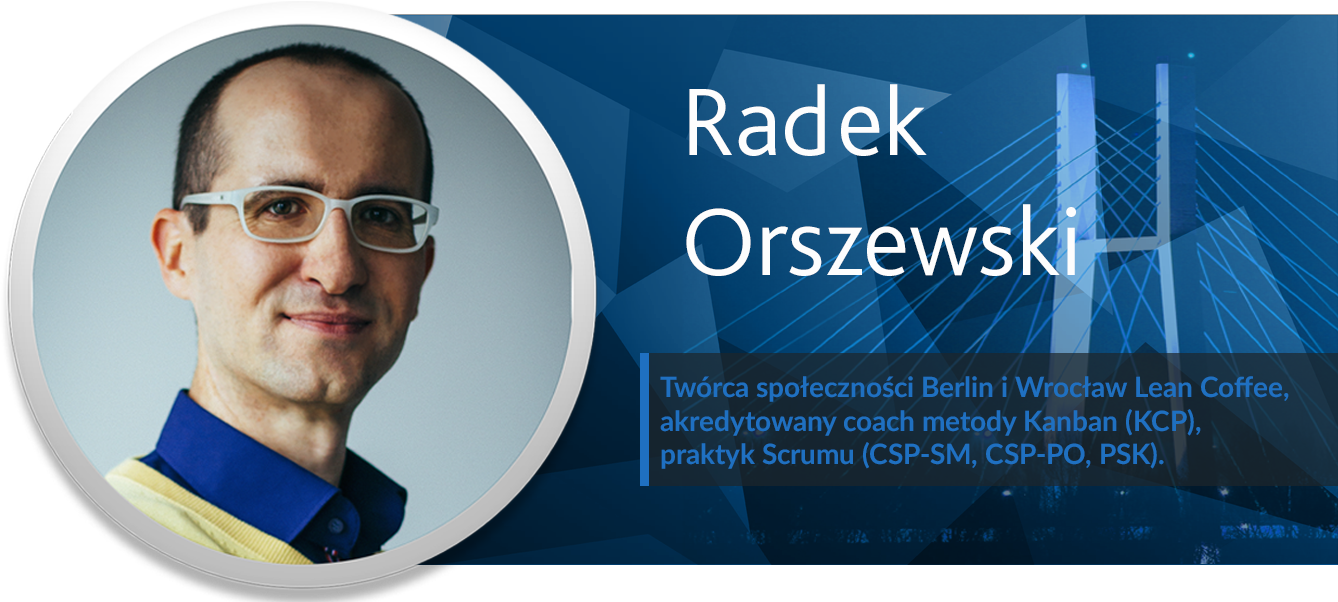 Radek ORSZEWSKI
Praktyk zwinności, który od ponad 12 lat pracuje zarówno z zespołami produktowymi, usługowymi, oraz kierownictwem i zarządami firm. Jest pasjonatem propagowania podejść Lean i Agile, w szczególności metody Kanban, również poza działy IT - do zarządzania projektami, marketingu, sprzedaży, działów HR. Obecnie pracuje jako niezależny konsultant, trener i coach. Jest twórcą społeczności Berlin i Wrocław Lean Coffee, akredytowanym coachem metody Kanban (KCP), praktykiem Scrumu (CSP-SM, CSP-PO, PSK).Po godzinach pasjonat kolarstwa i fan Lego :)
Pozostałe informacje
Spotkanie będzie miało formułę prelekcyjno-warsztatową, tak więc na pewno nie będziecie się nudzić! Ilość miejsc ograniczona- mamy dla Was 60 wejściówek (wydarzenie jest bezpłatne, ale biletowane). Zapraszamy wszystkich pasjonatów metodyk zarządzania projektami i nie tylko! Za udział w wydarzeniu przysługują 2 punkty PDU w kategorii technical.
Zapoznaj się z regulaminem wydarzenia i polityką prywatności!
Zapisz się na newsletter i koniecznie wpisz nasz Oddział!
Do zobaczenia!