45th Governor's Conference on Highway Safety
Description
Governor's Conference Conference Details:
August 21st – August 22nd
The Wisconsin Department of Transportation welcomes our many partners in traffic safety from across the state and nation to Wisconsin Dells for the 45th Annual Governor's Conference on Highway Safety.
The Governor's Conference will provide attendees with exceptional opportunities to learn more about current evidence-based best practices in education, enforcement, and partnerships. We very much appreciate your attendance and input at this year's conference and look forward to collaborating with all of you as we continue our push to prevent traffic fatalities and serious injuries on Wisconsin roads.
Your conference ticket includes:
- Access to all conference sessions and exhibits
- Lunch (21st) and Breakfast (22nd)
- Networking reception
- Conference workbook and materials
Keynote Speakers:
DARCY LUOMA

Darcy Luoma is a master certified life coach, dynamic facilitator, and professional speaker. She has her Masters of Science in Organization Development from Pepperdine University, where her thesis research showed profound results that life coaching significantly increases overall life satisfaction and professional growth. Darcy served for 12 years as the Director of U.S. Senator Herb Kohl's office.
Darcy is now the owner and CEO of Darcy Luoma Coaching & Consulting, LLC, which focuses on creating high-performing people and teams (DarcyLuoma.com). She is thrilled to have been voted Madison's favorite life coach multiple times! Darcy balances her thriving business with raising her two energetic daughters, adventure travel, and competing in triathlons.
JONLEE ANDERLE PH.D.
Dr. Jonlee Anderle is the Regional Administrator for NHTSA Region 5 (Great Lakes Region). He is a retired Lieutenant with the Laramie (Wyoming) Police Department, where he served from 1993 until 2013. After retiring from the Laramie Police Department, he served as the Impaired Driving Program Manager for the Wyoming Department of Transportation Highway Safety Office until 2017. He was a Drug Recognition Expert and Drug Recognition Expert Instructor for over ten years and has served on the Ivinson Memorial Hospital Board of Trustees, the Wyoming Governor's Council on Impaired Driving, the Wyoming Governor's Leadership Team to Prevent Impaired Driving, and the Technical Advisory Panel to the International Association of Chiefs of Police Highway Safety Committee. He is a graduate of the University of Wyoming with a Master's in Business Administration and a Ph.D. in Education and for the last eight years has been part of the team which regularly updates the national impaired driving curricula.
Conference Itinerary
25+ different workshops from the WisDOT Bureau of Transportation Safety (BOTS), Traffic Incident Management Enhancement (TIME), and Child Passenger Safety (CPS)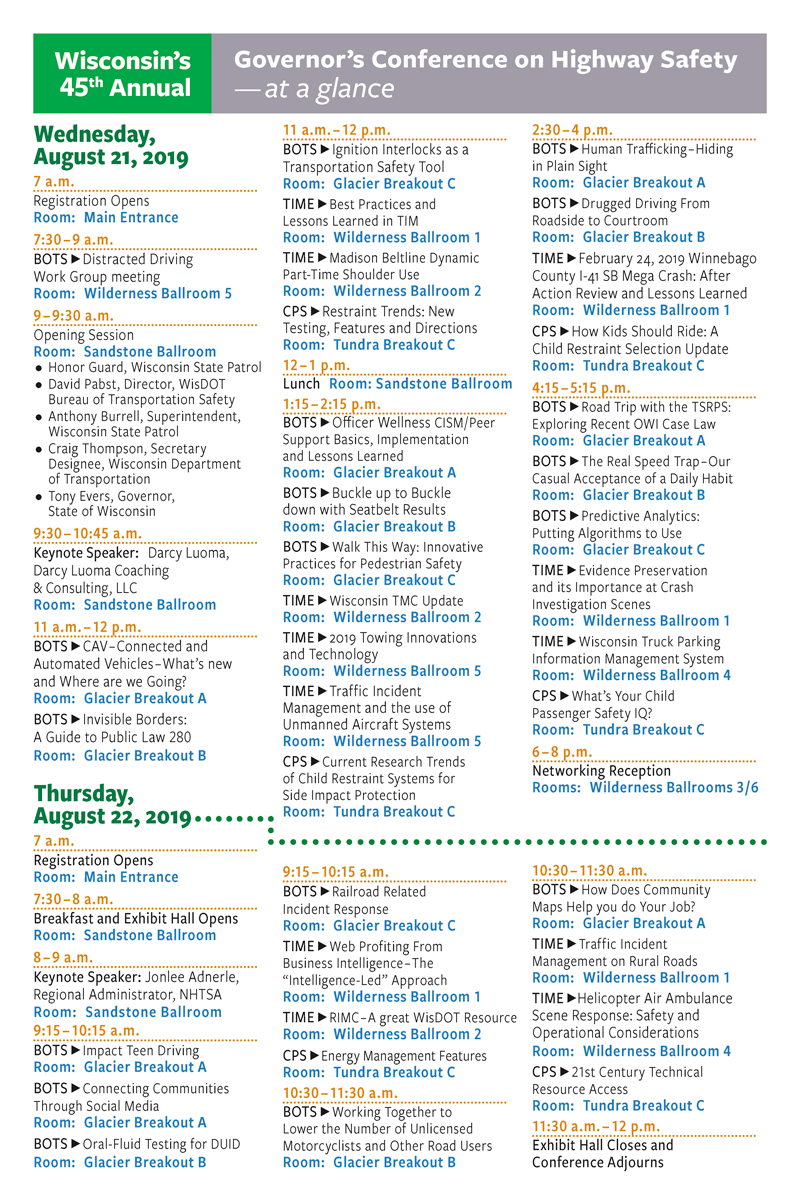 Wednesday, August 21
5:15pm-6:15pm Wisconsin Highway Safety Coordinators Association Board of Directors Meeting
Room: Glacier Breakout A
5:30pm-6:30pm Community Maps User Group Meeting
Room: Glacier Breakout C
Tuesday 20th
FREE Pre-Conference Training 8:00am - 6:00pm
Please visit our separate Eventbrite page for information and registration for pre-conference events:
https://www.eventbrite.com/e/pre-conference-45th-governors-conference-on-highway-safety-tickets-59854795304
Conference Partners:
Child Passenger Safety (CPS)
The Child Passenger Safety track will provide opportunities for CPS technicians to learn about:
Restraint Trends: New Testing, Features and Directions

Research Trends of Child Restraint Systems for Side Impact Protection

How Kids Should Ride: A Child Restraint Selection Update

Their Child Passenger Safety IQ

Energy Management Features

21st Century Technical Resource Access
*All of these sessions will earn technicians continuing education units towards their recertification. There will be a total of 6 CEUs available.
Traffic Incident Management Enhancement (TIME)
The Wisconsin Department of Transportation's Traffic Incident Management Enhancement (TIME) Program has been training traffic incident responders in the state for over 20 years. First developed in the southeastern region of the state in 1996, the program expanded to a statewide program in 2006. The primary mission of the TIME program is to support Federal Highway Administration (FHWA)'s National Unified goal of responder safety, safe quick clearance and prompt, reliable, interoperable communications. The TIME track will train attendees in some of the latest best practices in regard to traffic incident management as well as present specialized training information that will assist the responder in managing a traffic incident in a safe, efficient and effective manner.
FAQs - Frequently Asked Questions
How much is a ticket to the conference?
Early Bird Registration $95 from April 10th to May 10th. General admission $125 from May 11th to July 31st. Late and onsite registration $150 August 1st to August 21st.
What are my hotel options?
Hotel and transportation arrangements are not provided by the conference.
The Glacier Canyon Resort has a limited reserved block of rooms for the Governor's Conference at the state rate of $82 a night. Hotel room block information will be provided in your Eventbrite email confirmation.
Where can I park?
Parking at the Glacier Canyon is free. Surface parking is available.
Is Food Included?
Yes! Lunch on the 21st and breakfast on the 22nd are provided. Complimentary appetizers are served at the networking reception along with a cash bar. Please make sure to state any dietary restrictions during the registration process.
How do I become an Exhibitor?
Please contact us at gchs@dot.wi.gov for registration requirements for vendors. Please note all vendors must be registered before August 16th.
Do I have to bring my printed ticket to the event?
Yes, you must provide a digital or printed ticket provided by Eventbrite along with a photo ID.
Who can I contact about the Child Passenger Safety track of the conference?
Please contact any Nick Maniaci at nmaniaci@chw.org with question about CPS workshops.
Who can I contact about the Traffic Incident Management Enhancement (TIME) track of the conference?
Please contact David Spakowicz at David.Spakowicz@dot.wi.gov for any question about TIME workshops.
How can I contact the organizer with any questions?
Call (608) 709-0093 or Email gchs@dot.wi.gov.
Organizer of 45th Governor's Conference on Highway Safety