Event Information
Refund Policy
Contact the organizer to request a refund.
Eventbrite's fee is nonrefundable.
About this Event
Cornelius Minor Explains, "We know more now than we have ever known. About teaching. About communities. About literacy. About what puts kids on the path to success. And about all the different kinds of successes that can coexist. Why is it, then, that in many schools, these things continue to elude us? We are a profession that knows how to fly. Yet, many of us remain bound to the act of walking. We are so powerful. And creative. And connected. We can be more than yesterday's orthodoxy. We can be bigger than today's problems. We have tomorrow's vision."
Session 1 (9:00 am-11:00 am): What We Read in Books, We Read in The World
People often say that books make us better people or that writing can change the world. This session will take a very close look at our role as educators in ensuring that this happens. Just like we cannot leave the teaching of literacy skills to chance, we cannot simply hope for a better world. We teach for one. In this session, we will work to name the skills, plan the lessons, gather the resources, and practice the methods that help children to learn and practice critical thinking skills in the literacy classroom and then to transfer those skills to their lived experience in the world.
Session 2 (noon-2:00 pm): Social Justice Does Not Just Live in Our Content, It Lives in Our Methods
We know the research. Girls are underrepresented in science and technology. Children of color continue to be suspended at exponential rates compared to their white peers. Poor children are more likely to attend schools with fewer resources. These outcomes are sexist. They are racist. They are classist. School, as an institution, continues to perpetuate them. People often ask, "How can schools be sexist or racist or classist if I'm not?" Systems of oppression continue to work against children—despite our best intentions.
This presentation will explore how grading practices, classroom routines, teaching methodologies, discipline codes and other school structures can perpetuate the kinds of exclusion that keep poor children, girls, LGBTQIA+ children, disabled children and children of color from fully accessing and benefiting from a school curriculum. We will study how inquiry/action research can be a tool that practitioners use to dismantle these structures and to change them to truly benefit all learners.
**If you prefer to register via mail, please contact us at dayofreading@gmail.com, and we will send you a PDF of the registration form.
**Unless SRL is notified in writing, this registration constitutes an agreement that the registrant's image, likeness, and appearance can be used in photographs of this event.  
**The Illinois Reading Council (IRC) does not allow harassment or discrimination of any kind at any IRC affiliated event. IRC and its affiliates will take appropriate and immediate action in response to complaints or knowledge of violations of this policy including expulsion from the event. To report an issue, please email dayofreading@gmail.com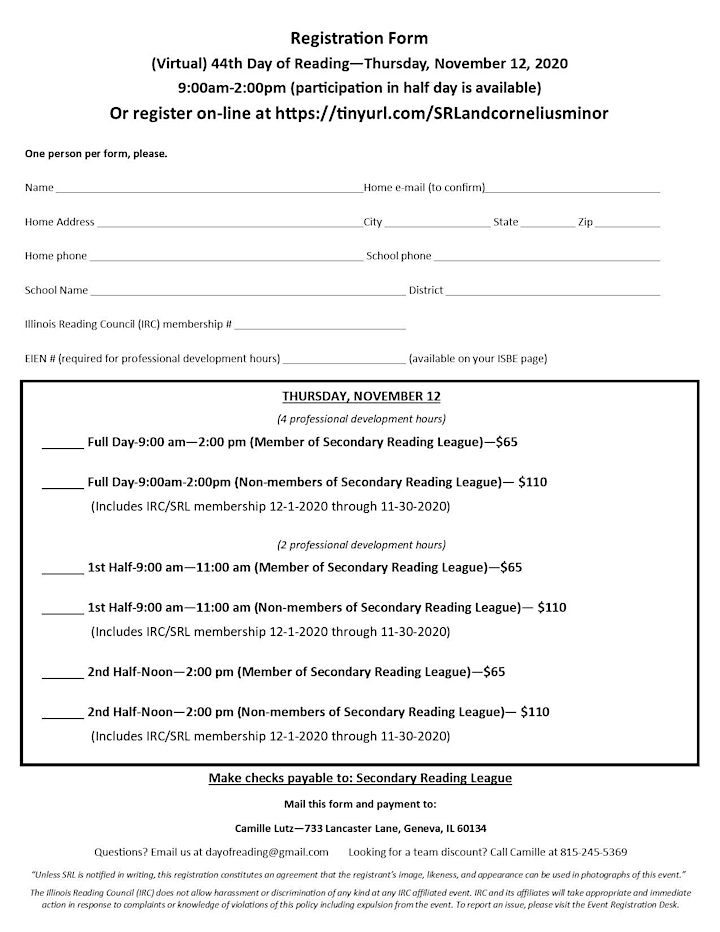 Date and Time
Location
Refund Policy
Contact the organizer to request a refund.
Eventbrite's fee is nonrefundable.