42nd Street (Young Performer's Edition) Audition Sign-ups

Monday, January 8, 2018 at 6:00 PM

-

Wednesday, January 10, 2018 at 9:00 PM (MST)
Event Details
We are excited to meet everyone from all over the East Valley signed up to audition for our upcoming production of 42nd Street!!
Below are some of the rules and expectations of this group, as it is run a little different than our other JR and Kid "non-audition" productions. NOTE: Since we only rehearse once a week on Saturdays (sectional rehearsal Tuesday evening, if necessary), all rehearsals are MANDATORY and we do not accept any conflict schedules. However, we do have some flexibility for Tuesday evenings' sectionals, if needed.
AUDITIONS 5-minute slot. (By appt. only)
Monday, January 8th 6:00pm-9:00pm
Tuesday, January 9th 6:00pm-9:00pm
Wednesday, January 10th 6:00pm-9:00pm
MANDATORY CALLBACKS: 
Thursday, January 11th 6:00pm-8:00pm Note: An email will be sent to those who receive a callback late Wednesday evening, January 10th after all auditions are completed. Just because you don't receive a callback does not mean you are not cast in the show! All Call Backs will be taught a choreographed routine and perform a cold reading.
MANDATORY REHEARSALS
Saturdays, January 13 - March 10 at 1-4pm
Tuesdays 6-8:30pm sectionals, if necessary
DINNER SHOW PERFORMANCES
March 15, 16 & 17 Dinner 6:00pm, Performance 7:00pm
DINNER SHOW PERFORMANCE AND REHEARSALS:
Auditions, rehearsals and performances will take place at Baker Showroom in SanTan Village, 2270 E. Williamsfield Rd., #106, Gilbert, AZ
NOTE: If the actor has any conflicts with the Saturday rehearsals we will NOT be able to cast you for this production. Roles may be subject to change due to unexcused absences, etc. However, we do have some flexibility for the Tuesday sectionals only.
COST: There are no participation fees, volunteer hours or mandatory ticket sales required. However actors will be provided a guideline of costumes. All actors will be responsible for their own costumes.
AUDITIONS:
*Please bring headshot, performance resume (or letter with Performing experience).
*Prepare to sing a short musical excerpt accapella or with a backing track that best demonstrates your vocal range, style and projection. We may not listen to the entire musical selection.
An email will be sent out announcing the cast list by Thursday, January 11th.
REHEARSAL DATES:
Saturday, January 13th Please be prepared to read through the entire show and/or sing your songs the best that you can during this time.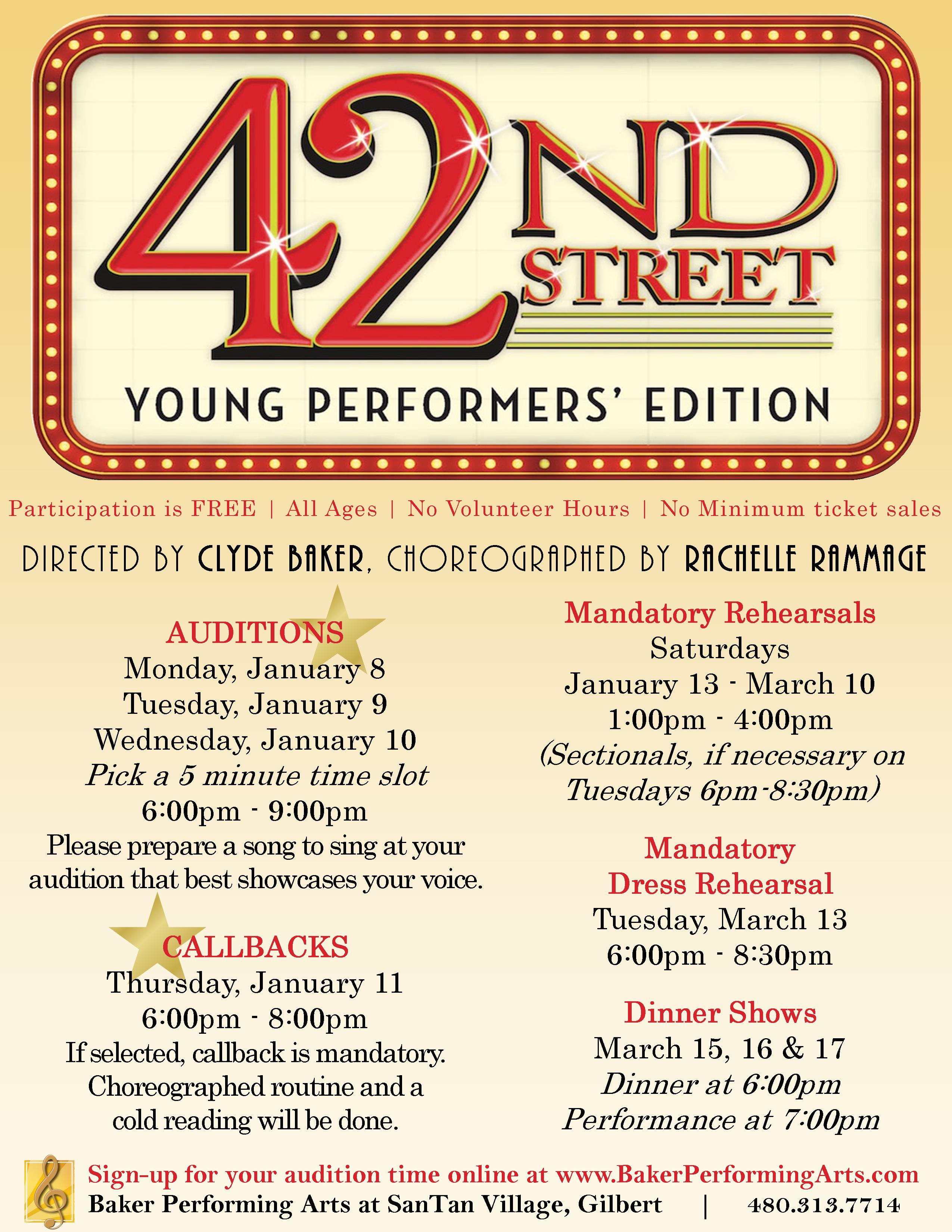 FULL SYNOPSIS
In New York City in 1933, dance director Andy Lee rehearses the chorus of a new show called Pretty Lady ("Opening"). The show's writers, Bert and Maggie, like what they see on stage, but they warn the dancers that at $4.40 per seat, the audience will demand some spectacular dancing. Young hopeful Peggy Sawyer arrives late, having missed the audition. Billy, the show's romantic lead, takes a liking to her ("Young and Healthy"), but she runs off, bumping into the show's producer, Julian Marsh. Julian tells Bert and Maggie he's worried about some of the cast, especially Dorothy Brock, the leading lady. Her last hit was ten years earlier, but her sugar daddy, Abner Dillon, is backing the show. When Dorothy and Abner arrive, Julian suggests that Dorothy audition. Abner reminds Julian that Dorothy does not have to try out for anyone, but Julian assures her he's just trying to determine if the song is in the right key ("Shadow Waltz").
Peggy returns for her purse, and Maggie invites her to lunch with a few of the girls. As they settle in at the Gypsy Tea Kettle, the girls are astonished by Peggy's naïveté. They amusingly explain the Broadway facts of life, and dance back to the theater ("Go into Your Dance"). The number evolves into an audition for Peggy, who impresses Julian and lands a job in the chorus.
Dorothy and Billy begin rehearsing their big love scene. Abner objects to their kissing and insists they shake hands instead ("You're Getting to be a Habit With Me"). Peggy, weak and overcome by an exciting day, faints on stage. She is carried to Dorothy's dressing room, where Pat Denning, Dorothy's real boyfriend, is waiting. Dorothy walks in, and assumes Pat and Peggy are romantically involved. Julian, realizing Pat is a distraction to Dorothy, suggests that Pat leave town.
The company packs up for Philadelphia ("Getting Out of Town"), and previews begin ("We're In The Money"). After the first preview, Peggy invites Julian to join her at an impromptu cast party. Captivated by her charm, Julian decides to go. Dorothy, who misses Pat, gets into an argument with Abner. Abner threatens to close the show, but the kids talk him out of it. Pat and Peggy try to console Dorothy, but she assumes they are together, and ends her relationship with Pat ("I Only Have Eyes For You"). Meanwhile, Pretty Lady opens spectacularly. But when Dorothy rushes onstage for the Act I finale, Peggy accidentally knocks her down, injuring her leg. Julian, furious, fires Peggy and cancels the rest of the performance.
When a doctor declares that Dorothy's ankle is broken, Julian announces that Pretty Lady will close for good. The cast thinks that Peggy can save the day, however, and Julian finally agrees. Julian rushes to the train station to catch Peggy before she leaves New York. Telling her to "think of musical comedy, the most glorious words in the English language," Julian ultimately convinces Peggy to return ("Lullaby of Broadway").
Later, in Dorothy's dressing room, Dorothy admits she's been watching Peggy rehearse and she's impressed. She even gives a few pointers to enhance Peggy's performance ("About A Quarter To Nine"). As the opening curtain nears, Julian tells Peggy, "Sawyer, you're going out there a youngster. But you've got to come back a star!"
At long last, the Broadway curtain opens on Pretty Lady ("Shuffle Off to Buffalo"). Peggy, suddenly overcome with stage fright, freezes, but Julian removes her "lucky scarf" and urges her onstage. Liberated from her superstition, Peggy gives a brilliant performance, and the show is a spectacular hit ("Forty-Second Street"). After the show, Julian congratulates Peggy, and she again invites him to the "kid's party." Left alone, Julian considers Peggy's offer, takes out her lucky scarf, and triumphantly tosses it over his shoulder ("Finale: Forty-Second Street").
CAST OF CHARACTERS:
MAGGIE JONES is a co-author of Pretty Lady. She is a smart, confident businesswoman and has no problem standing up to the great Julian Marsh. Maggie is friends with all the Chorus Girls and takes Peggy under her wing. Cast a great actress who can sing and easily handle Maggie's poise and self-assurance.
BERT BARRY is a co-author of Pretty Lady along with Maggie Jones, though Maggie is definitely in charge. Bert has every confidence in Julian's ability to direct the show, although he tends to panic immediately whenever problems arise. Bert often sings duets with Maggie, so cast an actor who pairs well with her and has a good sense of comedy.
ANDY LEE is the dance director. He is extremely professional and wants the best work out of everyone, especially if it impresses Julian. Andy occasionally sings in a group with other characters, but it is more important that he be a good dancer and actor.
GLADYS, WINNIE, PHYLLIS, ANNIE, and LORRAINE are cast members in Pretty Lady. They befriend Peggy and encourage her to audition for the show. Gladys, Winnie, and Phyllis are sweet girls who want to make sure the show happens no matter what. They do not have solos but are featured in songs with the other girls, so they should be good singers and great dancers. Annie is spunky, upbeat, and teaches Peggy the first tap combination. She should be a great singer, since she has a few featured solos. Lorraine is the sassy and straightforward one in the group. She is featured in songs with the other Chorus Girls and should be a good singer and dancer with great comic timing.
MAC is the no-nonsense stage manager for Pretty Lady. Mac doesn't have to sing or dance, but he should be a good actor who embodies down-to-earth professionalism.
PEGGY SAWYER is a young Broadway hopeful determined to get into the chorus of Pretty Lady. Peggy has tons of talent but no professional experience and finds herself in a number of awkward situations as the story progresses. Cast a fantastic dancer and singer who can portray a starry-eyed dreamer with a heart of gold.
BILLY LAWLOR is one of Broadway's best juveniles and Pretty Lady's leading man. Cast a confident performer full of charm who can sing, dance, act, and deliver hilarious one-liners. Billy should pair well with Peggy.
JULIAN MARSH is a veteran Broadway director determined to take Pretty Lady to the Great White Way. He is secure in his reputation as the best director on Broadway and isn't intimidated by anyone—including his famous leading lady, Dorothy Brock. Cast a strong actor and singer who easily commands the stage.
DOROTHY BROCK is an older Broadway star. Onstage, she is every inch the high-powered diva, but offstage, she feels trapped by wealthy patron Abner Dillon and pines for a life with her longtime secret love, Pat Denning. Cast an excellent singer and a great actress who can ooze confidence onstage but show just as much vulnerability about Dorothy's personal life. Dorothy does not need to be a dancer.
ABNER DILLON, an automobile tycoon, is Dorothy Brock's wealthy patron and the main financial backer behind Pretty Lady. Abner is devoted to Dorothy, but he is not the sharpest tool in the shed. He is a powerful man accustomed to getting what he wants and won't take no for an answer. Cast a performer who is comfortable making bold choices onstage.
PAT DENNING is Dorothy's former vaudeville partner. Though he has kept their love secret for years, he is committed to Dorothy and willing to do anything in order to make their relationship work. He's kind, levelheaded, practical, and a bit of an "opposites attract" love interest for Dorothy. Pat doesn't sing or dance in the show, but he should be a good actor and pair well with Dorothy.
The ensemble CHORUS GIRLS , FRANKIE, the WAITER, FIRST THUG, SECOND THUG, YOUNG WOMAN, BOY, ANOTHER BOY, A GIRL, ANOTHER GIRL, and the MONEY and the DOCTOR.
Please note: This is definitely not for beginners or individuals with no experience, however we do have non-audition musicals at www.BakerPerformingArts.com
Thank you!
Mr. Baker, Producing Artistic Director

When & Where

Baker Performing Arts
2270 East Williams Field Road
#106
Gilbert, AZ 85295


Monday, January 8, 2018 at 6:00 PM

-

Wednesday, January 10, 2018 at 9:00 PM (MST)
Add to my calendar
Organizer
Baker Performing Arts (Theatre, Events, Lessons & Store) located on the SE corner of Alma School Rd. and Baseline Rd. provides musical theatre productions shows as well as providing lessons in all instruments, voice and more!
We also have a store that has musical instruments for sale, music accessories, Casio Keyboards and more!